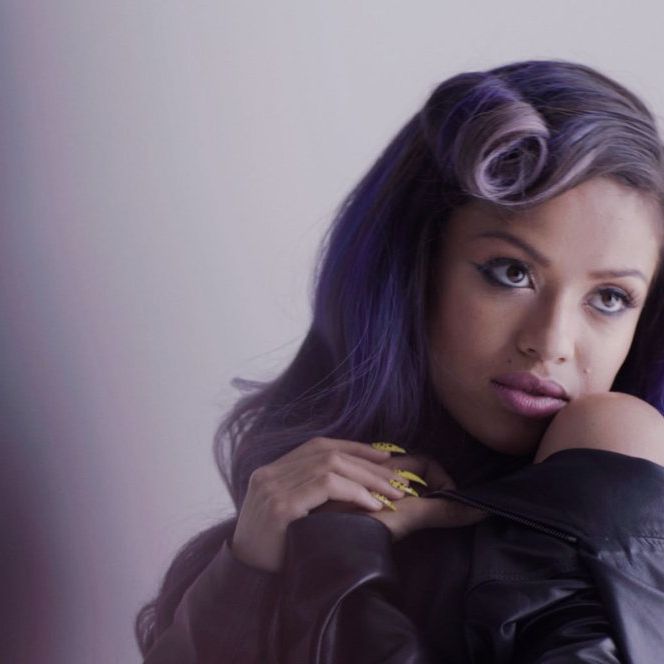 Photo: Blackbird Productions
Do we even make romantic dramas anymore? We make romantic comedies, and we make romantic melodramas — over-the-top, Sparksian wallows in tragedy, sure. But how often do we see movies in which plausible people fall plausibly in love and face plausible challenges? And yes, I am about to use the word plausible to describe Gina Prince-Bythewood's magnificent Beyond the Lights, which on its surface seems to be a candy-colored pop fantasy about the love between a beautiful hip-hop superstar and a hunky cop. To be fair, it's not not that. But how bracing today to have a film that's at once fun, patient, romantic, and real. This is Prince-Bythewood's first film since 2008's underrated The Secret Life of Bees. As the ads remind us, she also gave us 2000's unforgettable Love & Basketball — another rare romantic drama released in a sea of rom-coms and melodramas. Watching Beyond the Lights, it feels as if an old friend has reentered the room.
The story opens in 1998, with young Noni (played by India Jean-Jacques as a child and the great Gugu Mbatha-Raw as an adult) coming in second place at a talent contest after giving a haunting rendition of Nina Simone's "Blackbird." Noni is happy with her award, but her overwhelmed, driven mother (played by Minnie Driver with all the wild unpredictability of an exposed nerve) tells her to "chuck it" — it's either all or nothing for her. Flash forward to the present day: Noni is a sensation, doing guest-stints on hit records, promoting her upcoming debut album, gracing magazine covers in scantily clad outfits, and dating a big-shot rapper named Kid Culprit (played by the rapper Machine Gun Kelly/MGK, who proves adept at both humor and subtle pathos, and yes, I just used the words subtle and Machine Gun Kelly in the same sentence). Mom still manages Noni's life, and it appears that the win-at-all-costs ethos has rubbed off on the daughter as well. That is, until one night, when Noni attempts to throw herself off a hotel balcony and is saved at the last second by an unassuming, attractive cop named Kaz (Nate Parker). And away we go.
Kaz, a.k.a. "Officer Hero," as he's dubbed by the press, is immediately whisked into playing a part in the Noni Story, having to navigate between his integrity and the demands of the celebrity machine. The singer's people want to cover up the fact that she tried to take her life. "Noni's supposed to be the girl every guy wants and every girl wants to be," he's told. "Suicide isn't sexy." For her part, Noni sees in Kaz's kind, curious eyes someone who seems genuinely to care for her well-being. "I see you," he'd yelled out on that balcony, as he tried to save her. But what does he actually see? She's a concoction — a mass-produced fantasy of purple hair, hot pants, and attitude. Does he actually perceive the girl beneath the image, the one we saw in those opening scenes?
Of course he does! This is a love story, remember. But one of the film's great strengths is that it takes its time letting the two characters get to know one another. In Love & Basketball and 2000's underseen HBO movie Disappearing Acts, Prince-Bythewood proved herself a master of intimacy, of both the spoken and unspoken kind. In part, this is because she's not afraid to slow down and just watch her characters, taking time out from the busywork of narrative. Her patience pays off. She can capture the world in a single exchange of glances. And her characters have a way of talking about the world and revealing their own truths as they do so. Kaz confesses to Noni that he can't fly in airplanes. "I can't put my life in someone else's hands," he tells her. "That's funny," she replies. "My whole life is in someone else's hands."
That notion of whom (and what) we allow to control our lives becomes a key theme in Beyond the Lights. As Kaz dives further into Noni's world, he sees the way the industry works its tricks — how it strips her of her identity and talent as cavalierly as it strips her of her clothes, and how the feedback loop of celebrity culture provides real-time commentary on everything she does. But Kaz, too, has begun to cede control: Egged on by his father (Danny Glover), he's pursuing a career in politics. "I just want to be a brother that makes a difference," he says; it sounds both hopelessly earnest and hopelessly calculated. Parker plays the uncertainty just right; even he doesn't know if he's being sincere or bullshitting. In fact, both leads walk a fine line between confidence and confusion, between perception and identity. Mbatha-Raw received a lot of justified acclaim earlier this year for the period piece Belle, but believe it or not, this might be the more complicated, impressive part.
Beyond the Lights is a deft, gorgeous movie. For all its honesty, it's never slow, and for all its criticism of the music industry, it's never finger-wagging. Prince-Bythewood re-creates the hyperstylized imagery of music videos and awards shows, indulging in their pop absurdity while allowing an undercurrent of melancholy to course through. And she somehow does it all without ever letting the story get out of control, too ridiculous or fantastical. That may be Beyond the Lights' greatest accomplishment, and why, for a film so seemingly frivolous, it hits so hard: As we watch this dreamy, colorful piece of musical and romantic wish-fulfillment, we get the distinct sense we're watching real life unfold.