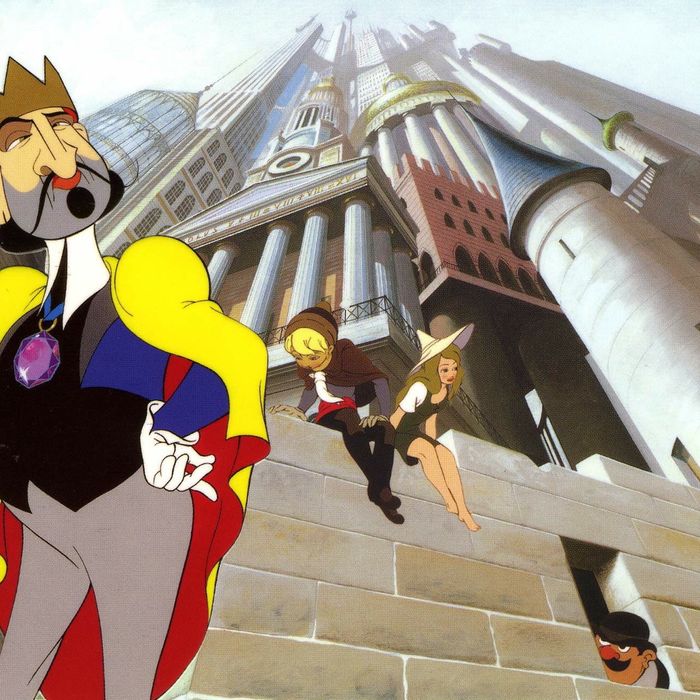 In 1946, the French animator Paul Grimault and poet/screenwriter Jacques Prévert set out to make what they hoped would be the first French animated feature film, based on Hans Christian Andersen's tale "The Shepherdess and the Chimneysweep." Prévert was already a legend, having written Le jour se lève and Children of Paradise for director Marcel Carné. Meanwhile, Grimault's wonderfully iconoclastic fables had won favor both during and after the war. You wouldn't think two such heavy-duty names would meet much resistance, but within a couple of years, Grimault and Prévert had lost control of the project, and an incomplete, 63-minute version was released without their approval in 1953. That also made its way to U.S. shores in a dubbed version as The Curious Case of Mr. Wonderbird.
A couple of decades later, the duo set out to complete the film. Prévert worked on the new script until his death in 1977. With a team of young animators, Grimault cut out about 20 minutes from the truncated version and created new scenes. In 1979, he finally premiered The King and the Mockingbird, which quickly garnered awards and acclaim across Europe. That film has now been restored and is finally being released in the U.S. Over the years, its influence has become legendary, with the great Japanese animators Hayao Miyazaki (The Wind Rises, Spirited Away) and Isao Takahata (Grave of the Fireflies, Tale of Princess Kaguya) citing it as a major influence.
That's a lot for one cartoon to live up to. And The King and the Mockingbird is a truly strange, wondrous beast. It has the playful humor and charm of a children's movie, but its design is dark and unsettling. Narrated by a wisecracking Mockingbird in a top hat and coat, it takes place in the fantastical kingdom of Tachycardia, ruled by the egomaniacal "King Charles V plus III equals VIII plus VIII equals XVI," a foolish tyrant with a fondness for hunting birds. The good news is that Charles is a terrible shot; the bad news is that this doesn't stop him from using the Mockingbird's children for target practice.
At nights, the king retires to his secret chamber on the 296th floor of his space-age fairy-tale castle. (It looks like a fun-house version of Cinderella's, with a rocket-ship elevator.) The king is in love with a beautiful shepherdess in a painting on his wall, but she herself is in love with the handsome chimney sweep in the painting beside her. One night, the king's throne is usurped by a painting of himself. Terrified, the two young lovers step out of their own paintings and flee the new impostor painting-king. That initiates a wild chase that involves flying policemen, a giant robot, and a whole host of fantastical creatures from the many layers of this elaborate castle city.
Grimault and Prévert's script avoids much dialogue, instead unfolding in a dreamlike manner — which makes sense for a film full of mirrors and doubles and where images of people sometimes seem more real than the people themselves. Meanwhile, a hauntingly lush score by the great Polish composer Wojciech Kilar (to whom Grimault reportedly gave almost total freedom) does double duty, both highlighting the film's romantic and lyrical elements and offering counterpoint to its darker, more surreal passages. It all adds up to a movie that at times seems to drift off course in weird, wonderful, unexpected ways.
It's no surprise that, nearly 70 years after its initial conception, this absurdist fantasy plays like a wild head-trip. (I'd say go see the film high, but you kind of don't need to; it's pretty mind-altering just on its own.) Still, one can't help but think there's something poignant about this unreal, chaotic story. Here's a movie, envisioned immediately after World War II, in which the medieval meets the modern — where unimaginable machines of war and destruction are used at the service of an antiquated, hidebound system, as mad despots destroy entire kingdoms with their vile narcissism. Am I reading too much into it? Maybe. On a basic level, The King and the Mockingbird is a fun fantasy. But to the two poets who first imagined it, it must have felt like a repository for all the madness of a still-smoldering world.