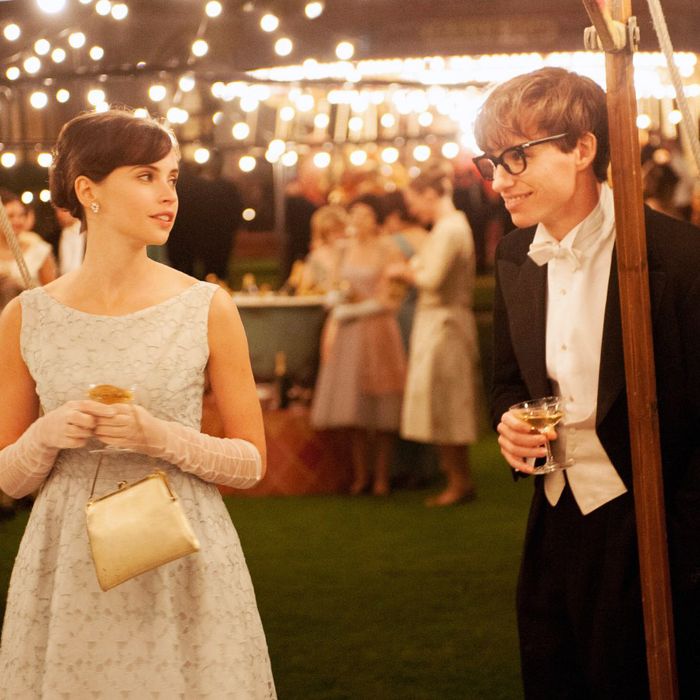 Photo: Liam Daniel/Focus Features
Neuroscience is still a ways away from drawing connections (if they exist) between certain forms of genius and the physical or psychological maladies that attend them, but biopics routinely hint at the continuum — and it's there from the start in Eddie Redmayne's astonishing performance as Stephen Hawking in The Theory of Everything. Well, before Hawking's amyotrophic lateral sclerosis (a.k.a. Lou Gehrig's disease) manifests itself, Redmayne's Hawking seems disconnected from his clumsy, gangling body — already a poor vessel for his restless brain. He shoves a hand into a pocket as if he can't quite place its function. He doesn't speak, he blurts. Most of us come into the film having only seen the twisted, wheelchair-bound Hawking and heard his computer-generated voice, so we're primed to look for signs of what's to come. There's no doubt that Redmayne is working from 20/20 hindsight. But the way he fuses past and future makes this a triumph of sympathetic imagination.
If The Theory of Everything cut as deeply as Redmayne's performance, it might be on the level of My Left Foot. But there are so damn many problems, easy to ignore at first in the elation of watching Redmayne and the gossamer Felicity Jones as his future wife, Jane, but impossible to shake off in the last third. The movie is largely based on a memoir by Jane, Traveling to Infinity: My Life With Stephen, which is, to put it starkly, a work of finite imagination: The lack of insight or evocative detail makes it difficult not to skim. The director James Marsh (of the superb documentaries Man on Wire and Project Nim) and screenwriter Anthony McCarten compensate by creating a meltingly sweet romance in the early scenes, building to Jane's declaration to Hawking's father (Simon McBurney) that, no matter the dire prognosis, she and her love will fight the disease together. Bravo, Jane! But on the basis of her book and the portrait in the film, she's not an extraordinary enough figure on which to hang a biography of one of the most titanic scientific minds of the 20th century.
For a long while, Felicity Jones conjures up much out of nothing. I admit that I find her prettiness nearly overwhelming, but physical beauty is a given in most leading actresses, and what makes Jones distinctive is her gift for finding her characters' unique rhythms. She makes Jane's attraction to Hawking at Cambridge infectious — it's as if her (and our) life has suddenly snapped into focus. Much later, when her husband's inability to help her herd children or keep house or make time for her own work, Jones suddenly seems too large for that small house and appointed role. But then Jane meets a kindly single choirmaster and is almost immediately smitten, and, as the film's focus drifts to her, I found myself resenting the character — not for wanting more from her life, but for yanking the narrative away from by far the more fascinating figure.
The Theory of Everything holds you by how it dramatizes Hawking's gradual physical disintegration — the twisting inward of his limbs, the more and more incomprehensible speech. Marsh isolates Hawking in the frame as the 1-to-1 correspondence between thought and gesture is disrupted. The greatest actors know to play against their characters' disabilities, so that what you see is the effort to move or talk "normally." (I respect that some find that term demeaning.) You can feel that pushback in Redmayne's movements, along with Hawking's sudden, brutal awareness of the body he'd once ignored.
There's enough science in The Theory of Everything to make you understand the significance of Hawking's idea that quantum physics and relativity "don't play by the same rules." It's fun to see some of the English fuddy-duddys storm out of Hawking's presentation while others look on stunned and a Soviet scientist delivers the ultimate judgment: "Our friend has proven time has a beginning. The little one has done it!" But there's little preparation for the Hawking of the later scenes, who turns cold and cutting towards Jane and falls for a transparently star-fucking nurse. The film's nadir comes when Jane crawls into a tent on a camping trip with her choirmaster while Hawking has an almost-fatal seizure watching a Wagner opera: Are we meant to think her far-away infidelity caused his near-death? That's some space-time continuum.
Director Marsh is a gifted documentarian, but at this point, his dramatic technique is too shallow to get inside his characters' heads. The last scenes of the film are frankly lousy — and when the movie is called The Theory of Everything, you really want it to jell.