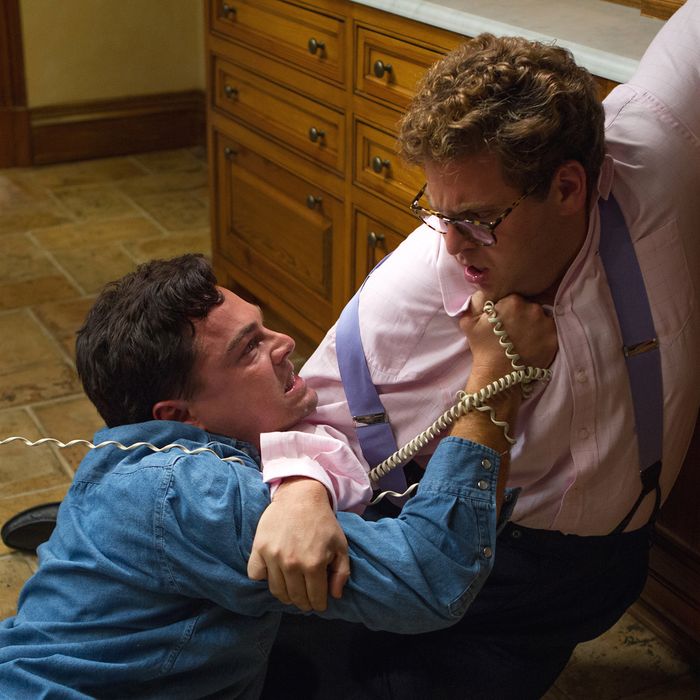 THE WOLF OF WALL STREET
Photo: Mary Cybulski/Paramount Pictures
At the beginning of (and throughout) every month, Netflix Streaming adds new movies and TV shows to its library. Here is a quick list of several that you might be interested in. Some of these were added halfway through or near the end of November, but we're going to include them in this roundup anyway, since you may have missed them. Some of these may also have previously been on Netflix, only to have been removed and then added back. Feel free to note anything we've left out in the comments below.
Almost Famous (2000)
Cameron Crowe's semiautobiographical music drama is comfort food that has been on basic-cable rotation for so long that it's hard to imagine watching it from start to finish. But now you can! Ride along with William Miller (Patrick Fugit) as he lands his first writing gig, falls for Penny Lane, and sings "Tiny Dancer" with the long-haired rockers of Stillwater. Mmm, the warm embrace of '70s nostalgia.
The Conformist (1970)
A film our own Bilge Ebiri noted is "perhaps as influential a film as Citizen Kane," Bernardo Bertolucci's political drama deconstructs big ideas in intimate scenarios, intrigue and sexuality bubbling in every frame. After watching this Italian classic, catching up with Bilge's Bertolucci profile is a must.
Black Mirror
An incredible British sci-fi anthology series. Watch it, watch it, watch it!

Happy Christmas (2014)
The second Anna Kendrick–Joe Swanberg collaboration adds Melanie Lynskey into the mix. If you don't get enough family quarreling, life-goal introspection, or warm-and-fuzziness during the holiday season, see Happy Christmas. See it even if you do get enough of those.
The One I Love (2014)
Mark Duplass and Mad Men's Elisabeth Moss star in this relationship drama with a twist. A couple goes away for the weekend to work on their marriage, and … something weird happens.

Ida (2014)
If you're catching up on 2014's best movies, Pawel Pawlikowski's minutely composed and shockingly still look at post-Holocaust life demands attention. Set in 1960s Poland, Ida follows a young nun unearthing her shrouded Jewish roots with the help of a wry, alcoholic aunt. In his review from earlier this year, David Edelstein called it "a grimly potent portrait of repression, of what happens to a society that buries its past in an unmarked grave — and lives its present in a state of corrosive denial."
Anchorman 2: The Legend of Continues (Super-Sized Version) (2013) (Available December 6)
Adam McKay and Will Ferrell's dimwitted sequel had the impossible task of living up to 2004's endlessly quotable Anchorman. And it almost does! This "Super-Sized Version" returned to theaters in February with more R-rated jokes and swapped musical numbers. ("Doby," the shark song, is replaced by back-to-back showstoppers "Big World" and "If I Was Gay For a Day.")
The Wolf of Wall Street (Available December 11)
Martin Scorsese's rousing indictment of Wall Street is chock-full of sex, drugs, and naughty words (so many that we just had to tally and organize them into charts). If its three-hour runtime turned you off from catching it over the 2013 Oscar season, give it a spin a year later.
Marco Polo (Season 1) (Available December 12)
Netflix's answer to Game of Thrones, Vikings, and the like. Can Kublai Khan muster up the same intrigue as House Lannister?
The Honourable Woman (Season 1) (Available December 18)
The BBC and Sundance Channel teamed up for this political spy thriller that boasts talent like Maggie Gyllenhaal, Stephen Rea, and Janet McTeer. If the bro-heavy True Detective has you down, this may be the perfect corrective.
Romy and Michele's High School Reunion (1997) (Available December 20)
Dumb and Dumber had its prequel-dismissing sequel moment and subsequent revival on Netflix. So does the arrival of Mira Sorvino and Lisa Kudrow's ditzy laugh-riot signal the permanent banishing of Romy and Michele: In the Beginning from ABC Family to Walmart discount ranks and a theatrical follow-up? People want to know if Romy and Michele turned 30 and got married.
New Seasons of TV:
Agents of S.H.I.E.L.D. (Season 1)
All Hail King Julien (2014) (Season 1) (Available December 18)
American Horror Story: Coven (Available December 6)
Anthony Bourdain: Parts Unknown (Season 3) (Available December 8)
Broadchurch (Season 1) (Available December 12)
Comedy Bang! Bang! (Season 3) (Available December 28)
Jessie (Season 3) (Available December 28)
Maron (Season 2) (Available December 28)
Turbo FAST (Additional Episodes)
New Specials:
Bill Burr: I'm Sorry You Feel That Way (2014) (Available December 5)
Nick Offerman: American Ham (2014) (Available December 12)
30 for 30: Brothers in Exile (2009)

Other movies available:
American Beauty (1999)
Ava & Lala (2014) (Available December 6)
Batman Forever (1995)
Behaving Badly (2014) (Available December 28)
Bewitched (2005)
Beyond the Edge (2013)
Child of God (2014) (Available December 27)
The Dark Crystal (1982)
Dark Skies (2013) (Available December 20)
Don't Blink (2014) (Available December 13)
Drive Hard (2014) (Available December 9)
Friday the 13th, Parts 1-8
I Am Ali (2014) (Available December 9)
I, Frankenstein (2014) (Available December 28)
The Iceman (2013)
Good People (2014) (Available December 25)
A Haunted House 2 (2014) (Available December 10)
Jake Squared (2014) (Available December 15)
Jewtopia (2012)
Knights of Badassdom (2014)
A Knight's Tale (2001)
Labor Day (2013) (Available December 27)
Labyrinth (1986)
The Last of the Unjust (2013)
Last Weekend (2014) (Available December 30)
Legends of Oz: Dorothy's Return (2014) (Available December 23)
Los Angeles Plays Itself (2003)
Madison (2005)
Moebius (2013)
Oculus (2014) (Available December 3)
The Other Sister (1999)
Out of the Clear Blue Sky (2012)
Out of Time (2003)
Paranormal Activity: The Marked Ones (2014) (Available December 20)
Ragnarok (2014) (Available December 18)
Son of God (2014) (Available December 3)
Sharknado 2: The Second One (Available December 6)
The Out-of-Towners (1999)
The Trip to Italy (2014) (Available December 23)
Thief (1981)
Troop Beverly Hills (1989)
The Truman Show (1998)
The Village (2004) (Available December 11)