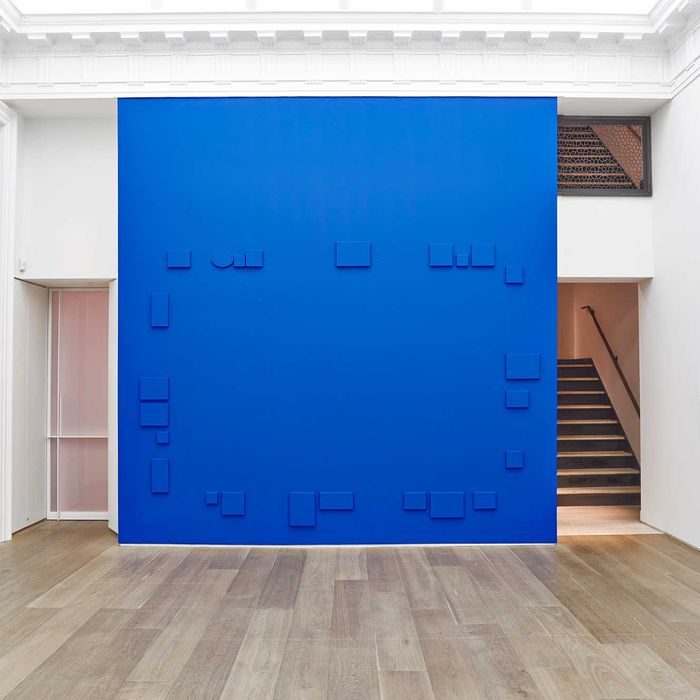 Installation view of the exhibition Claude Rutault, Galerie Perrotin, New York, November 20, 2014 – January 3, 2015. "a sunday afternoon on the grande jatte or at port-en-bessin", 2010. 104-1/3 x 144-1⁄2 inches around an invisible rectangle of 81-3⁄4 x 122-01/16 inches. Credit: Yachin Parham. Courtesy Galerie Perrotin.
Photo: Yachin Parham/Courtesy Galerie Perrotin
Ever since Perrotin Gallery moved to the Upper East Side last year it has become a landing pad of sorts for the Gallic set, ever more so since the Pop-oriented dealership (Emmanuel represents  Takashi Murakami, Kaws, and Pharrell in Paris, FYI) has focused most of its programming on French modernists overlooked by the American market. Recently, the 73rd Street space foisted Pierre Soulages and Germaine Richier onto the New York landscape, which was met with a bit of eye-rolling (since, after all, one often remains in obscurity for a reason).
This week, in fact, the cheeky Claude Rutault returns to town — he was the first French artist to ever receive residency at PS1 MoMA in 1978–79, and famously sparred with Alana Heiss (though, who doesn't?) with his indefatigably French poststructuralist philosopher's sense of humor. Fans of dry sarcasm will soon become fans of Rutault. "It's very funny that not a single canvas of Picasso's Cubism was square," he deadpans, then, after a sizable pause, he begins to chuckle. It's no surprise to learn that Rutault, who doesn't speak a lick of English, is best friends with Lawrence Weiner and admits to being frenemies with Daniel Buren — he's the only other French artist who roams on his own, explains Rutault. At 73, the "painter" (there are quotes for a reason), whose whole practice is an inside joke between art history and his "charge-takers" (a.k.a. collectors), does not actually paint his canvases nor does he oversee their execution in a factory-like studio, à la Koons or many of the other art stars of today. Instead, he writes texts, devised in a rubric he calls "de-finition/method," and his paintings are made when the instructions have been completed. When I ask him if he thinks his works contains paradoxes, he replies, "What is a paradox?" He continues: "One could consider that the choices made are like a paradox. It can be seen as a paradox for the painter to not choose the color of his canvas, but I want the charge-taker to decide, since ultimately he has to live with it."
When seeing the self-titled exhibition at Perrotin, expect a lot of white, raw canvases waiting to find their owner. One idea formed in 1978 when Rutault first lived on Park Avenue (he quickly decamped for East 3rd Street, next to the Hell's Angels' hangout, and eventually a windowless studio in Queens) that has crystallized in Im/Mobilier — a French pun of property/furniture — a pair of canvases. The catch? While the left canvas will remain the same size, the right canvas will increase or decrease depending on the change in real-estate market prices. "That's clever," I say to Rutault, who responds, "No, it's idiotic." Originally, Perrotin wanted to pair his 1978 canvas with one from 2014 — but the new painting would have been too big to hang on Perrotin's walls.
It's curious that Rutault wants to return to New York at this very moment. When I ask him why, he says, "I was invited," then he adds, "In truth, I am influenced by the American painting," saying he wanted to see the Carl Andre show at DIA Beacon. Back in the day he ran around with Buren and made CBGBs his honorary living room (it was his favorite hang, he says) — and though he leaves it to Perrotin to handle his market, his impression of the city is tied to the gallery scene. Many of the artists he ran with have "disappeared from history," he adds, but never mind since they were mostly Pattern Painters, "une mode que je deteste." Not only did he famously ditch an appointment with Ileana Sonnabend, but he remembers when Holly Solomon, the spunky dealer who famously championed Laurie Anderson, Robert Mapplethorpe, and Gordon Matta-Clark very early on, snubbed him. "Affixed to my door was a poster for an exhibition inside my studio, and Holly Solomon came by, peeked in, and said, 'There's nothing to see; let's move along.' I was proud of that," Rutault recalls. Is he joking? One can never be sure.