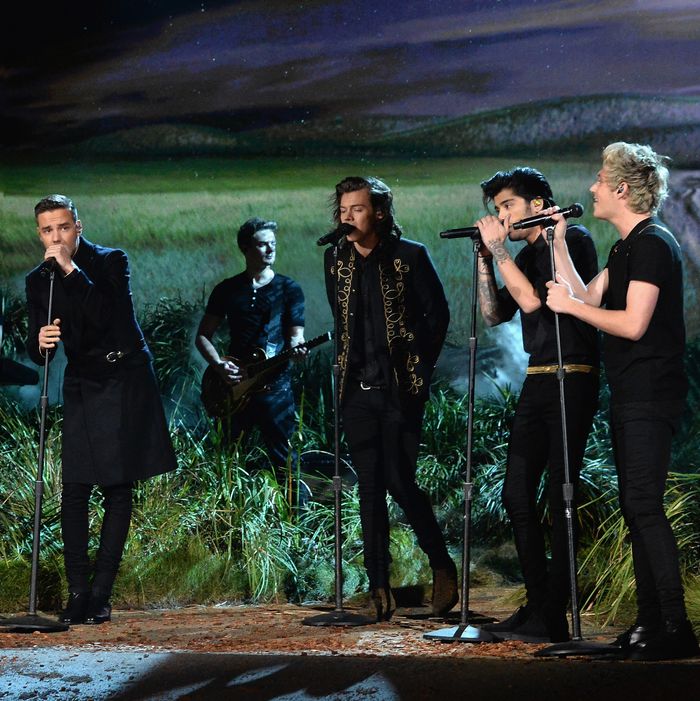 Photo: Jeff Kravitz/AMA2014/Getty
A former boy-band member asking to be taken seriously as a sexually mature adult is a little bit like a felon applying for jobs; the easy, hedonistic spoils of his past threaten to define him at every turn. There are famous exceptions to the rule, of course, but the road to Timberlakean respectability is littered with Joey McIntyre jewel cases and the trimmed clippings of ill-advised soul patches. Transitioning into life after boy band has always been a delicate dance, but a few recent records have made me wonder if the rules are in the process of changing.
First, there's the surprisingly not-disastrous self-titled album from Nick Jonas, the youngest of the now-defunct Disney rock trio the Jonas Brothers. Even among his older siblings, Nick was always considered the group prodigy. He released his first solo album (a collection of baby-angel ballads with titles like "Dear God") at the ripe old age of 13, and he flexed his muscles away from his brothers with his pop-rock side project Nick Jonas and the Administration. But that was then. Over the past year or so, Jonas has started flexing actual muscles, undergoing a Hulk-like metamorphosis into Nick Jonas 2.0 — a crotch-grabbing, Miss Universe–dating heartthrob. Thanks to his role as a bulked-up MMA fighter on the DirecTV series The Kingdom, I am about to type a sentence that just a few years ago would have seemed like an Onion headline: The youngest Jonas Brother recently posed for the cover of UFC magazine.
His sound has undergone a transformation, too. Nick Jonas — which, its Wikipedia page prominently boasts, is "Jonas's first album with a Parental Advisory warning label" — is the kind of record you make right after you've stopped wearing your promise ring in public. It is, somewhat miraculously, more often carnal than corny: Leadoff track "Chains" nods to the Weeknd's hazy, brooding R&B; the fleet-footed "Teacher" comes off like a less predatory Robin Thicke; the slick, shimmering "I Want You" calls upon a sense of '80s pastiche similar to Taylor Swift's 1989 highlight "Style." But the best song here is the sumptuously seething single "Jealous" — a pop-R&B tune so brazenly indebted to Miguel that its remix even borrows his ought-to-be-trademarked come-on, "You're fucking beautiful." I will confess that the first few times I heard "Jealous," I wished someone else was singing it, but in the time since, it's effectively helped me shed my anti-JoBro bias. Jonas has a nimble if somewhat indistinct falsetto, but ultimately, his particular kind of defanged charisma makes the song work: In the hands of someone a little more comfortable in his machismo, it would come off as entitled ("It's my right to be hellish") or even aggressive ("I turn my cheek, music up, and I'm puffing my chest"), but there's a certain befuddled sweetness to the vocal that sells it. That's not to say every track is a winner: "Warning" is pure Nick 1.0, "Numb" is the whitest trap song this side of Katy Perry's "Dark Horse," and the PUA piano-pop of "Wilderness" finds him veering dangerously close to Adam Levine territory — a looming worst-case scenario that I honestly believe Jonas is smart enough to skirt. In the end, Nick Jonas's saving grace is that it keeps things fun and relatively light. It is neither a stuffy, take-me-seriously-as-a-grown-up statement nor a collection of awkwardly X-rated booty jams (the F-bombs earn that Parental Advisory sticker, but just barely). It's also not exactly a star-making record, but it is something perhaps more rare and useful for the future: a sufficiently sturdy bridge across that awkward pop-star transition from boy to man.
A group that does not really need to worry about this transition just yet (or perhaps ever) is One Direction. The English-Irish five-piece are — with the arguable exception of post–Lou Pearlman 'NSync — our first truly self-aware boy band: They seem to have studied their predecessors' pitfalls and vowed never to wear matching outfits, waste time choreographing dance routines, or employ Chris Kirkpatrick's hairdresser. While they do have a discernible Heartthrob (Harry Styles), Bad Boy (Zayn Malik), and One Who in the Absence of Any Other Notable Personality Trait Seemed Forced to Dye His Hair an Unnatural Shade of Blond (Niall Horan), there is a casualness about them that resists fitting too neatly into those familiar roles. "Right from the start we were always very vocal that we couldn't follow the boy-band stereotypes," the impressively eyelashed Louis Tomlinson says in the Morgan Spurlock–directed 1D propaganda film One Direction: This Is Us. Confirms their choreographer with a sigh, "They hate dancing with a passion."
One Direction's origin story has just the right amount of underdog serendipity to make them an ideal boy band for the social-media era. Each of the five auditioned separately for the 2010 season of the U.K. singing competition The X Factor, and after they were all rejected, Simon Cowell had the novel idea to put them together as a group. Though they finished third on the show, they were granted enough airtime to steal the hearts of a built-in, millions-strong fan base. Riding that momentum, they promptly recorded an album, 2011's Up All Night, which, helmed by the punchy single "What Makes You Beautiful," achieved the sort-of-unbelievable distinction of being the first debut album by a British band to enter the Billboard 200 chart at No. 1. British boy bands have a notoriously difficult time breaking overseas, but social media helped 1D become an instant global phenomenon. Up All Night was swiftly followed by two more albums, a slew of radio hits ("Story of My Life," "Best Song Ever"), and enough hormonally crazed fan-fiction to fill a hundred libraries.
One Direction are also pointedly self-aware about the fact that members of boy bands are not generally considered artistes, but, ironically, they've found an almost rakish freedom in not being taken seriously. Anarchic fun is their M.O. Their songs riff on bands that uptight rock purists would shudder to consider them beside: "Rock Me" borrows liberally from Queen, the opening of "Best Song Ever" is an undisguised homage to "Baba O'Reilly." They take this even further in the video for "Steal My Girl," the first single off their new album Four: Danny DeVito plays a pretentious auteur insisting that the boys are "here in the name of art." Having studied the playbook, One Direction know fully well that this is the moment in a boy band's life cycle where they should be entering their "mature" phase and thinking larger than life: 'NSync railed against the supposedly oppressive trappings of celebrity; Backstreet Boys set a lavishly expensive video in space. But just as the video shows our boys out of place in this Fellini-esque spectacle, Four finds them rejecting the urge to make lofty statements in favor of a more grounded pursuit: pop craftsmanship.
Listening to Four is like mainlining pop music. There is a kind of purity in how directly, potently, and unapologetically it angles for your brain's pleasure center. More subdued songs like "Fool's Gold" and the excellent "Fireproof" showcase their expertly arranged harmonies, but when their voices join together it is more often a show of sheer, blow-your-inattentive-boyfriend's-house-down force. The shadow of Jive Records–era boy bands will always loom large over 1D, but their sound has more in common with '80s power-pop: "Where Do Broken Hearts Go" sounds like Belinda Carlisle's "Heaven Is a Place on Earth" reimagined as a soccer chant; "Steal My Girl" cribs its last-jukebox-pick-of-the-night urgency from the best Journey songs; "Stockholm Syndrome" glimmers like a post–Pro Tools Tears for Fears. Occasionally they reach back even further: One of my favorite songs on the record, "Girl Almighty," sounds like a Gaelic ensemble covering Buddy Holly at double speed. It goes without saying that there is an undeniable coating of schmaltz to all of these songs, but it's laid on so thick and thoroughly that it becomes an aesthetic taunt. DeVito's stuck-up auteur might not acknowledge it as such, but exploring the outer limits of schlock is its own kind of creative freedom, too.
Lately, there's been a lot of talk about Women in Pop — the way society's shifting attitudes about feminism have been reflected in its music, and vice versa. But our cultural ideas about masculinity are in a constant state of flux, too, and for an accurate (if cartoonish) snapshot of this, look no further than a generation's chosen boy band. Consider what it says about our changing cultural mores that a little over a decade ago 'NSync's Lance Bass thought that coming out as gay would mean the end of the band; today, Harry Styles can make playfully bi-curious comments in the press and it only seems to heighten his heartthrob appeal. Does this mean he's planning to go solo? Possibly — every boy band has a shelf life, and plenty of people are speculating that Four could be the boys' final album together. But as One Direction continue to subtly rewrite the boy-band script, it's anyone's guess whether the old rules will apply.
*This article appears in the December 1, 2014 issue of New York Magazine.