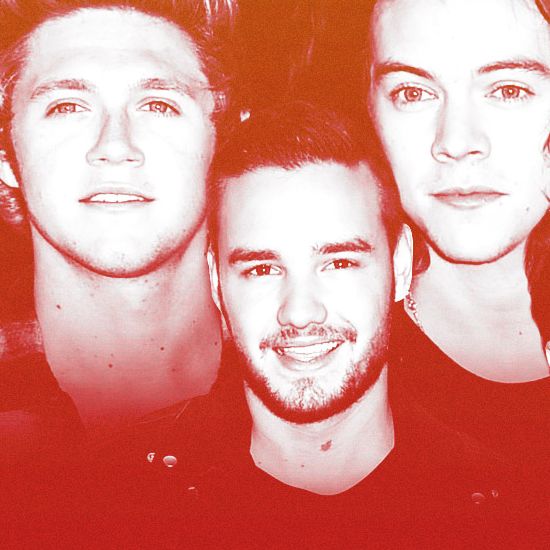 Photo: Maya Robinson and Photos by Getty
With the release of their new album Four, One Direction is making deliberate strides towards shedding their "boy band manufactured by Simon Cowell after being voted out of X Factor" image. But as Paul Rudd's fanatic adult Directioner character Dan Charles on Saturday Night Live illustrates, we Directioners are not so quick to forget: The 1D fandom is infamous for (among other things) its all-or-nothing attitude regarding the band's origin stories. You either know Niall's a natural blond or you're shamed on your way out the door, dummy. But now you don't have to be a dummy. Here is everything you need to know in order to catch you up on the U.K.'s most delicious export since gravy.
0
The number of people in Liam Payne's entire class who showed up to his 16th birthday party.
5SOS
The acronym for 5 Seconds of Summer, the Australian pop-punk group discovered on YouTube by 1D member Louis Tomlinson. When 5SOS were offered the opportunity to support One Direction on their 2013 Take Me Home tour, drummer Ashton Irwin said the band was hesitant to be associated with the world's biggest pop group because, you know, punk and stuff.
Banana
The fruit Harry Styles most enjoys putting in his mouth and between his legs.
Bebo
Niall Horan and Louis Tomlinson's social media platform of choice before they accumulated millions of Twitter followers. Their unearthed pages gave us such joys as Louis's self-portrait "me wid a footie on my head lol."
Ben Winston
Music-video director responsible for One Direction's "Best Song Ever," "Story of My Life," "Midnight Memories," and "You & I." He joined the band on tour this year to film the concert documentary Where We Are — and to be caught poolside by paparazzi in the arms of Harry "HOT N HARD" Styles.
Bungalow
Guest house at Harry's father's home where the five teenage boys took time to get to know one another after Simon Cowell smooshed them all together on X Factor. The "friends first, band second" approach they adopted here is still working as well as it did for Josie and the Pussycats.
Caroline Flack
Xtra Factor host who was (and is) 14 years older than Harry when they began dating in 2011. Their relationship was the root of the now-long-running "Harry's into older women" gag, as he was very un-chill about his crush on her:
Chicken stuffed with mozzarella wrapped in Parma ham
The Jamie Oliver recipe Louis describes when asked if he cooks. (He talks about it a lot.) The fact that Louis considers the creation of this dish the most romantic thing he's ever done — and that Harry tweeted a shot of "Louis' first ever cooking experience ;)" — leaves some fans with no doubt about what Harry and Louis are doing behind aprons and closed doors.
Danielle Peazer
Danielle was a backup dancer on the X Factor when she began dating Liam. They broke up in late 2012, but not before she endured years of online abuse from Directioners, a sadly common thread that runs through the experiences of every woman associated with One Direction.
Danny DeVito
Played the genius director of the meta-video being filmed in the video for "Steal My Girl," which features him employing an Amazonian woman to hold a tiny umbrella between his head and the desert sun. Also: Seems jealous of Eli, the chimpanzee Louis cradles in his lap.
Doncaster Rovers
The football team Louis supported as a kid growing up in Yorkshire. The Rovers signed him as a player on a "non-contract basis" in 2012, and in early 2014, Louis made an unsuccessful, crowd-funded attempt to become co-owner of the club.
Ed Sheeran
The singer/songwriter gave Harry one of his first tattoos (a tiny padlock on his left wrist) and wrote some of 1D's most confessional tracks, including "Moments," "Little Things," "Over Again," and "18."
Eleanor Calder
Eleanor is a Manchester University student who began dating Louis in 2011 after a mutual friend of Harry's introduced them. Around the same time, the One Direction fandom concocted a conspiracy theory claiming Eleanor had a secret twin named Tina who, like Eleanor, they believed was being paid to appear in public as Louis's girlfriend.
Elevator
Where Harry found the orange he subsequently ate while sitting behind Rihanna at the 2013 VMAs.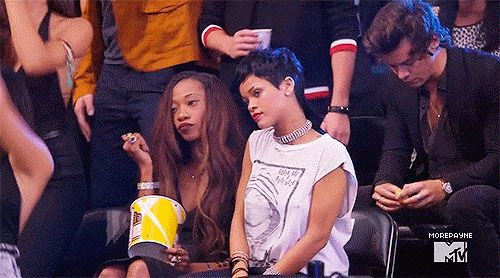 Four
The name of One Direction's new album. (Also the name of albums by Beyoncé, the Bamboos, Foreigner, Bloc Party, and Blues Traveler, but we digress.) It is the band's fourth album in as many years, following the releases of Up All Night, Take Me Home, and Midnight Memories.
Katy Perry
The X Factor guest-judge whose deciding vote got Niall through his first audition. The band paid appreciation with a shout-out in the title track from their first album.
Kendall Jenner
Dated Harry Styles sporadically last winter, before their respective schedules put an end to the relationship. She was rumored to be hosting a birthday party for him this past February, but the live cam set up by paparazzi to capture partygoers showed nothing but an empty, wet London street for hours on end (and has since been removed from the Daily Mail's post).
Kid Rock
The artist whose licensing Zayn thinks One Direction's own merch spread could resemble, according to the leaked video of him and Louis hotboxing in Chile.
"The whole thing's just filled with sick pictures […] no bullshit, like, 'My favorite color's blue,' 'My favorite color's red.' And literally all just sick pictures … instead of boring crap," he told Louis, who recorded the conversation, of Kid Rock's 2013 limited-edition photo book I'm Kid Rock, What's Your Excuse? One Direction's latest book, an autobiography called Who We Are, was published as a hardcover book also filled with pictures, all of which we assume Zayn thinks are "sick" as well.
Kidney
The bane of Liam's existence. Payne was born three weeks early and "effectively dead," and spent the first few years of his life in and out of the hospital. This left one of his kidneys scarred and non-functioning, which meant he couldn't drink until 2012, when new tests showed he was in the clear. Now he goes to a London club called Funky Buddha a lot and drunkenly climbed a ledge from the 34th floor of an apartment building earlier this year.
Lads FM
The title Harry and BBC Breakfast Show host Nick Grimshaw gave their takeover of Nick's weekend radio show in 2012. It had a great name but was otherwise wholly inferior to the sloppy, fantastic mess of a show they hosted last February while still drunk from the Brit Awards the night before.
Larry Stylinson
Larry is more than a bromance: It's a lifestyle. The pairing/name mash-up of Harry Styles and Louis Tomlinson has been a popular thread of sexual tension running through One Direction from the moment they were grouped together in 2010. In the last year, Harry and Louis have been separated in interviews and avoid one another onstage, which only fans the fans' flames and feeds the theories that the pair are being forced to stay closeted by their management team.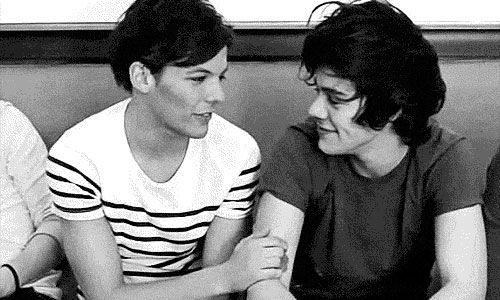 Matt Cardell
The winner of X Factor in 2010, the year One Direction was on the show. Harry Styles congratulated Matt on the win by whispering in his ear, on live television, "Think how much pussy you're gonna get." Oh, no, no, no — not like that. He was talking about cats:
Michael Sam
The first openly gay NFL player, whose jersey Harry Styles wore during a show in St. Louis.
Morgan Spurlock
The director of the 3-D concert film This Is Us, who went to bat for the band during the film's promotional cycle, telling Time Out London, "One Direction are not the dark side. People love to say it's pop music that's destroying the music business. Digital media destroyed the music business. Napster destroyed the music business. Not these five kids."
Nipples
There are 12 of them among the 5 members of One Direction. Yes, really.
The Obamas
Malia Obama is a huge fan of the band and was seen at one of the shows on their Take Me Home tour last year, after which Michelle invited the band to visit the White House. (Their schedule meant they couldn't squeeze it in.) When it comes to the First Family, though, Niall Horan has eyes for just one person: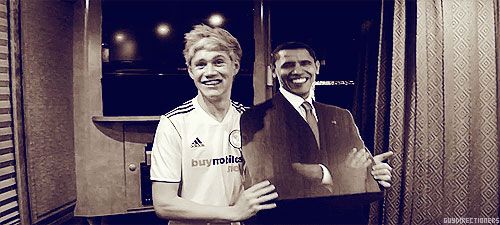 Perrie Edwards
A member of girl group Little Mix, which formed on X Factor the year after One Direction's creation. Little Mix actually won, and by late 2011, Edwards and Zayn were dating. They got engaged before the world premiere of This Is Us in August 2013. He has a cartoon drawing of her tattooed on his arm.
Piers Morgan
In the most English argument imaginable, Harry and Louis took offense when Morgan tweeted that David Beckham should retire. The boys easily got the hashtag #PiersMorganIsSmelly trending among their enormous Twitter fan base, before Harry called in the big guns to put an end to it: "Hiiii @SimonCowell can you tell @piersmorgan to leave us alone please? He's being nasty." Piers faced the boys for an interview during 1D Day, the band's eight-hour livestream shitshow extravaganza in 2013, and the body-odor gags just kept coming … and coming …
Robbie Williams
Once '80s U.K.-pop royalty, the former Take That member joined the baby-faced band onstage during the finals of X Factor. "I've been a member of One Direction, as it were," he said recently, after warning the band to, for the love of God, stop making videos of themselves smoking weed. He did not comment on whom he thought would be the first member of 1D to "do a Robbie Williams" (i.e., go solo).
The Rogue
Louis Tomlinson's high-school band. Look, if nothing else, they were very enthusiastic.
Saturday Night Live
Nothing illustrates One Direction's (physical, musical, sartorial) growth better than a comparison of their 2011 appearance on SNL to their 2013 performance.
Sexuality
Harry Styles once again raised speculation about his sexuality during a recent interview, in which he and Liam Payne were asked to list four things they look for in a girl. Liam was quick to respond: "Female. That's a good trait." Harry was just as speedy to counter with: "Not that important." Not a week later, in the wake of Apple CEO Tim Cook's public coming-out, Louis Tomlinson was photographed wearing a T-shirt bearing the classic rainbow Apple logo. When The Independent's Jenn Selby applauded what seemed to be a supportive gesture, Louis lashed out at the fact that his sexuality appeared to be up for discussion.
"Shower of cunts"
Niall's greeting to a group of six Glaswegian girls waiting for him at an airport in 2012. The girls seemed unperturbed ("We didn't mob him, he called us a shower of c***s as BANTER," they said); nevertheless, Niall's media training has kicked in since then.
Simon Cowell
After literally making One Direction on X Factor U.K., Simon signed the band to his label Syco when they were voted out of the reality show. If you look closely, you can see dollar signs in his eyes during this performance:
Snake Habitat
A grassy field near the band's hotel in Adelaide where a group of dedicated Australian fans attempted to creep up on the band last fall despite Liam's sincere warning against it.
Stairs
The spot in the X Factor house where the recently formed One Direction recorded their video diaries each week. "From the bottom of the stairs to the top of the world" is the favored inspirational quote for many early fans.
Taylor Swift
Harry's 2012 "girlfriend for the winter." Her new album 1989 is apparently all about their relationship.
The Wanted
The English boy-band that broke up in early 2014, claiming that it was because One Direction's success left no room for any of their own. Less than a year earlier, Tom Parker from the Wanted got into a Twitter spat with Louis Tomlinson where the two went head to head on their vocal abilities and respective Twitter followings. A year before that, Louis ensured cameras caught him "reading" the Wanted's unofficial biography … which he found on clearance in a discount bookstore.
"Torn"
The Natalie Imbruglia song that a sartorially stunted 1D sang at Simon Cowell's house. The performance secured them a spot in the X Factor live lineup, despite Louis's debilitating sea-urchin injury.
Veronica
The sexy secretary Zayn Malik played in the "Best Song Ever" video, prompting men and women alike to question BASICALLY EVERYTHING.
Vomit Shrine
How fans chose to memorialize the location on Los Angeles's 101 freeway where Harry once threw up after a night out. (Or, in his words, "a long hike.")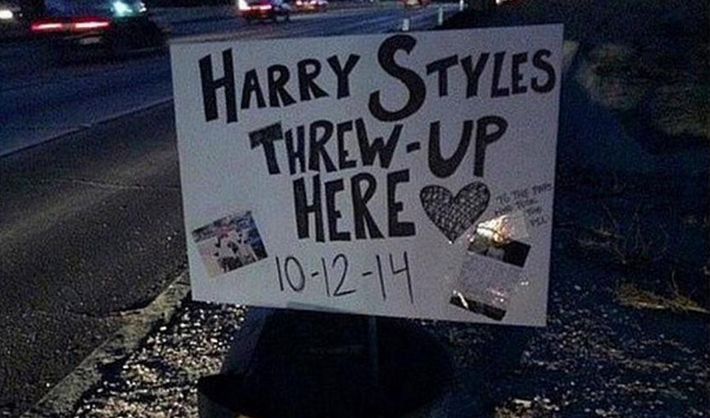 Wax Figures
Madame Tussaud's in London unveiled its new wax figures of the band in 2013. Harry, Louis, Niall, and Zayn's sculptures turned out great. And also, Liam had one.
White Eskimo
The name of Harry's band while attending his Cheshire high school. They performed at school concerts and weddings before Styles popped down to London to try his luck on …
X Factor
The reality competition show where it all began. All five members of One Direction auditioned separately during the 2010 season and made it through to boot camp, where they were cut in the final round of eliminations. Judges called them back at the last minute — Harry thought it was so producers could get footage of young kids crying on camera — at which point they assembled as a group and progressed to the "judges' houses" stage of the competition. July 23, 2010 is officially D1 of 1D.
Zayn
A true angel, sent directly from the heavens (which is why he is a glossary entry and none of his bandmates are). If he weren't in 1D and if this were 2003, Zayn Malik would still have work playing the secret prince in a Julia Stiles movie.