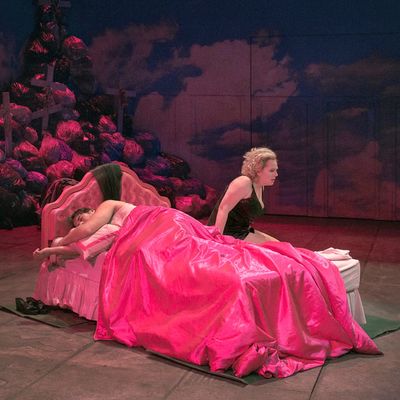 From the Metropolitan Opera's Lady Macbeth of Mtsensk.
Photo: Ken Howard/Metropolitan Opera
Does the Metropolitan Opera not know when it has a winner? Graham Vick's 1994 production of Lady Macbeth of Mtsensk, one of the 20th century's greatest operas, has spent the past 20 years in mothballs, except for a brief airing-out in 2000. Now it's finally rocketed out of storage in a phosphorescent burst. And yet with an infectious apathy usually reserved for duds, the company has allotted only five more performances and omitted the opera from the HD broadcast season. The message from the Met is clear: You can skip this one.
Well, you shouldn't.
Defying all who have been misled into thinking that opera is a delicate or decorous genre, Shostakovich wrote a work that revels in raunchy vulgarity. Stalin loathed it for exactly that reason, but we're tougher than he was. We can delight in this scorching, sweaty, and brutally entertaining show. It also contains two elegantly composed murders, a drunken wedding, and opera's most musically explicit sex scene, two minutes of frantic fanfares that are more athletic than romantic — the opposite of Wagner's or Strauss's postcoital haze. Vick's voyeuristic choreography almost makes it look as though Shostakovich had written out each change of position.
Overseeing this tight twining together of music and theatrical vision is James Conlon, who commands a huge orchestra and a kinetic cast with wildness and precision. He brings out the score's lurid colors and rough sarcasm, but also its flashes of empathy. As the Met's production brings out with bitter humor, the opera has more to offer than bloodlust and debauchery. Before she evolves into a blood-soaked Lady Macbeth, Katerina Ismailova begins the opera as a Russian Madame Bovary, bored and lonely and oppressed by her comforts. The neglected factory owner's wife spends her days in a negligee, luxuriating in sultry boredom while the oboe accompanies her in tender, meandering phrases. She heaves and droops and flounces around the house, her ordinary discontent transfigured by the raw, expressive score, her whines answered Sergei, sung by the excellent Brandon Jovanovich. Lovers, like money and alcohol, tend to disappoint in this opera, which really should have pleased Stalin: It's a parable of selfishness and lechery ending badly. What starts out as an overheated romp ends with a slow trudge to Siberia. It's hugely to Jovanovich's credit that he conveyed Sergei's fecklessness as well as his charm.
Vick, like Shostakovich, is cruel about fantasies and sappy metaphors. At one point, the stage is enclosed by walls painted sky blue, with little fluffy clouds. A row of doors suggests that there are choices to be made, opportunities to discover, prizes to win. But of course, the doors are kicked in, the prizes are of the booby variety, and there's nowhere to go but jail. Vick has equipped Katerina's husband with a car, a basic Eastern European sedan the color of dried blood. It behaves like a character with no lines; we see it drive off in innocence and return in outrage, receive a murder victim's body in its trunk, and reappear after intermission, crushed by a wrecker's ball. An orthodox priest dances on its crumpled carcass. If all this sounds ugly, that's nothing compared to Paul Brown's gleefully repulsive array of print dresses, workman's gear, and prisoners' uniforms, not to mention Katerina's fuschia-sheeted bed. It takes great talent to muster so much comic hideousness and arrange it into this ravishing show.
At the center of it all is the soprano Eva-Maria Westbroek, who, after singing the original production of Mark-Turnage's reality-based Anna Nicole, is in danger of being trapped in the roles of temptresses with Costco-size bosoms and desperate destinies. Granted, opera offers an abundance of roles like that, but Katerina is special in that her daydreams are so blinkered, her veneer of romance so thin that all she wants, really, is a bit of anodyne attention. It's not easy to get right that mixture of lassitude and bravado, but Westbroek does. Her voice is supple and strong, her body voluptuous and agile, yet she uses these gifts to portray a pathetically wan character. Shostakovich's genius was to project small lives onto an epic scale, not by heroizing his characters but by adorning their faults in vivid music. Her father-in-law, sung with thuggish realism by Anatoli Kotscherga, enters to a heavy-footed bassoon melody above a quietly blurting ground bass, a sound that Prokofiev recycled a couple of years later in Peter and the Wolf. It's a comic clue, a brushstroke of sonic grotesquerie that inspires Vick's visual style.
Lady Macbeth of Mtsensk is at the Metropolitan Opera through November 29.