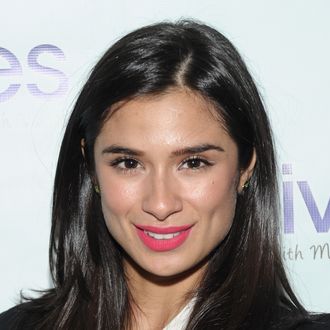 Photo: Rommel Demano/2013 Getty Images
Diane Guerrero, best known for her dual roles as Maritza Ramos on Orange Is the New Black and bestie Lina in CW freshman fall hit Jane the Virgin, penned an op-ed for the Los Angeles Times calling for a halt to deportations. "Keeping families together is a core American value," she writes. "Not one more family should be separated by deportation." She writes about her own experience with her family immigrating from Colombia to escape a "dire economic situation" and trying to get citizenship, to no avail. Guerrero, who was born in New Jersey, always feared her parents would be deported.
I came home from school to an empty house. Lights were on and dinner had been started, but my family wasn't there. Neighbors broke the news that my parents had been taken away by immigration officers, and just like that, my stable family life was over.

Not a single person at any level of government took any note of me. No one checked to see if I had a place to live or food to eat, and at 14, I found myself basically on my own.
Family friends eventually took her in where she kept attending school. Her family missed the important moments in her life.
"My story is all too common," she writes.