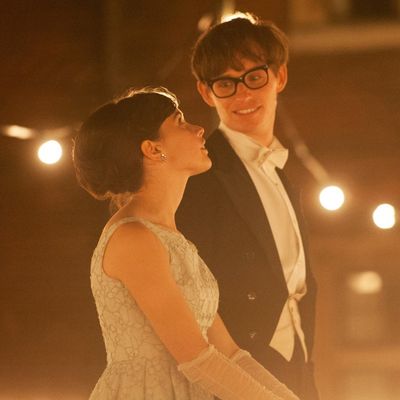 Every week between now and January 15, when the nominations are announced, Vulture will consult its crystal ball to determine the changing fortunes in this year's Oscar race. Check back every Friday for our Oscar Futures column, when we'll let you in on insider gossip, confer with other awards-season pundits, and track industry buzz to figure out who's up, who's down, and who's currently leading the race for a coveted Oscar nomination.
Best Picture

The Theory of Everything
While this Stephen Hawking biopic (opening today) has a few notable detractors, the upbeat, overcoming-adversity narrative is right in the Academy's sweet spot. With Oscar nominations likely in both Best Actor and Best Actress, a Best Picture nod seems assured.

A Most Violent Year
I'm a big fan of this crime drama starring Oscar Isaac and Jessica Chastain, which premiered at AFI Fest last night and boasts real slow-burn power. Still, the movie will be hampered by its limited box office prospects and downbeat tone, and the critical consensus is that A Most Violent Year's best shot at Oscar will come in the Best Supporting Actress category.
Current Predix
Birdman; Boyhood; Foxcatcher; Gone Girl; The Imitation Game; Into the Woods; Selma; The Theory of Everything; Unbroken; Whiplash
Best Director

Angelina Jolie, Unbroken
Universal worried early on that Unbroken's sight-unseen status as the presumed Best Picture winner might create too-high expectations. Perhaps it's for the best, then, that Jolie spent the last few months away from the campaign trail, shooting another film, Beyond the Sea: She's returned to find a favorable playing field with no formidable front-runners, and after appearing on the cover of this month's Vanity Fair, Jolie is ready to command the kind of profile that no one else in this category can even come close to. Let the games begin!

Christopher Nolan, Interstellar
Nolan was sniped in the Times this week when his publicity demands on Jessica Chastain — namely, that she could not campaign for her work in A Most Violent Year until December and instead had to devote herself to his film Interstellar — created the appearance of a bullying overreach. What's more, Hollywood insiders and rival publicists have been whispering about Nolan's micro-managing mien for months.
Current Predix
Damien Chazelle (Whiplash); Alejandro González Iñárritu (Birdman); Angelina Jolie (Unbroken); Richard Linklater (Boyhood); Morten Tyldum (The Imitation Game)
Best Actor

Eddie Redmayne, The Theory of Everything
If you subscribe to the notion that Redmayne is one of four nomination locks in this category — with the others being The Imitation Game's Benedict Cumberbatch, Birdman's Michael Keaton, and Foxcatcher's Steve Carell — then his performance of Stephen Hawking is by far the most sympathetic in an awfully chilly category, not to mention the most technically demanding. Those attributes go a long way with the Academy, and Redmayne could find himself the Best Actor category frontrunner.

Oscar Isaac, A Most Violent Year
Sadly, the Academy doesn't care much for subtle silence, especially in a category packed with flashy roles, which could make it difficult for Oscar Isaac's quietly powerful performance as A Most Violent Year's lead to break through.
Current Predix
Steve Carell (Foxcatcher); Benedict Cumberbatch (The Imitation Game); Michael Keaton (Birdman); David Oyelowo (Selma); Eddie Redmayne (The Theory of Everything)
Best Actress

Felicity Jones, The Theory of Everything.
This promising British actress was a dark horse on the cusp of an Oscar nomination a few years back for Like Crazy, but she'll likely have no trouble breaking through this season. As Jane, the wife of Stephen Hawking, Jones takes a role that could be the stock supporting wife and imbues her with actual life, feeling, and desire.

Amy Adams, Big Eyes.
Industry folks who've screened this have been passing along wan reactions, though Adams is said to be solid in it. It's odd (and perhaps telling?) that Big Eyes didn't end up playing any film festivals, even though it's been done for a while; the first official public screening is in Los Angeles on Thursday, opposite AFI Fest's closing night.
Current Predix
Amy Adams (Big Eyes); Felicity Jones (The Theory of Everything); Julianne Moore (Still Alice); Rosamund Pike (Gone Girl); Reese Witherspoon (Wild)
Best Supporting Actor

Charlie Cox, The Theory of Everything
Cox is appealing as the third-wheel love interest who could come between Stephen Hawking and his wife, and some Oscar watchers think he is within striking distance of a nomination, but he's been unable to do much press while shooting the Netflix series Daredevil, so all the hype is focused on the film's two leads. He'll have to count on a Theory of Everything wave to wash him in.
Albert Brooks, A Most Violent Year
The funnyman came tantalizingly close to an Oscar nod for his dark turn in Drive, but if he couldn't make the cut then, the odds are steeper for his more low-key (but still solid) work as Oscar Isaac's pragmatic lawyer in A Most Violent Year.
Current Predix
Ethan Hawke (Boyhood); Miyavi (Unbroken); Edward Norton (Birdman); J.K. Simmons (Whiplash); Mark Ruffalo (Foxcatcher)
Best Supporting Actress

Jessica Chastain, A Most Violent Year.
She's not in it as much as you might like, but as the devoted, formidable wife in A Most Violent Year, Jessica Chastain pops in a big way. It's a superficially similar role to Jennifer Lawrence's Oscar-nominated American Hustle part — the accent, the hair, the eye-popping wardrobe, the alone-with-the-kids resentment and crackling lines — and I think that, like Lawrence, she'll make the cut.

Meryl Streep, Into the Woods.
The film's new trailer is leaning heavily on Streep, and it's hard to imagine a scenario where the 18-time nominee fails to crack a category this mild.
Current Predix
Patricia Arquette (Boyhood); Jessica Chastain (A Most Violent Year); Keira Knightley (The Imitation Game); Emma Stone (Birdman); Meryl Streep (Into the Woods)