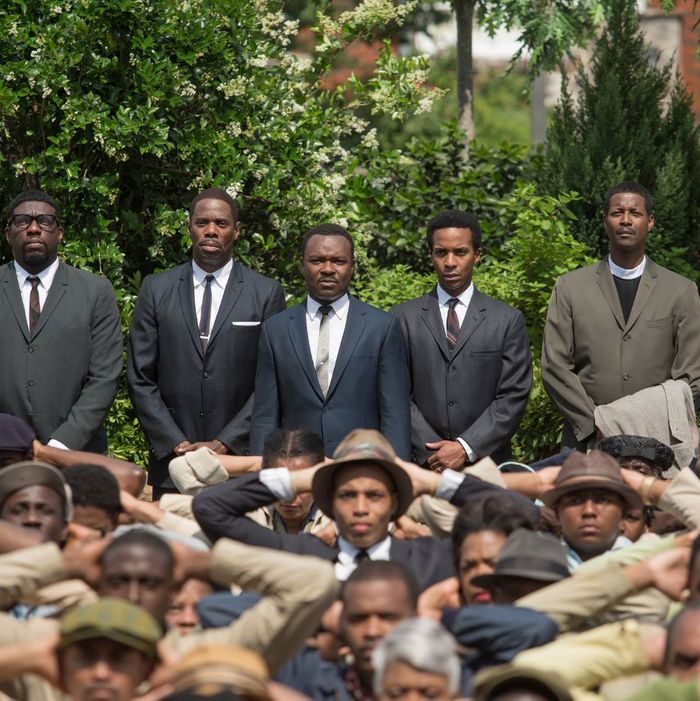 Photo: Atsushi Nishijima/Paramount Pictures
Every week between now and January 15, when the nominations are announced, Vulture will consult its crystal ball to determine the changing fortunes in this year's Oscar race. Check back every Friday for our Oscar Futures column, when we'll let you in on insider gossip, confer with other awards-season pundits, and track industry buzz to figure out who's up, who's down, and who's currently leading the race for a coveted Oscar nomination.
Best Picture

Selma
This late-breaking civil-rights drama about Martin Luther King Jr. launched well at AFI Fest last week, and then went over even better once the New York cognoscenti took a look, with some pundits even moved to christen it our eventual Best Picture winner.

American Sniper
Clint Eastwood's war film garnered a more mixed reaction at AFI Fest, with his partisans going gaga for it (they're calling it his best since Million Dollar Baby), even as the buzz I heard coming out of the premiere was considerably more muted.
Current Predix
Birdman; Boyhood; Foxcatcher; Gone Girl; The Imitation Game; Into the Woods; Selma; The Theory of Everything; Unbroken; Whiplash
Best Director

Ava DuVernay, Selma
Only four women have ever been nominated for Best Director, but two more are vying to crash the category this year: Angelina Jolie, whose highly anticipated Unbroken will be the season's final unveiling, and Ava DuVernay, whose work on Selma is already acclaimed. The latter has a particular advantage in a year where the Best Director field of contenders is crowded with frosty Euro dudes like Morten Tyldum, James Marsh, and Chris Nolan: As a warm, engaging raconteur on the Q&A circuit, DuVernay is second in appeal only to this category's locked-in nominee Richard Linklater.

Clint Eastwood, American Sniper
"Clint Eastwood's Oscars Challenge: Getting Liberal Voters to Love American Sniper" reads the THR headline, and while the trade's argument is pretty specious (since Sniper's politics are have-it-both-ways, swinging from rah-rah fervor to shell-shocked war horror), it's telling that Eastwood's pre-release narrative already feels obstacle-laden.
Current Predix
Ava DuVernay (Selma); Alejandro González Iñárritu (Birdman); Angelina Jolie (Unbroken); Richard Linklater (Boyhood); Morten Tyldum (The Imitation Game)
Best Actor

David Oyelowo, Selma
Oyelowo is incredibly persuasive as MLK, and he's got a compelling stake to this role, as the British actor has been emphasizing to the press that God spoke to him and chose him as this film's star. Where's your house line to the Lord, Benedict Cumberbatch?

Bradley Cooper, American Sniper
The Academy loves a physical transformation, and Cooper piled on the bulk to convincingly play lethal SEAL sniper Chris Kyle. Still, while he's terrific in the role and anchors every scene, it's subtle, interior work, and that may not be enough to leapfrog a field of flashy contenders.
Current Predix
Steve Carell (Foxcatcher); Benedict Cumberbatch (The Imitation Game); Michael Keaton (Birdman); David Oyelowo (Selma); Eddie Redmayne (The Theory of Everything)
Best Actress

Reese Witherspoon, Wild.
Conventional wisdom has it that Julianne Moore could finally take home Best Actress this year for Still Alice, but don't count out Witherspoon: She's flat-out great in the wilderness drama Wild, and as this week's Fox Searchlight rollout proved, she'll have more high-profile muscle and studio firepower backing her than Moore might with the low-profile Alice, which is only receiving a delicate, one-week qualification release this year.

Amy Adams, Big Eyes.
Adams is certainly due for a win, but even snagging a nomination for her muted work as thwarted painter Margaret Keane might be a tall order: Pundit Scott Feinberg caught Big Eyes in its Los Angeles bow last week and summed up Adams's award buzz with a "wouldn't bet on it."
Current Predix
Felicity Jones (The Theory of Everything); Julianne Moore (Still Alice); Rosamund Pike (Gone Girl); Hilary Swank (The Homesman); Reese Witherspoon (Wild)
Best Supporting Actor

Tom Wilkinson, Selma
Wilkinson doesn't come close to mimicking Lyndon Johnson in Selma and his quavery American accent goes in and out, but he's still got a great arc in the picture (especially his dynamite last scene) and reps Selma's best shot at a supporting nod.

Christoph Waltz, Big Eyes
Though Big Eyes didn't give Amy Adams much oomph this past week, don't count out two-time winner Waltz as her conniving husband: With his over-the-top turn, Waltz "probably has a better shot at sliding into the Best Supporting Actor discussion than [Adams] does in the bereft Best Actress race," says Hitfix's Kris Tapley.
Current Predix
Miyavi (Unbroken); Edward Norton (Birdman); J.K. Simmons (Whiplash); Mark Ruffalo (Foxcatcher); Tom Wilkinson (Selma)
Best Supporting Actress

Sienna Miller, American Sniper.
Sniper hands Miller her most high-profile role in years as Bradley Cooper's conflicted wife, but while she does appealing work, she's also confined to the back-at-home scenes that early reviews have all singled out as this movie's weakest story thread.

Oprah Winfrey, Selma.
As civil-rights activist Annie Lee Cooper, Winfrey is so good in Selma's third scene — really, the performance is just a marvel of character-actress physicality — that I immediately wondered if this would be her make-good year with the Academy after they snubbed her for The Butler. Trouble is, the rest of the movie mostly consigns her to wordless reaction shots.
Current Predix
Patricia Arquette (Boyhood); Jessica Chastain (A Most Violent Year); Keira Knightley (The Imitation Game); Emma Stone (Birdman); Meryl Streep (Into the Woods)