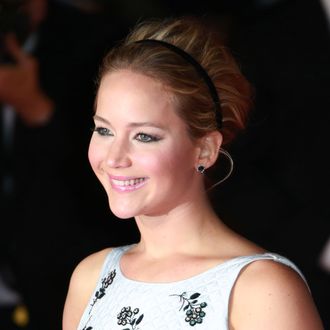 Photo: Elliot/Splash News/Corbis
Among other things, the Hunger Games: Mockingjay - Part 1 press tour means it's an open field day on Jennifer Lawrence, and she's completely sick of (some) of it. "I knew the paparazzi were going to be a reality in my life," she told the AP. "But I didn't know that I would feel anxiety every time I open my front door, or that being chased by 10 men you don't know, or being surrounded, feels invasive and makes me feel scared and gets my adrenaline going every day."
She hopes to change the law so that it becomes illegal to buy, sell, or post a photo that has been obtained illegally. "If somebody jumps my fence and takes a picture through my window of me naked, that's illegal, but the photos can still be everywhere the next day, and that makes no sense!" she said.
Lawrence is understandably skittish after the nude-photo leak of her and a number of other female Hollywood stars. Last month, in a Vanity Fair interview, she said that looking at the nude photos of her from the hacking scandal was a "sex crime." And again, just last week, she told BBC Radio 1 that she would never join Twitter as well, because "the Internet has scorned" her.
Lawrence gets that most people aren't sympathetic to her because she's a celebrity — "Nobody wants to help us because it seems like, you know, 'Shut up, millionaires!'" — but she hopes that changing the law would protect people like her. Stars: They're not like us.