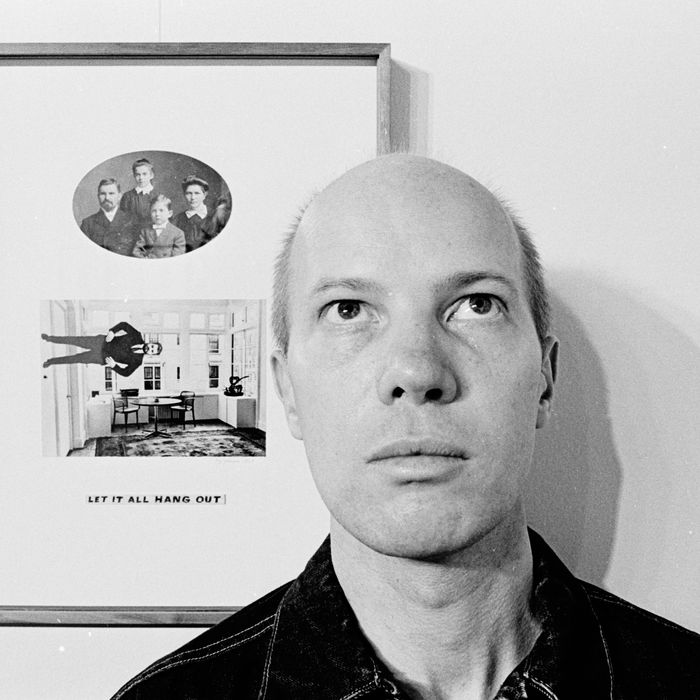 Ray Johnson.
Photo: Jack Mitchell/Getty Images
Robert Rauschenberg called his friend Ray Johnson an artist who existed in "the gap between art and life." Doesn't sound like the greatest of compliments coming from a best friend — but these are artists, and the lines between art and life are blurred. Johnson was a character, a provocateur, and just as likely to be cited by other people as an inspiration as to be remembered for his actual work. Though the work was really good! Active from the late 1940s up until his death in 1995, Johnson provoked Pop Art into being and followed the Dada tradition of using collage and cutouts as a satirical force to poke fun at society — take, for example, his "moticos," a.k.a. small collages laden with logos and pop-culture references, which predated Andy Warhol by a decade.
But it might just be that the most impressive thing about Johnson was his incredible gift for networking — a cantankerous character who, in spite of his antagonistic personality, wooed legions of fans from his artistic peers, generation after generation, working alongside, behind, and around nearly everyone who mattered over the last half-century, and managing, therefore, to play a formative role in the major art movements of the late 20th century. Starting now and going until January 16, "important pictures" dealer Richard Feigen (who was friends with Johnson back in the day, just like everyone else) is staging a show called "Ray Johnson's Art World" at his Feigen's 69th Street townhouse that features Johnson's famous mail art (yes, he invented that) and collages alongside his contemporaries. The artists paired with Johnson's works seem like a sort of casual crowd: John Baldessari, Lynda Benglis, Chuck Close, Jasper Johns, Robert Rauschenberg, Ad Reinhardt, James Rosenquist, Edward Ruscha, Yoko Ono, Andy Warhol, and May Wilson. What could these people possibly have in common? Oh, right: Ray Johnson.
1948: While at the Summer Institute of Black Mountain College (a famous residency), Johnson creates the props for a production of Erik Satie's Ruse of Medusa. His co-collaborators? Merce Cunningham, John Cage, Buckminster Fuller, Willem de Kooning, and Richard Lippold.
1958: In an ARTnews cover story about the first show of Jasper Johns, a friend and foe of Johnson's, critic Fairfield Porter cites Johnson as an influence and "better known colleague."
1964: Johnson brings Dorothy Podber to his friend Andy Warhol's studio, where she asks Warhol if she can "shoot" his works. Warhol assumes she means with a camera. Instead, she whips out a gun and starts shooting through a stack of paintings, now known as the "Shot Marilyns."
1976: Johnson receives a National Endowment of the Arts grant to document his New York School of Correspondence, a.k.a. "mail art" (sending small works through the post) that he created in the late 1950s. That same year Johnson starts the "Silhouette Project," making portraits of his 200 closest friends including Chuck Close, Warhol, Paloma Picasso, James Rosenquist, Frances Beatty, Christo, Lynda Bengalis, David Bowie, William S. Burroughs, John Belushi, Edward Albee, Nam June Piak, David Hockney, and Roy Lichtenstein.
1979: Chuck Close photographs Johnson for a series entitled "Ray."
2002: John Walter directs How to Draw a Bunny, a Johnson-tribute film featuring Christo and Jean-Claude, Chuck Close, Richard Feigen, Morton Janklow, Lichtenstein, Lippold, Judith Malina, Rosenquist, and Peter Schyuff.
2011: Bill Powers, of Half Gallery and husband to Cynthia Rowley, asked Leo Fitzpatrick (remember him from Kids?) to curate a show called "Ray's a Laugh" featuring Johnson's works alongside contemporaries like Joe Bradley, Dan Colen, Hanna Liden, Nate Lowman, Adam McEwan, Josh Smith, and Dash Snow.