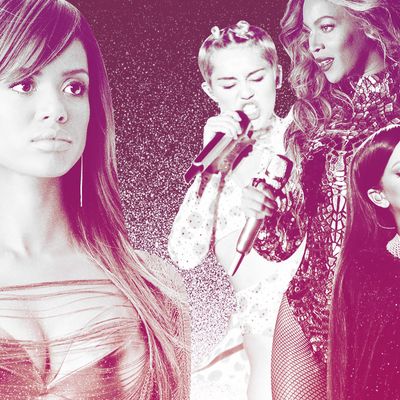 Photo: Kelly Chiello and Relativity Media, Getty Images
Beyond the Lights is a deft, gorgeous movie," writes Vulture's Bilge Ebiri. "For all its honesty, it's never slow, and for all its criticism of the music industry, it's never finger-wagging." It's true — writer-director Gina Prince-Bythewood's movie manages to fully evoke our current moment of pop music without directly targeting any one real-life personality. But as you watch, it's difficult not to feel the strange feeling that you might have heard pieces of these stories before. Here are our guesses as to the movie's real-life influences.
The Momager
It's a very familiar tale — who doesn't remember Mama Rose? And Minnie Driver does a wonderful job playing Macy, Noni's (Gugu Mbatha-Raw) mother. She's a truly divisive character, emotionally abusive and single-mindedly focused on her daughter's music-business success and then shamefully apologetic after everything falls apart. Perhaps the first warning sign of a future out-of-control pop star is the involvement (or overinvolvement) of her parents: Matthew Knowles led his daughter Beyoncé's career through Destiny's Child and helped her go solo. Then, after various disagreements over business, she dropped him as her manager. LeAnn Rimes sued her her father turned manager in 2000, after she discovered he had stolen $7 million dollars from her earnings. Selena Gomez dropped her mother and stepfather as her longtime managers after they reportedly disagreed with her relationship with Justin Bieber. Still together? Miley Cyrus and her mom, Trish:                                          
The Boyfriend
When Noni's rapper boyfriend Kid Culprit (Machine Gun Kelly) humiliates her onstage at the BET Awards, it's impossible not to compare that moment to other celebrity couples gone sour. Namely Rihanna, whose relationship with Chris Brown was revealed to be full of physical (and presumably emotional) abuse. They eventually split, and while both of their careers recovered, his bounced back way quicker than anyone felt comfortable with. The similarities end there because, unlike Noni, who finds her savior in the arms of "Officer Hero" Kaz (Nate Parker), Rihanna found her savior in herself. Real-life fairy tales don't often end with a knight in shining armor. As Whitney Houston and her husband Bobby Brown battled throughout their 15-year marriage, various truths and lies were splayed across the pages of tabloids. "Something happens to a man when a woman has that much fame … I tried to play it down all the time. I used to say, 'I'm Mrs. Brown, don't call me Houston,'" she told Oprah in 2009.
The Business
The harsh depiction of a modern-day record label in Beyond the Lights rings true — if only from our experience watching the progression of pop stars from "child" to "adult." Call it "Not a Girl, Not Yet a Woman" syndrome — Britney Spears's blaze from childlike "Sometimes" to panting "I'm a Slave 4 U" is what is expected of female pop-stars. Noni's hit single "Masterpiece" ("He love the way I twerk … He love the way I fuck") is the answer to her performance of Nina Simone's "Blackbird" at her school talent show. And the reprise of "Blackbird" (this time, her own version) at the end of the film is her very own "Wrecking Ball." It's a post-breakdown breakthrough, and a Look! I can sing ballad all in one.
Before:
After:
The Breakdown
"Research is everything to a writer," director Prince-Bythewood told Jezebel, "So I read articles on Mary J. Blige, who talked about being in a place so low that she thought about suicide." Noni's public breakdown also brings back vivid pictures of Britney Spears, who, in 2007, decided to fight back against not just the people who managed her but the people who adored her. Shaving her head with electric clippers, she was checked into rehab soon after losing custody of her two children. The courts gave Britney's father Jamie permanent conservatorship over her assets, and despite all that drama, Britney (or, more likely, Britney's camp) released her fifth studio album, Blackout, in October 2007.