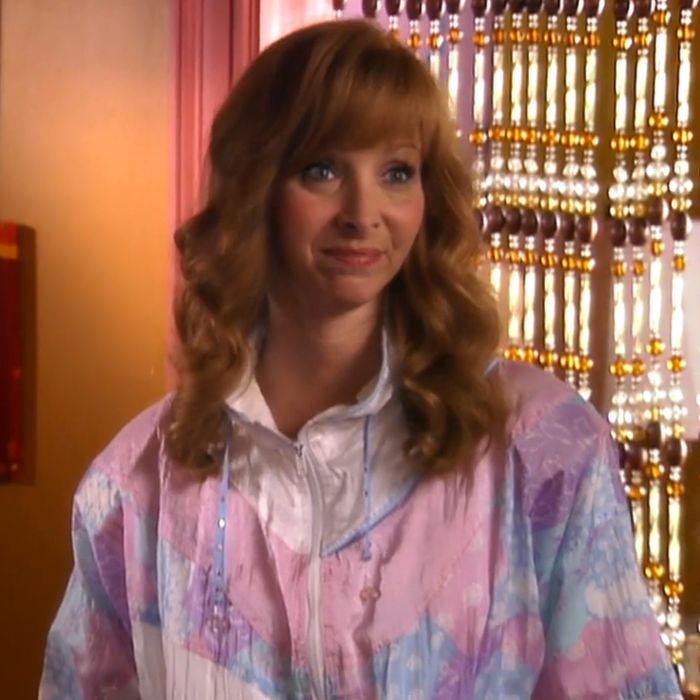 In case you've just joined us, we're recapping the first season of HBO's The Comeback starring Lisa Kudrow before the new season begins November 9. You can find a recap of episodes 1–6 here.
Episode 7: Valerie Gets a Very Special Episode
You know that moment when you blackmail your bosses into giving you the perfect job? No? Well, that's because you haven't caught the producer of your low-rated sitcom simulating anal sex with you — as a reality crew documents it. But Val has, so now it's time for a very special Room and Bored episode, "Aunt Sassy Gets a Boyfriend." Jimmy Burrows, who was supposed to direct all the episodes (someone must have been blackmailing him), has pulled a Houdini, and I'm It pushover Wagner Fisk has been brought in. Val's okay with that, but she's not thrilled with the casting director's lackluster list of names for the Big Dick Perkins part.vVal takes casting Big Dick into her own hands (sorry!) and calls personal friend Tom Selleck, with whom she worked on Magnum P.I. as a teen hooker.
When she and Mark go hear Juna's band at the Viper Room, they both down a couple of Red Bull–and-vodkas. And Mark rubs up against some strange woman because Val's rebuffed him due to the cameras. Later in bed, still strung out on Red Bull, Mark destroys the camera when he realizes they've got him saying he's snorted cocaine.
It's a ghost town when Val hits the soundstage the next morning. Turns out the network's shut down the show for retooling. Tom tells her they thought the Aunt Sassy episode was like Sex and the City meets Cocoon. She's relieved to hear the shutdown doesn't affect The Comeback. And when Tom Selleck calls, she tells him if they ever resurrect her big beaver, she'll let him know.
Episode 8: Valerie Relaxes in Palm Beach
Mark Berman is the kind of husband every deeply needy actress should have. With Room and Bored on hiatus, he whisks Val away for a Palm Springs weekend. A product-placement deal with Lincoln Mercury has landed the Bermans a new Navigator — and the company press rep literally drives to the desert with them, hoping to make all kinds of promotionally correct things come out of their mouths. They can't even play their CDs, a tragic, time-warped selection including Cheap Trick, because Jane says the show can't afford the rights. "Not even Mary J. 'Bilge'?" Val asks. The hotel décor and clientele have gone from Old Hollywood to hip, since the Bermans were there last, and snagging pool chairs in the shade requires a 7 a.m. wake-up call. Cue the young Hollywood blowhard, smoking a cigar and talking loudly on his cell, whom they wind up next to in the sun.
What should they do to salvage the trip? Invite over Don and Donna, people they barely know, who live nearby. Donna survived breast cancer with her tits intact and is now a say-it-like-you-mean-it kind of gal. When Mr. Hollywood yells on his cell during dinner, Val whines, but Donna tells him to shut up. Too bad Donna isn't around later, when Val and Mark down sleeping pills to drown out his early-morning party. Or to wake them up the next day when they oversleep. Donna encourages Val to stop bottling up her feelings, worrying what others think, and trying to control everything — and then takes her top off. Later, Val will twist these words to her advantage after meeting two effusive gay fans, one of whom isn't out and doesn't want to sign a film release. All's well until Juna calls during dinner and asks Val why she's not at Paulie's party. She gets hammered on tequila and channels her inner Donna, calling Paulie and leaving a message about how hurt she is. On the drive home, she puts in a CD and tells Jane she'll pay for it, stroking Mark's hair as Cheap Trick's "I Want You to Want Me" plays.
Episode 9: Valerie Hangs with the Cool Kids
This is the topsy-turvy episode where Val is insightful and the voice of reason. Room and Bored is back, and comedy duo Kaveen and Greg have been hired to bring their unique brand of humor — talking gibberish with Indian accents — to the show. Regulars Chris and Jessie are ready to kill, as their parts have all but disappeared. At lunch with Val, Chris, who's nicknamed the new guys "the beetee beetee boys," cries, and Jessie says he's gonna quit. "You have to roll with it," Val advises. At Juna's CD signing, which Val's stepdaughter Francesca and her friend Kalla have asked Val to take them to, Val tells Juna she's got to let the guys know she supports them. Solidarity turns to suicide the next time Val sees them all — they've decided to stage a stay-at-home protest and want Val to join. She says it's not a good idea; they're contractually obligated to show up. But Juna says it won't mean anything without her. So Val reluctantly agrees, telling her video diary it's against her better judgment and she wants it on record. That won't hold up in court, Mark yells from the bedroom. "I'm not doing this with my head, I'm doing it with my heart," she replies.
Sitting poolside with Francesca, Kalla, and Mickey the next day, Juna calls to see where Val is. The actors' agents talked them out of staying home, and Chris was supposed to tell Val! After a mad dash to the studio, Tom and Paulie G. summon her and ask why she's upset. When she explains what's gone down, Paulie's incredulous. So Val schools them: "A sitcom is like a family, and this one needs your attention. You are like the parents to those kids. Paulie, you are like the wild, out-there dad, and Tom, you're the mommy." Paulie says he thinks his ears are bleeding. But then words are exchanged between the beetee beetee boys and Val, and Chris slams into one of them with Jessie not far behind. Val shoots Paulie a knowing look. "The good part is now it's gonna be about healing," she intones to the camera. Savor the sanest Val you will ever see.
Episode 10: Valerie Gets a Magazine Cover
The episode in a nutshell: Juna gets the cover of Rolling Stone looking "fuckin' hot," to quote Paulie, and Val is a big ball of envy. She tries to hire Juna's publicist (shout-out to Flo, the Progressive Insurance lady, a.k.a. Stephanie Courtney), but she's not taking on some dinosaur. So Val hires Billy Stanton, mostly because he impressed her when he slugged a random guy who called him a "fag." The cover of Be Yoga magazine is the best Billy can come up with. So Val decides to turn her exercise room into a Zen shrine. She hires Goldie Hawn's decorator ("I heard she put her Oscar in her Zen room, is that true?) and Mark's given her a $50,000 budget, mostly because he was high on Percocet. Val also takes a crash course in yoga, inviting Mickey and Juna to join her. We'll learn later a paparazzo's been tipped off to Juna's visit.

The cover shoot isn't going very well because Val can't hold a pose. But when the magazine rep threatens to pull the cover, Billy shoves him. She downs some of Mark's Percocet, and the next thing you know, she's putting her cover — and an Us Weekly photo of Juna —  into her scrapbook. The Zen room Buddha now holds clothes.

Episode 11: Valerie Stands Out on the Red Carpet
All hail award shows, of which the People's Choice Awards is not even in the Top 10! Still, it's a way for the show to skewer these spectacles. Room and Bored is up for Favorite New Comedy, and Juna for Favorite TV Star — at least, that's what Val thinks until she gets to the set (with balloons!) and learns the show hasn't won but Juna has, because winners are notified in advance to make sure they show up. Still, it means a red-carpet moment for Val, who tragically wants Dynasty designer Nolan Miller to make her dress. Not so fast, says Billy, who thinks it should be Jay McCarroll, the Project Runway winner (season one!). Val's not so sure. But then Billy reminds her she'll be standing next to Juna, so they agree to have both designers whip something up.
The Nolan Miller dress is an awful silver-and-green spangled number. But Val likes it, until McCaroll's sleek, red, plunging gown shows up, and everyone tells her how spectacular she looks, and that tape will keep the girls in line. The only caveat: Wearing McCaroll's dress means she has to use his hair and makeup people. With smoky eyes and sophisticated hair, Val actually looks good. But just as Juna asks her to walk the red carpet, McCaroll and tells her she's got his dress on backwards! By the time she's changed, she's missed Access Hollywood and all the other TV interviews, the whole point of awards show, n'est-ce pas? Worse, Juna is played off as she's thanking Val in her acceptance speech. A paparazzo snaps the two of them as they sneak out a back entrance and, in her second nice move, Val gives Jane a gift bag.
Episode 12: Valerie Shines Under Stress
Guts, both literal and figurative, are on display in this episode. The first person to show some is Jane, who confronts Tom and Paulie after Val sees the latest script has only three Aunt Sassy lines, not enough for the network to promo The Comeback. No fuckin' way they're changing anything, says Paulie, though Tom agrees to fixes. When Val tells Mark Paulie's reaction, he says Paulie had better watch out or he's gonna punch him in his big fat gut (foreshadowing, people).
The good news the next day is Tom's got a new script with a big Sassy scene. The bad news is he's got an ulcer and won't be in for the rest of the week. Sassy's new bit has her dressed in a big, pink cupcake suit doing a pratfall. She goes to see Jimmy Burrows, a master of comedy, for advice … and then promptly ignores his tip to fall backwards. "Nothing's funnier than a face-plant," she counters to the camera.
Security is tight at work and includes a scanner because Juna's gotten a death threat. When Val sets it off, we learn she has a metal rod in her back from scoliosis. When it's time to shoot Aunt Sassy's big scene, a technical delay lasts so long, the audience is sent home, leaving Paulie, who's stuffing pizza in his face, and the writers, who've all been drinking. She does the fall a bunch of times and asks Paulie if it's okay, getting emotional when he makes a joke at her expense. "Does that rod in your back go all the way up your ass?" he asks. That does it: She hauls off and slugs him in the gut — and he throws up, which makes her throw up. They both yell for the reality crew to stop filming, but it's too late, and that moment will come back to haunt her.