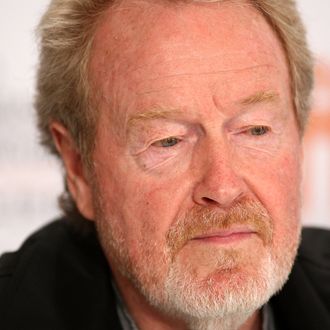 Photo: Alberto E. Rodriguez/2009 Getty Images
Exodus helmer Ridley Scott told Variety that he will likely not direct the Blade Runner sequel he developed with actor-scribe Hampton Fancher. "We talked at length about what it could be, and came up with a pretty strong three-act storyline, and it all makes sense in terms of how it relates to the first one," Scott said. He told the trade that he'd produce, but someone else will have to direct — the project purportedly begins filming within the next year. "Harrison (Ford) is very much part of this one, but really it's about finding him; he comes in in the third act," he added.
Blade Runner news aside, the cover story revealed that Scott has begun shooting his adaptation of Andy Weir's sci-fi novel The Martian. The movie (same name) will feature Matt Damon, Jessica Chastain, Kristen Wiig, and Jeff Daniels, among other high-octane names, and will follow a botanist stranded on Mars. The Cabin in the Woods' Drew Goddard was attached to help pen the script, according to Deadline. Production should wrap in late-winter.
Also, Scott publicly addressed his brother's 2012 death and shed light on their relationship:
Scott calls his brother's death "inexplicable," while acknowledging that Tony had been fighting a lengthy battle with cancer — a diagnosis the family elected to keep private during his treatments and in the immediate wake of his death. (Scott previously lost his elder brother, Frank, to skin cancer in 1980, at age 45.) "Tony had been very unwell, actually, and that's the moment I realized I had to get very close to him again, though we were always close," says Scott, who ends Exodus with an onscreen dedication to his younger brother. Most of all, he says, "I miss a friend. I'd go to him even when he was doing his recovery, and I'd say, 'F— the chemo, have a vodka martini,' and he and I would go out."