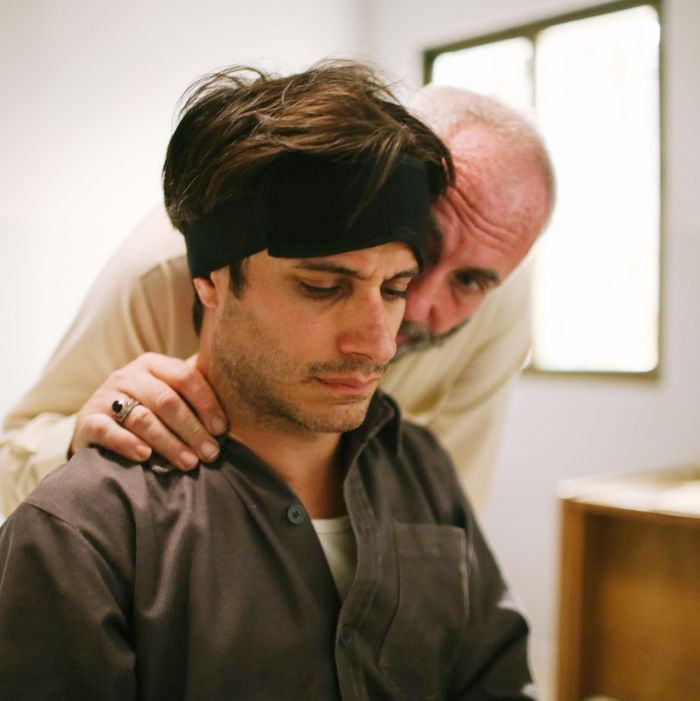 Last summer, Jon Stewart abandoned his The Daily Show desk — and his irony — to write and direct Rosewater, based on the true story of the London-based Iranian journalist Maziar Bahari, who was jailed and tortured in 2009 on a trumped-up espionage charge after the (questionable) election of Mahmoud Ahmadinejad. The odd thing is what apparently set off the government: not so much his reporting on Ahmadinejad's more secular opponent, Mir-Hossein Mousavi, but his appearance from Tehran on The Daily Show, where he good-naturedly took part in the usual mock interview making fun of the corrupt president. Rightly or wrongly, Stewart felt implicated, and he went on to use Bahari's book, Then They Came for Me (written with Aimee Molloy), to carry this brutal story beyond his usual realm of influence.
In outline, Rosewater sounds earnest, one-note, relentless — something you'd watch out of a sense of duty. But it turns out to be a sly, layered work, charged with dark wit along with horror. The heart of the movie is the Kafkaesque relationship (if that's the word) between Bahari (Gael García Bernal) and the interrogator-torturer whom Bahari dubs "Rosewater" (Kim Bodnia) for his distinctive scent. What happens between them has a dramatic fullness that's rare in political filmmaking.
Before they come for him, Bahari is already a man divided. He has an English wife, a child on the way, and a job as an "objective" reporter. But he arrives in Tehran with a load of ghastly memories of his late father and his recently deceased older sister, both (at different times) long-term political prisoners of the Islamist regime. Neither was "broken," but their lives were effectively destroyed. In lieu of routine flashbacks, Stewart contrives a series of surreal visions: As Bahari hurries along a commercial strip, shop windows become screens showing fragments of his father and sister's lives. Bahari is not in Tehran to follow in their footsteps. But covering the so-called democratic election is a minefield. The driver he hires, Davood (Dimitri Leonidas), turns out to be a Mousavi partisan whose activist friends have multiple satellite dishes on the roof of their headquarters. Democracy shamocracy: Just being on that roof is a provocation. Throw in The Daily Show, and Ahmadinejad's enforcers are practically drooling to have at him, break him, and announce to the world that he's a Western spy.
The cast is not, to put it gently, heavy on Iranians. Shohreh Aghdashloo — who plays Bahrani's mother — was born in Tehran, but Bernal is Mexican, Bodnia from Copenhagen, and Leonidas of Greek-Welsh descent. But the actors are stupendously convincing, none more so than Bodnia. His Rosewater was imprisoned by the Shah, and he believes that the horror he inflicts in the name of the Ayatollah is evening the scales. But there's something unusual about him. His tongue seems firmly in his cheek when he goes through the DVDs (among them The Sopranos) and pronounces each of them "porn" — never mind the CD of that Jew Leonard Cohen. And in the hundred-plus days of hell that follow, he seems weakened by his relentless insistence that up is down and black is white. The more Bahari resists signing a "confession," the more absurd the war of wits becomes. On the haggard Bahari's side are visions of his beloved father and sister. On Rosewater's, there is only the curt directives of an egotistical superior. The turning of the tables is a coup-de-theatre that makes you — after feeling powerless for so long — laugh with joy.
However much we sympathize, innocent people don't make the most dramatically complex protagonists, and Rosewater might have been even richer if its focus were more on its title character — a man who ferociously asserts the righteousness of what he does while knowing in his heart that he has become less than human. But the film is still impressive. On TV, Stewart's anger is held in check by the mask of a jester. Here, in the name of journalists imprisoned and killed all over the world, he gives full rein to it. It's an assertion of humanism that leaves you boiling with rage and yet convinced that somehow the truth will out.
*This is an extended version of an article that appeared in the November 3, 2014 issue of New York Magazine