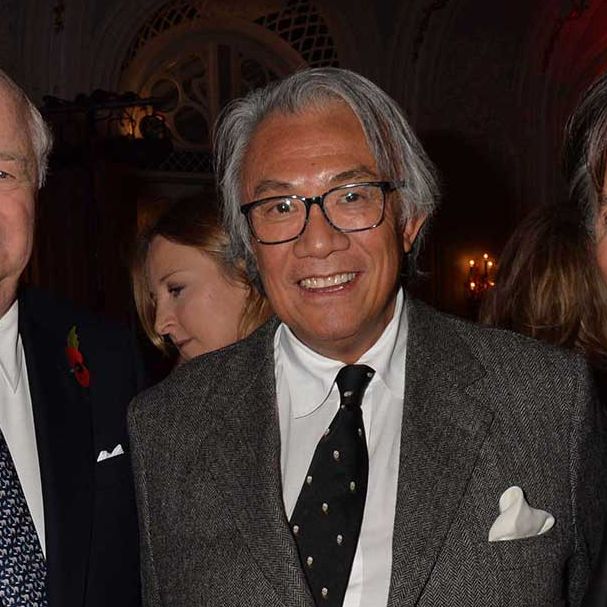 David Tang.
Photo: KGC-42/? Corbis. All Rights Reserved.
I was a last-minute stand-in for an ill guest at David Tang's 60th-birthday party on Tuesday at the Dorchester Hotel, where he is also the proprietor of the restaurant China Tang. It was a celebrity smorgasbord I was not prepared for, and let me report, swinging London is as swinging as ever. Kate Moss, Michael Caine, Tom Jones, the Goldsmith clan, Christiane Amanpour — I kept turning my head sideways trying to determine who she was, the only guest who seemed out of context. There should be a Shazam app to recognize people.
There was the duchess of York, who neither confirmed nor denied to me that she will enter the art world, perhaps with her daughter Eugenie at Paddle 8; Jeremy Clarkson, the Howard Stern of car journalists, who actually became famous from being a petrol-head; and even former prime minister Tony Blair, taking a break from the lecture circuit. At this stage, my primary concern was not to step on the train of Zaha Hadid's gray chiffon dress that was perilously trailing behind her, who I had accompanied.
As the guests were arriving in the main ballroom for dinner, I made my way around the table in search of the place card of the person I had replaced. It was noticeably absent. Besides Zaha, there was dealer Jay Jopling; collector Frank Cohen, who might have been celebrating the $25 million his Koons orange balloon dog fetched last week at Christie's, with his daughter Georgina; and the Candy & Candy brothers — not a porn-producing partnership as it might sound, but rather the young, mini-Trump empire-building developers of One Hyde Park fame.
I scooted over to the DJ booth off to the side of the dining room to check if my seat had been reassigned at short notice under my name. It hadn't. The clipboard-wielding seating lieutenant assured me not to worry, that they'd simply add another place at the table. As I dutifully stood beside a freestanding Chinese lacquered screen so as not to make notice of myself, I saw a waiter make his way to the table with a chair in tow and bend over to speak to Georgina, a Gagosian gallerista, to whom I briefly said hello when I was seat-searching.
The waiter proceeded to turn around, still carrying my seat. Maybe her dad didn't share enough of the Koons cash. I hid a little further behind the partition.
The party planner informed me they had been rebuffed by Georgina, who refused to make room, though there was ample space (had she known it was me?). At that point an army of staff making their way from the kitchen to begin bottle service began slamming into me willy-nilly as I stood entrenched in the spot I had taken refuge in as the festivities got underway.
They asked who else I might know in the room, and after I mentioned another acquaintance, the wandering chair-man returned yet again still holding the furniture. I was persona non grata, like the Thomas Mann short story "Tonio Kröger," when the uninvited artist is longingly observing a party from the wrong side of a window. At that stage, in full retreat from the action on the other side of the screen (what had become my screen), I told the organizer I'd better flee — I was beginning to feel like an interloper — but she studied her clipboard and commanded, "No, I've found a place. Seat him at 22," and off I was led. Nothing like feeling wanted.
I made my way to a spot that had been gouged on my behalf into a table-full, wedged between A. Alfred Taubman, the retailing magnate who famously bought Sotheby's in 1983, and Larry Gagosian. Being that I wrote a piece a few years ago, still lingering, "Why I Am Leaving Gagosian," a mash-up of a New York Times op-ed piece that served as the resignation letter of a partner from Goldman Sachs detailing how the investment-banking culture had soured because of greed, it was awkward big time. I was beginning to miss the protection of my glossy Chinese wall from only moments before.
As he saw me approaching, there could have been an ominous soundtrack, culminating in his giving me the shame-on-you motion, rubbing his two fingers together. Uh-oh. Okay, so I can be a little cynical in the pursuit of parody and a good story, but I am actually a huge fan of the impresario whose exploits will surely be favorably recognized in the history of dealing. I vividly remember 65 Thompson Street in the early '90s, his short-lived hookup with Leo Castelli (who was still in his prime) that stunned the art world and instantly legitimized him, to his museum-quality shows of everyone from Brancusi to Picasso (up now). By the middle of the meal, you could say I coined a new verb, Gagosian-groveling.
Ninety-one-year-old Taubman was a gracious and warm neighbor who regaled me with stories of introducing a retail mentality to the auction business that had largely catered to the professional trade prior to his stewardship. Taubman touched upon what he insisted was his wrongful conviction and jailing for antitrust violations and how he was called on to rescue Sotheby's again by injecting $140 million after his release from prison. Maybe Dan Loeb should shoot him a call for some advice. Quickly. Not bad seating after all.
On departure, and after maybe a few too many glasses of vino, I mistook the playwright Tom Stoppard for the banker Tim Hoare and related a story where one of my kids (also) hid away from him in the closet of the hotel room of his daughter on holiday. That, as you can imagine, went over well. But not as bad as Tracey Emin, who was photographed much worse for wear in the Daily Mail the following day keeling over in the back of a taxi after the event. Though it was give or take for a while whether I would stay, and even as an uninvited-invited guest (story of my life), it's still a long way for a stuttering fat kid who grew up in Long Island.