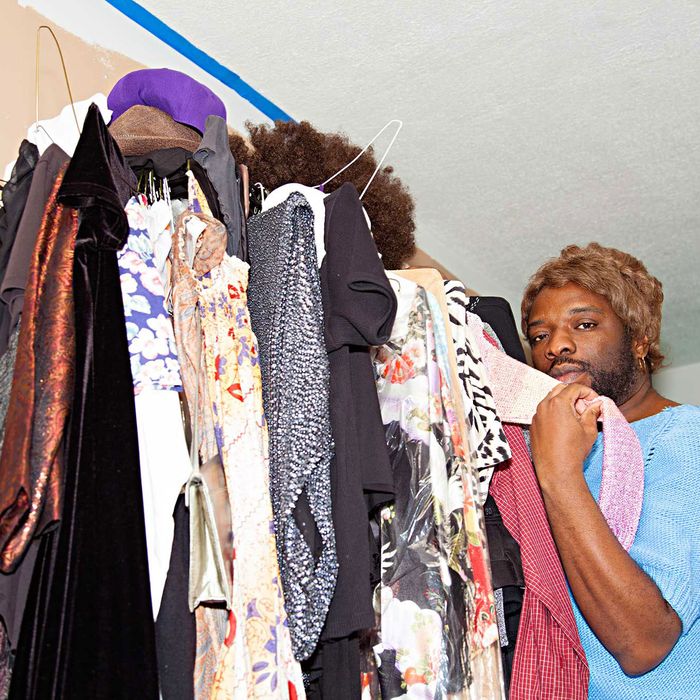 Kalup Linzy in his studio.
Kalup Linzy is the first in our series of visits to artists' studios by Sarah Trigg, author and photographer of STUDIO LIFE: Rituals, Collections, Tools and Observations on the Artistic Process. She also happens to be the photo editor of SEEN. Born 1977 in Clermont, Florida, Kalup Linzy is a visual artist working in video and performance.
Kalup Linzy greeted me at the door to his ground-floor apartment in Crown Heights just as he was putting on a wig. "I wore it for Halloween but then realized, wait, I kind of like this look." His sky-blue sweater had been bought for "either Kaye or his cousin Joshua," two members of the extensive cast of characters that Linzy has created for his comedic soap-opera-riffing narratives. Since 2002, he has created and acted in numerous editioned videos and online series, including All My Churen, starring the moody drag queen singer Taiwan; Melody Set Me Free, which centers around hotheaded music-business matron KK Queens; and my personal favorite, As Da Art World Might Turn, which tells the tales of a tormented emerging visual-artist named Katonya.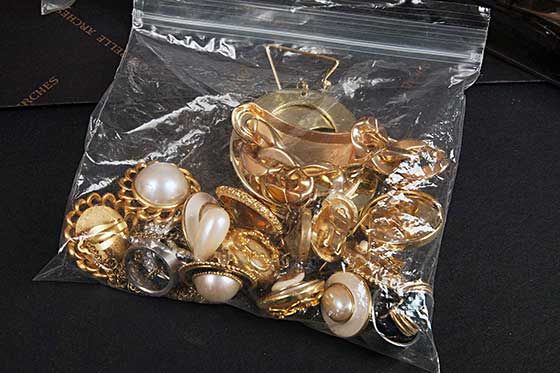 Given Linzy's success and that he frequently works with celebrities (James Franco, Natasha Lyonne, and Macaulay Culkin, to name a few), his makeshift studio came as a surprise to me, yet it also seemed fitting for his deliberately low-tech videomaking. Two walls were covered in green-screen. A rack stuffed with his characters' clothes stood next to his photo equipment, each article of clothing specifically designated for a character. "I'm kind of strict," he admitted. Jewelry and makeup were everywhere close at hand.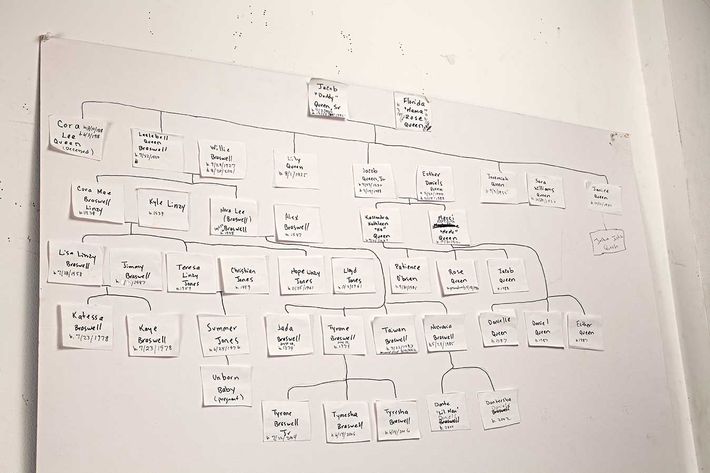 FAMILY TREE
Linzy performs many of the 80 or so roles he has developed for his work, and he dubs each of his characters' voices in his own. On the table were two duplicate printouts of Linzy at about age 7 (the second one, flipped) as inspiration for a set of female twin characters. As we spoke, I noticed a family tree of his characters tacked to the studio wall, which he explained included distant relatives — some of whom don't appear in the stories. "Not all of them are being portrayed. Some of them are deceased characters. Some of them you won't ever see in body form. All the characters are related. I just have to sit down and figure out what the relationships are."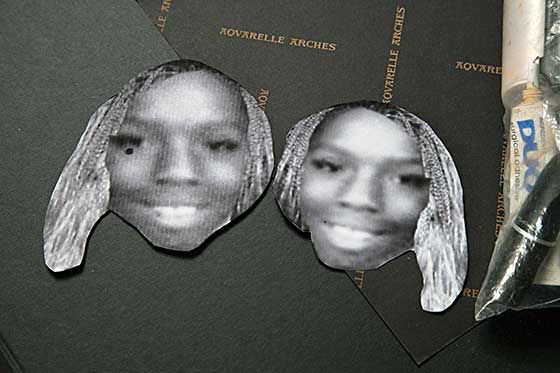 Take his main female character Lily in the 2008 video "Keys to Our Heart." Linzy realized only after creating her that she was KK Queens's aunt. "KK Queens is like the younger, contemporary version of her. It's going to be scandalous for some of them. Like, Pisces. She slept with her cousin's husband but doesn't know it. They're going to be discovering that they have relatives they didn't realize they had."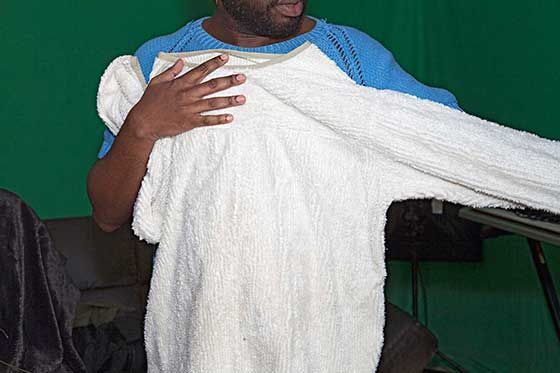 NEAR-DEATH EXPERIENCE
Linzy had just returned from a residency at the Vermont Studio Center, where he shot his video Go With The Flow (2014). During filming, he suffered from an accident. "I don't know what I was thinking. I was trying to shoot a scene in a waterfall. I have an obsession with water. People were trying to direct me the other direction, but I can be kind of hardheaded." Before climbing into the river (on a 40-degree day) for the shoot, Linzy had given his crew a few cues, but no one knew that his sliding into the rapids wasn't planned.
"So, as I'm turning to sit, I slip into a hole in between the rocks. I go under, but I don't feel my feet touch the bottom, and I was like, oh, shit. I had a moment when I was like, God, I am not ready to leave here. I'm one of these people that complain all the time, so I felt like I was given a choice — either sink, or come back up and swim!" He laughed. "I swear it felt like 20 seconds, but when I look at the tape, I went down for like four seconds."
On camera, the crew slowly begins to realize the slip was not a performance and that Linzy (who is asthmatic) is in a state of emergency. Paramedics arrive and spare Linzy from suffering hypothermia, but not from leaches. "Took them like 15 minutes to get me out. They were like, 'Next time you want to shoot a video, could you call us to have us on standby?'" He laughed.
Watch the full seven-minute video of Go With the Flow here:
Linzy showed me the cream-colored sweater that his character Kaye had been wearing during the episode. Kaye's wig is still in the river (hence the new one), and Linzy was deciding what to do with his character's baptismal moment. The real-life accident echoed the fate of one of Linzy's characters, Taiwan, who is currently lost at sea; it also reflected something of Linzy's process. "Sometimes I can't get myself out of situations. Somebody has to come rescue me before I go to the extreme!" he laughed.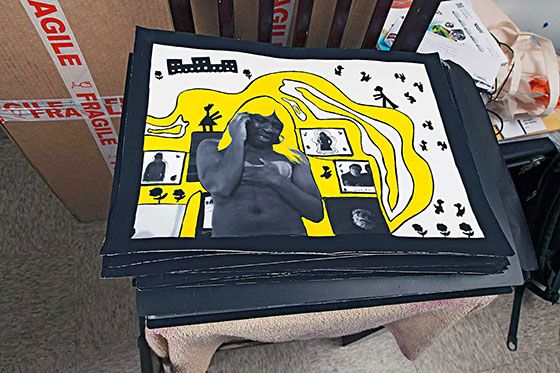 KATONYA'S ARTWORK
Some of the artwork of Katonya, the artist of the family, was hanging on the walls — each one depicting a different character. "Katonya received a commission from two of her cousins, who will discover she is a distant relative." Linzy flipped through the stack to a portrait of Pisces. "Pisces is actually a Sagittarius, but the reason why I called her Pisces is because she's a performance artist and she does this weird thing where her real name is Patrice Maxwell but then she gave herself a performance name." Pisces, who seduced the husband of another central character, the college professor Lisa Braswell, was conceived while Linzy was on a two-week residency in Fire Island, where he wrote As Da Art World Might Turn, which has frequent references to water. "I remember one day writing a scene, and I remember this fisherman went out and caught a fish, and he was like, 'I'm cooking now!' and I was like, you have no idea what effect this has on my life!"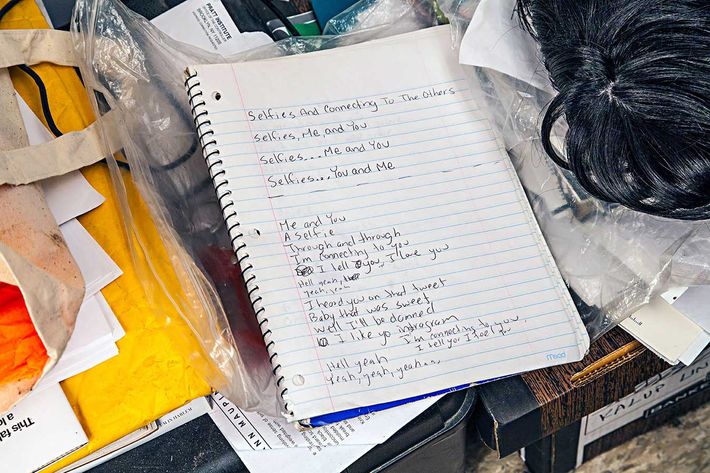 POP SONG
Next to Linzy's computer was a notebook with long, handwritten notes. A few pages were lyrics for a song he had written for a single he had pitched to the female pop duo Icona Pop, titled "Yeah, Yeah, Yeah," but they had rejected it. "Can you believe I wrote a song about a selfie? I was feeling it. I got into it. But I was like, they rejected me!," he laughed. He let me listen to the unmixed version, which was undeniably catchy, even in its roughly formed state.
PERFORMANCE RITUALS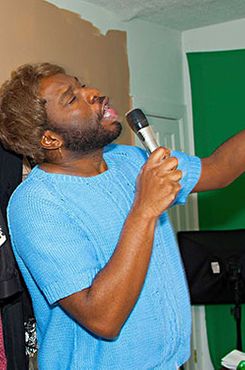 Linzy writes and produces music albums with singles that are integral to his stories and that he performs live. I asked Linzy if he had any rituals for the latter. "I listen to music and sing to get into the mode of the character." He located his microphone. "For one character, I listen to Erykah Badu a lot. You know, get body postures and stuff. Sometimes I'll go on YouTube and I'll watch Nina Simone, Aretha Franklin, Diana Ross, some Whitney Houston. "Don't Play That Song for Me" is a song I like because it's kind of like gospel. The singer helps me get into the energy. Then I'll rehearse some of my songs and figure out how I want the room and imagine what the audience's reaction might be. Then, if somebody's not responding, you can kind of put yourself in this space where you can find the people who are. Or, if it's an audience where they don't want to give and just want to sit and just look. Then you have to create that space within yourself where you just know you're on display and kind of go through with the performance. That's one thing with the live performances that people never really see. Sometimes people want to document me in the process, but I used to get really stressed out. You're seeing me go to these other spaces, and I feel like they may be thinking, Gosh, he's like really nuts, but it's just getting into that zone. So most of the time I have people clear the room. I listen to another singer to put me into that inspired mode. You have to remember that song or that beat that that character walked to. That's why I do cover tunes, too." Linzy sang a few tunes as we shot some photos.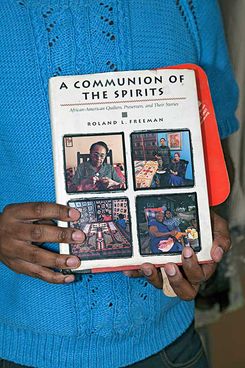 A COMMUNION OF THE SPIRITS
"Here's something people don't know about. This is my grandmother, who was a seamstress," he said, pointing to the cover of a book (she's pictured on the lower-right-hand side, second from right). Diane von Furstenberg made a wrap dress for Linzy's character Labisha, à la Diana Ross. "Now that I'm doing fashion stuff, I wish I would have learned how to sew. I used to go with my grandmother to the store to buy patterns."
* * *
See several more of Linzy's new videos premiere along with Go With the Flow at Creative Capital's 15th Anniversary Celebration at Joe's Pub on November 25 and 26, 2014.
Linzy's new album Art Jobs and Lullabies (also the title of his forthcoming feature-length film which, is the follow up to 2013's Romantic Loner) is available for preorder, releasing November 24.