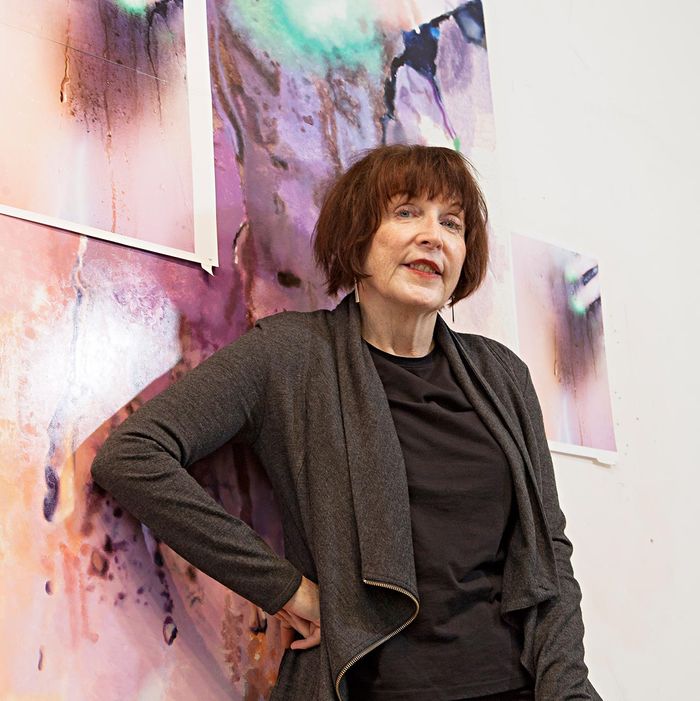 Marilyn Minter in front of a painting in progress.
Photo: ? Sarah Trigg/? Sarah Trigg
It was an unusually warm November evening as my cab maneuvered through midtown traffic to Marilyn Minter's studio. Upstairs, several assistants were at work in her spacious, brightly lit loft. This space was for painting but she has another one for photo shoots. Minter is best known for her sexually loaded and photo-realistically-rendered paintings of the female body that are cropped and magnified to the point of near abstraction. Dripping with nightlife decadence, pearls spill out of mouths, eyes shimmer with metallic eye shadow, and manicured feet teeter on four-inch, rhinestone-studded heels that have splashed through the mud — as if to say: Here's what really happens when a woman has fun in her shoes.
Minter starts her process inside the photo studio using dramatic lighting and a photographic depth-of-field that produces blurred transitions and effects. On the day of our visit, she had just returned from a challenging shoot; the makeup artist and the model weren't mixing well. Minter hires professionals and sometimes they have trouble letting go of their craft. In the end, after all, Minter seeks an imperfect look. "Sometimes it's like a psychology to just get everyone to work together. There are no divas on the set. We don't work like that." Minter produces photo works from her shoots, and a select few are digitally manipulated to produce new compositions for her paintings.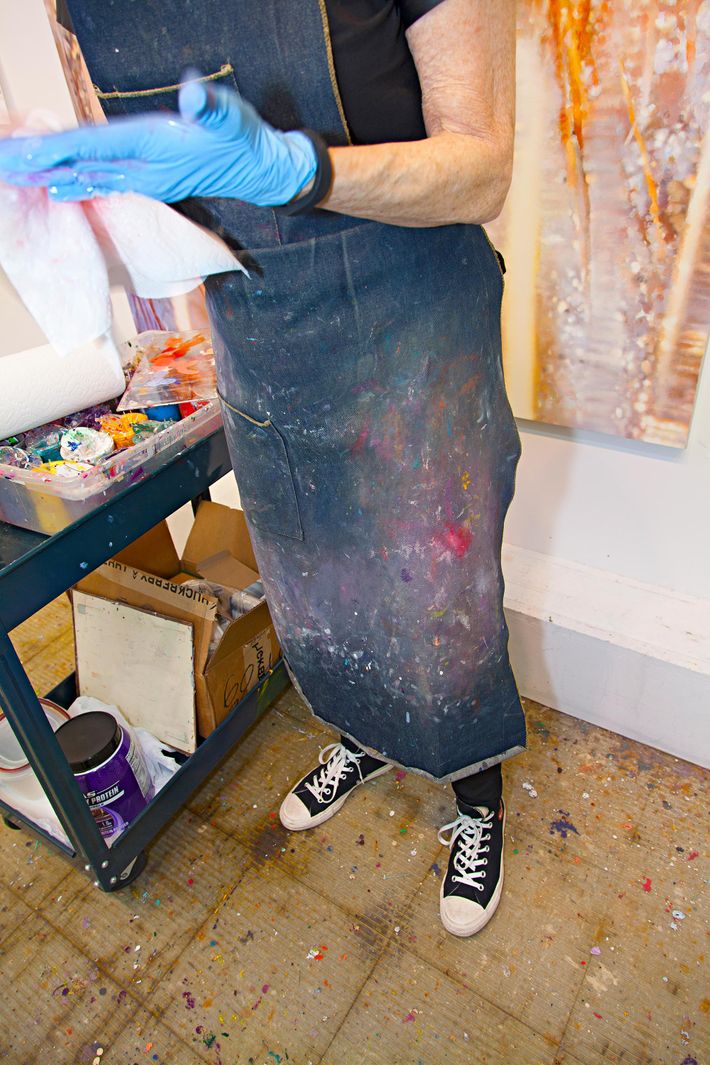 Minter demonstrated her painting technique by snapping on a pair of gloves and smudging her fingertips with enamel paint. "Nobody in the studio is a realist painter. There are painters but they are either abstract, or they're OCD," She laughed. "Realist painters have a hard time learning how to paint this. We're not trying to get the image. We're trying to get the translucency — one layer going through another layer. There's this glow that comes with these paintings that doesn't happen with oil or acrylic."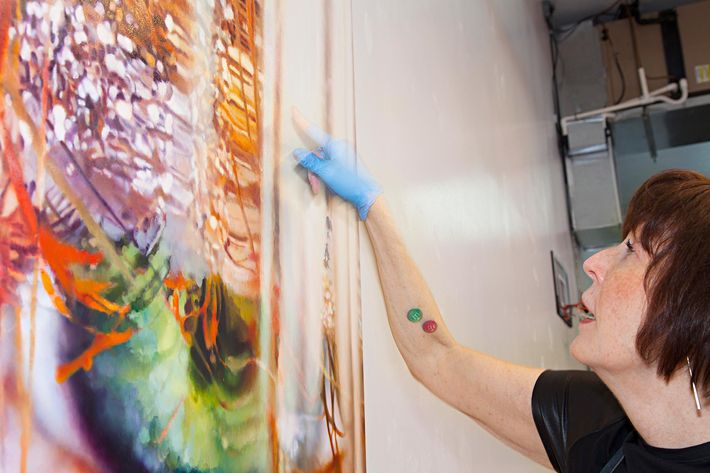 I asked if the sheen from her aluminum panels shines through the paint layers to give the work its metallic effect. "No, they're completely covered. They look really hard, but they're very human because there are fingerprints everywhere. It looks very cold, but it's actually very warm. These are the two fingers we paint with," she said dabbing away at the painting's surface.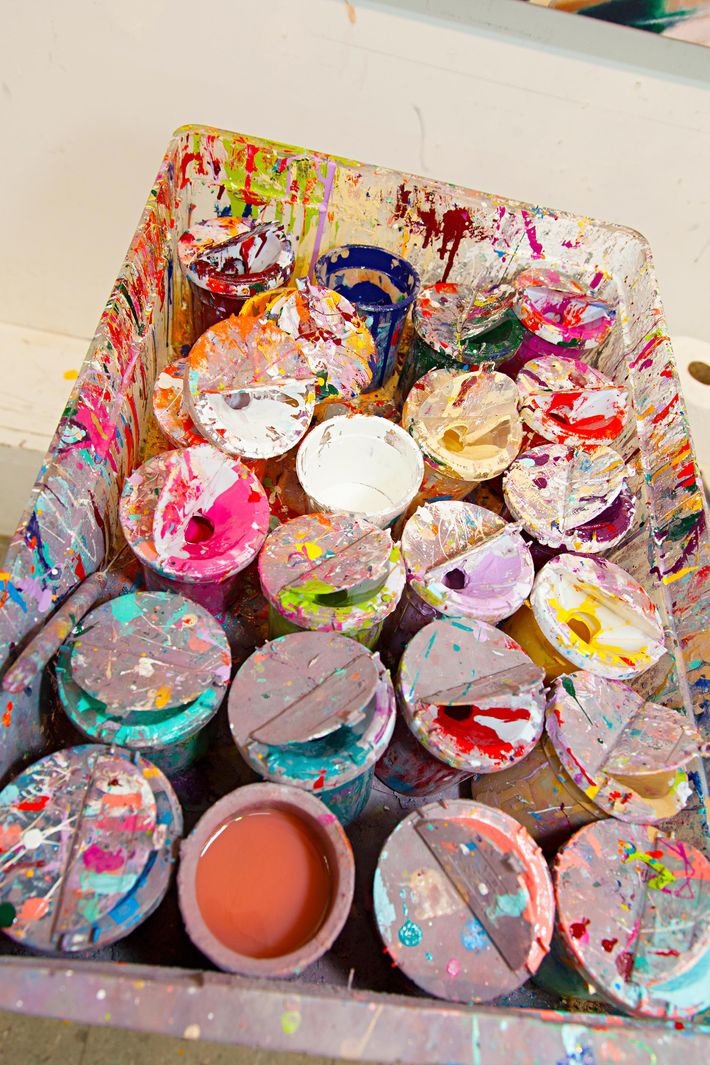 Minter explained that she often designates compositional areas of paintings to assistants based on their particular sensibilities. But when it came to the painting technique in general: "There's one that's better than all of us. She made me better because she changed my colors. So we all just try to catch up — well, no one can touch her. But the only one that would ever know that is me and everyone in this studio. You'd never know the difference. It's a technique I discovered about 1992, and I did every one of them for years. But … " she sighed, "it takes years to make one."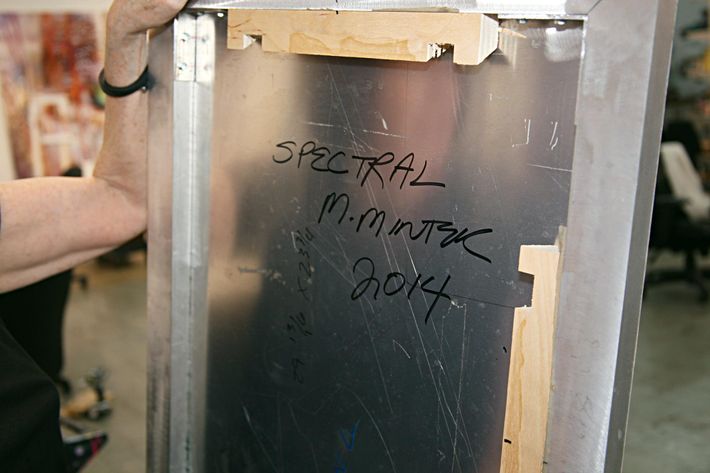 Aside from the applying of paint, I asked if she has ever had to develop customized methods to make her work. "Everything. Like the structures that they're on. People were making them too heavy. Everything we do now is in house. All my sets when I'm shooting. Everybody has multiple tasks. Everybody has something they do really well. There are nine of us all together. The only thing we outsource is printing the photos, framing, and mounting." She showed me the back of one of her specially made panels and took the opportunity to sign it.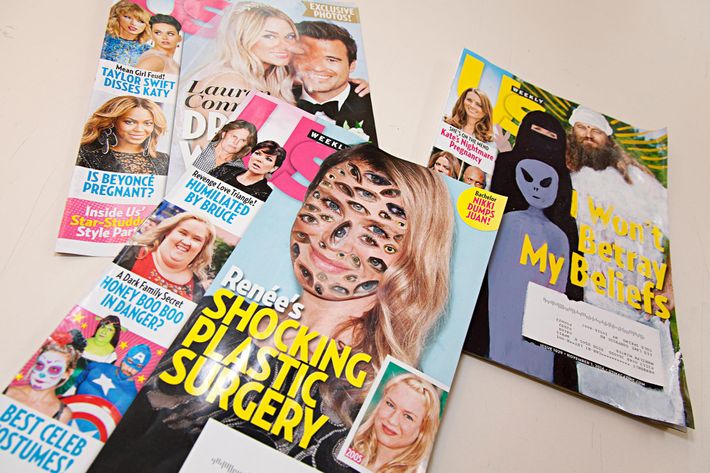 As for collective studio habits, in the bathroom were framed tabloid magazine covers, altered by her assistants. "At lunchtime, this is how we amuse ourselves. There are a couple more we haven't framed yet, I'll show you," she said directing me to a few on the table. On one cover, a celebrity's "shocking plastic surgery" had taken the form of a many-eyed Argus. "And we play basketball. Either that or ping-pong. We do yoga in here. We're sitting for hours, so we stretch out."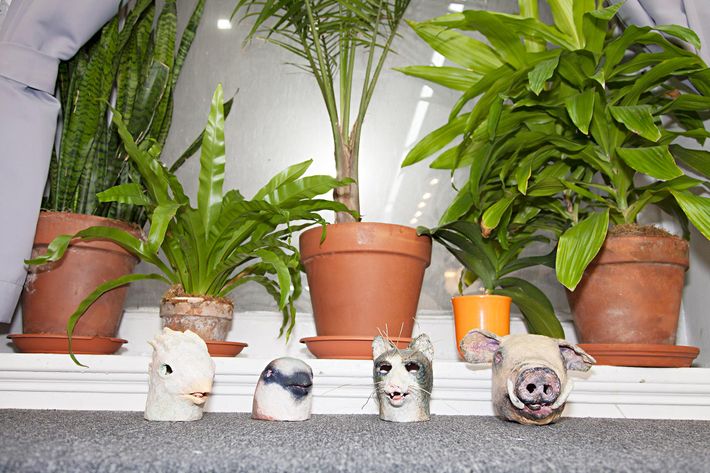 Next to the magazines were some animal-head sculptures by the artist and friend Michael Ballou. "I'm an animal-rights person, actually. Big time. I surprised everybody for Christmas and rented puppies for an hour." The plants behind them reminded her, "I've been growing moss and succulents at my place upstate. I used to paint all the time, and now I pick weeds out of moss," she cracked. "Really glad winter's coming so that I can get back to painting!"
I pressed her more on her personal daily rituals. "I meditate. Just counting my breath. Before I do anything, really. I try to get enough sleep. I have to lift weights because my cameras are so heavy. I'm a voracious reader. I want information, all kinds — internet, books, magazines. My work is about the world I live in. So, I sort of make a picture of my life or our lives. I'm always looking for something that is overlooked, so I need to constantly be aware of what's going on. I go to movies every week.  I read a lot of biographies."
* * *
Minter's work is represented by Salon 94 in New York and Regen Projects in Los Angeles. In 2015, a traveling retrospective of Minter's work will begin at the Contemporary Art Museum Houston, with a final exhibition at the Brooklyn Museum. Her book PLUSH launches December 3, 2014.
Sarah Trigg is the  author and photographer of STUDIO LIFE: Rituals, Collections, Tools and Observations on the Artistic Process.