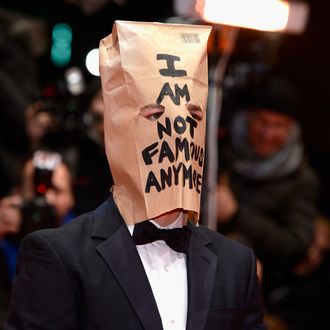 Photo: Clemens Bilan/2014 Getty Images
In a story seemingly ripped from Law & Order: SVU, Shia LaBeouf's troubled life got even more troubling: The actor says he was raped during his performance-art piece #IAMSORRY. Back in early February, Vulture's Kyle Buchanan went to see the "surreal" performance, where he ended up silently holding hands with LaBeouf as the actor shed tears through the holes in the brown paper bag scrawled with the phrase "I AM NOT FAMOUS ANYMORE" over his head. The piece was reminiscent of two Marina Abramovic pieces — The Artist Is Present and Rhythm 0 — in that visitors were invited to take a prop inside with them while LaBeouf remained silent, and possibly at their mercy.
In an interview with Dazed, LaBeouf conducts a silent interview with a writer where they look at each other but communicate through text. When the reporter asks if there had been any "unsettling" moments during #IAMSORRY, LaBeouf says,
One woman who came with her boyfriend, who was outside the door when this happened, whipped my legs for ten minutes and then stripped my clothing and proceeded to rape me… There were hundreds of people in line when she walked out with dishevelled hair and smudged lipstick. It was no good, not just for me but her man as well. On top of that my girl was in line to see me, because it was Valentine's Day and I was living in the gallery for the duration of the event – we were separated for five days, no communication. So it really hurt her as well, as I guess the news of it travelled through the line. When she came in she asked for an explanation, and I couldn't speak, so we both sat with this unexplained trauma silently. It was painful.
LaBeouf has not commented again on the allegations.