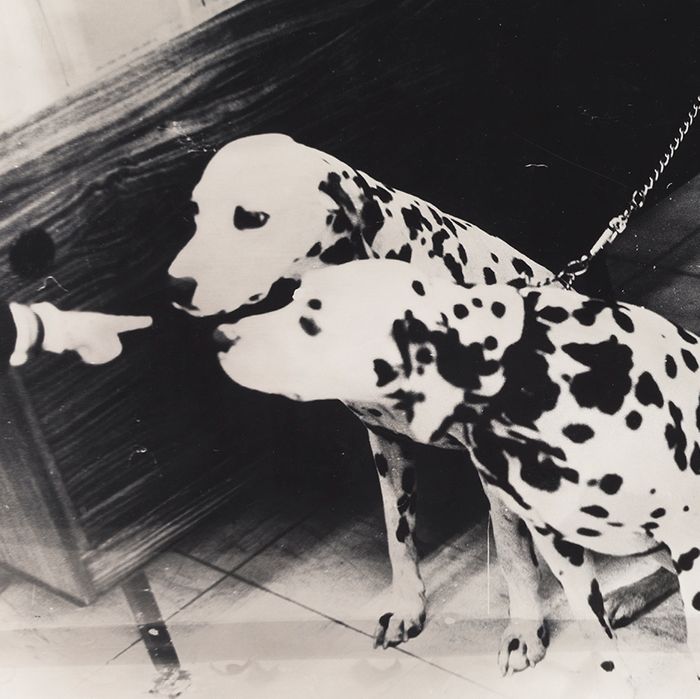 Sigmar Polke, "Untitled, Fernsehbild (The Kiss)" ca. 1975, silver gelatin print. © 2014 The Estate of Sigmar Polke, Cologne / ARS, New York / VG Bild-Kunst, Bonn.
Photo: ShootArt Mobile 1
Even though before this past spring many New Yorkers couldn't put a name to the pictures, Sigmar Polke's MoMA retrospective confirmed what art buffs have long known: He is a fantastic artist. Even our Jerry says as much (if, naturally, he picked a few bones with the show). But if anyone has ever wondered the worth of a major museum show, one needn't look further than New York's blue-chip galleries. Currently, three large-scale exhibitions of Polke hang at three heavyweight galleries: Nahmad Contemporary, uptown in the same building as Larry's Gagosian Gallery, unearthed Polke's fabric pictures from the last three decades of his life; and Fergus McCaffrey, who emphasizes their long-standing relationship with the Polke estate, has brought out his "Photocopierarbeiten" collages, which are basically unique editions of photocopies undertaken between 1995 and 2002. Finally, Paul Kasmin, who has a knack for getting very close to original sources, has drummed up the archive of Carl Vogel, who was a close friend of the artist. Kasmin is featuring photo experimentations and drawings from the 1960s and 1970s. We hate to be obvious, but … if you want to cement an artist's market in gold? Go have a show at MoMA.