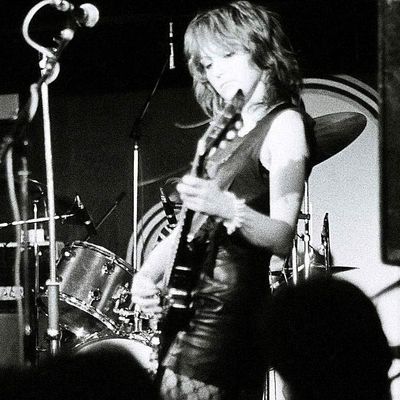 As guitarist and songwriter for the all-female group the Slits, Viv Albertine was a crucial figure in the first wave of London punk. The band's playful, reggae-inspired music and fearless attitude would go on to shape the sound and thinking of fans like Sleater-Kinney and Kurt Cobain. Even aside from the music, Albertine's story is a great one, as she helped define punk's aesthetic and ran with the likes of Sid Vicious and the Clash. She tells that story in her rollicking, incisive memoir Clothes, Clothes, Clothes. Music, Music, Music. Boys, Boys, Boys. The book is out November 25, but below is a chapter excerpt, both gimlet-eyed and harrowing, in which Albertine recounts her decision to abort the child she'd conceived with the Clash's Mick Jones.
ABORTION 
1978
It's a waste of time to think that if you coloured a painting red what might have happened if you painted it black.
—Yoko Ono
Anxiously looking for blood. Please come, blood. I forgive you, blood. I will never be so stupid and careless again. I will never be horrible or have a fit about you again, if you will only come.
I'm pregnant. Mick's the father. We got back together after we bumped into each other at the paper shop in Shepherd's Bush. I was looking at the magazines when I heard his lovely soft voice behind me, asking for a paper. I turned  round  and there he was with Tony James (Generation X's bassist), my heart leapt. I just can't get him out of my system. I'm twenty-four — just the age I always thought I'd be ready to have a baby — and pregnant. But now it's here, I'm not ready at all. I did what my friends  said worked for them and always put a contraceptive pessary up myself after sex (although it is supposed to be combined with a Durex). I haven't had a period for a couple of months, which isn't unusual for me, but my breasts are all swollen and painful so Mum bought a pregnancy  test. My friend Becca was with me when I did it. She was shocked at how calm I was when we saw the result was positive. The thing is, I knew.
Well I'm not going to keep it. No question. Mum says she'll help me raise it. No way. Yuck. Me and my mum and a baby crammed into the top-floor flat of a council block. Nappies hanging on the clothes airer suspended from the ceiling in the steamed-up kitchen, no money, no heating, the metal lift that smells of piss: the thought of it makes me feel sick. It just can't be, not now, not in this situation. I've been warned so many times not to mess my life up by getting pregnant and now I've gone and done it. I can't keep the baby. Mum suggests adoption, but I think that's crueller than death. That's my opinion. To burden a child with abandonment and rejection right from the start. A living death. All or nothing, that's me. I choose nothing. Nothingness for baby. I think this is a responsible decision. I will not countenance any other option.