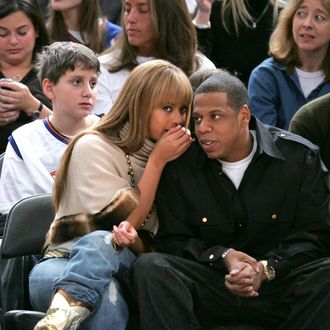 A photograph circulated yesterday of what looks like the "release confirmation" of another super-secret Beyoncé album drop, Beyoncé Volume 2, an addendum to the eponymous fifth album that broke everyone's brains last December. Of course, the big question is "Is this real?" Without any comment from Beyoncé's camp, all we can do is speculate: Did some hapless intern Snapchat this to a friend and tell them "OMG Don't share pls!"? Are heads rolling over at Bey's entertainment company, Parkwood Entertainment, as we speak? Or is this actually just a ploy to fuel more of a buildup than another surprise album drop because Beyoncé is like, "Nah, that was so last year"?!
Come, take a journey with us into our rampant speculation. First off, here's the photo: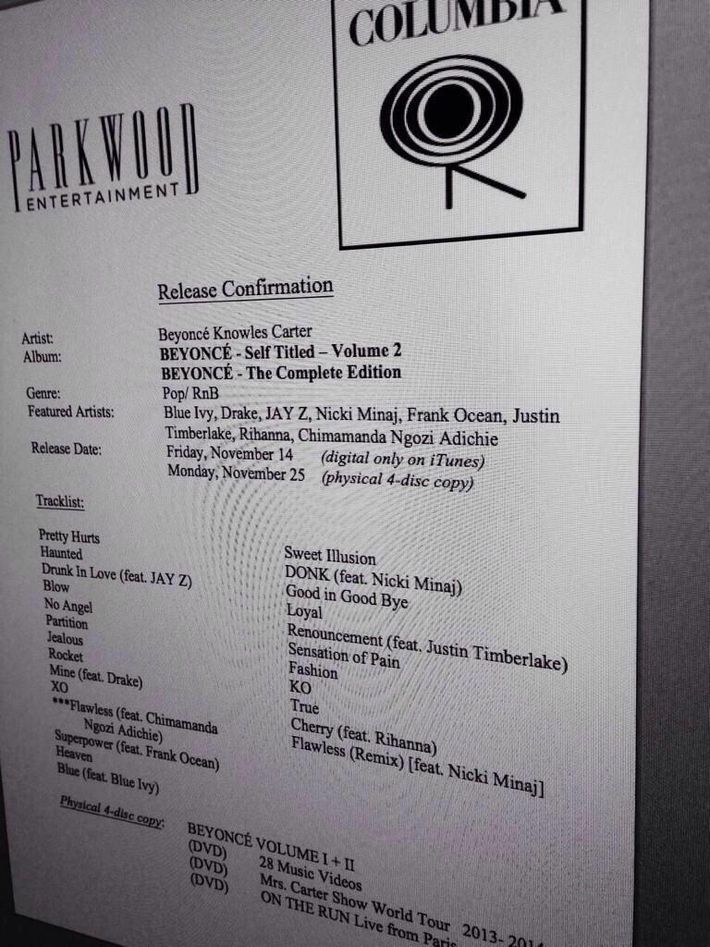 Confusing! Intriguing! There is one immediately fishy aspect to this, which is the date. As you can see, the digital release date on iTunes is Friday, November 14, and the physical album — a four-disc set — is set to drop on Monday, November 25. However, it turns out that November 25 is a Tuesday, so either this is an egregious typo (embarrassing!), or some faker is not very good at their calendar.
But there are some aspects that make this seem totally possible, like the letterhead with the accurate-looking Parkwood Entertainment and Columbia Records logos. (On the other hand, anyone with Photoshop could put that in.)
The track list suggests that if someone faked this, they are part of the Beyhive: One of the tracks, "DONK," featuring Nicki Minaj, was actually registered by Beyoncé with ASCAP (the American Society of Composers, Authors, and Publishers) a couple of weeks ago. It also seems very Beyoncé to assert her dominance over the booty hoopla.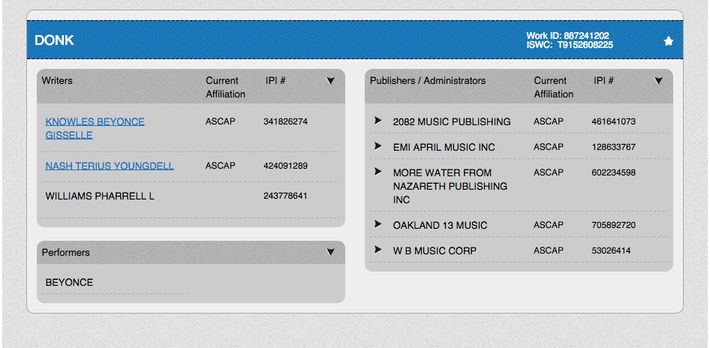 Another track listing "Cherry" (also registered on ASCAP) also lists Rihanna, which plays into long-standing rumors that the two are supposed to be collaborating on a track together. Is this it?
Here are the possible tracks on volume two:
Sweet Illusion
DONK, featuring Nicki Minaj
Good in Good Bye
Loyal
Renouncement, featuring Justin Timberlake
Sensation of Pain
Fashion
KO
True
Cherry, featuring Rihanna
Flawless (Remix), featuring Nicki Minaj
The boxed set looks like it will include 28 music videos, the On the Run live show from Paris and her Mrs. Carter world tour. Is this ultimate fan wish fulfillment, or a sadistic joke?
Update: It does seem like the above tracklist is a fake. But! People are now losing their minds over international preorder links that promise a four-disc album on November 24. Yes, that could include a whole new album, but it seems more likely that the four-disc Beyoncé: Platinum Edition is just a repackage with "Donk" and "Cherry" as bonus tracks. Which would be better than nothing? Anyway, we will all find out together.
Update II: We have our answer — it's a four-disc boxed set of the old album. There are two new songs, though!