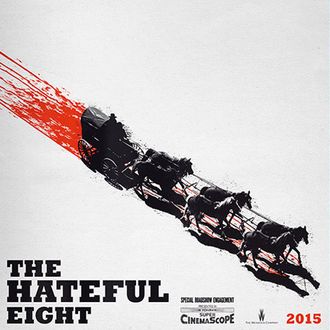 Almost like a stagecoach making its way across the deadly landscape of the American West, Quentin Tarantino's The Hateful Eight has endured many twists and turns on the way to its 2015 release, but it's finally passed a comforting landmark. The movie officially has a cast now, which means it's going to be way harder to cancel again.
The eponymous eight are: Samuel L. Jackson as Major Marquis Warren, "The Bounty Hunter"; Kurt Russell as John Ruth, "The Hangman"; Jennifer Jason Leigh as Daisy Domergue, "The Prisoner"; Walton Goggins as Chris Mannix, "The Sheriff"; Demáin Bichir as Bob, "The Mexican"; Tim Roth as Oswaldo Mobray, "The Little Man"; Bruce Dern as General Sanford Smithers, "The Confederate"; and Michael Madsen as Joe Gage, "The Cow Puncher." Channing Tatum will also make a cameo, which has become something of a hobby for him.
A few of these castings were known before, but it's good to see that neither Dern nor Madsen was punished after being fingered by QT as the source of the script leak that originally led the director to cancel the project. Unless being cast as a guy called "The Cow Puncher" is a punishment?