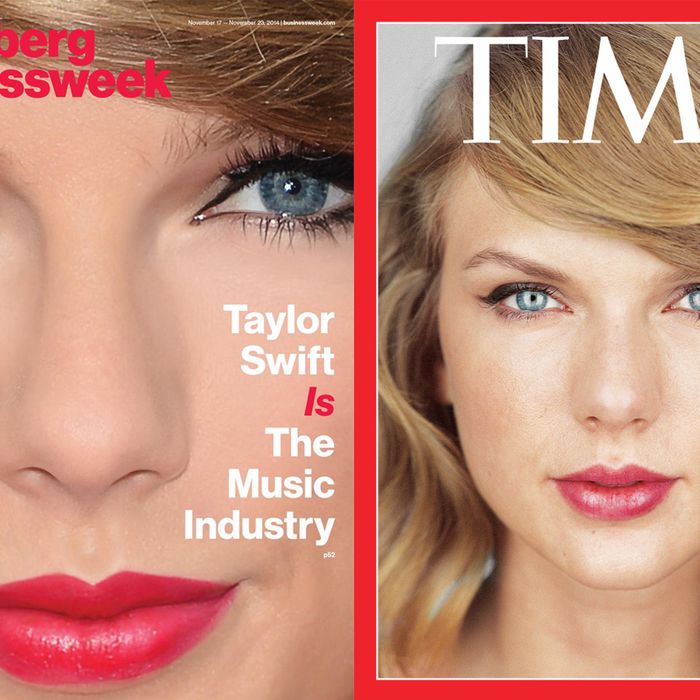 Photo: Courtesy of Bloomberg Businessweek, Courtesy of Time
It takes a special person to land two national magazine covers at the same time: Bruce Springsteen, Osama bin Laden … and now Taylor Swift, whose haunting visage appears on the covers of both Time and Bloomberg Businessweek. As you might be able to tell from the respective images, only one magazine got Swift's full cooperation — Businessweek had to content themselves with a profile of Swift's label head Scott Borchetta and an aggressively cropped Getty photo of her face — but both are full of interesting tidbits nonetheless. Let's explore them!
Taylor Swift recently did Carly Simon a solid. "Simon has recently purchased Swift's old tour bus, since she doesn't care much for flying. She says Swift gave her a discount ('the price you'd charge your sister') and even left all her linens onboard." (TIME)
Her home would be a terrible place for Santa to visit: "Swift, who splits her time between homes in New York, Nashville, L.A., and Rhode Island (her estate there has eight fireplaces) … " (BW)
She sympathizes with female rappers. "'It's a little discouraging that females have to work so much harder to prove that they do their own things. I see Nicki Minaj and Iggy Azalea having to prove that they write their own raps or their own lyrics, and it makes me sad, because they shouldn't have to justify it.'" (Time)
More than one fifth of all albums sold two weeks ago were 1989. "In 1989's first week, 1.29 million copies were sold. That was 22 percent of all album sales in the U.S., according to Nielsen SoundScan." (BW)
Ryan Tedder knows how to pay a friend an unusual compliment. "'If anyone else's bloodstream has trace amounts of Red Bull, hers does,' he says." (Time)
She's trapped in the morass of late capitalism just like the rest of us. "Like so many Millennials born into the upper-middle class, Swift has benefitted from the demise of the concept of selling out." (Time)
Swift led the charge against Spotify herself. "A source familiar with Swift's thinking says it was the singer's idea to pull her songs from Spotify, not Borchetta's, and that the Big Machine CEO is exaggerating his involvement because he's currently looking to sell the company for $200 million." (BW)
Going out in public requires intense psychological preparation. "'If I'm in the mood to be held accountable for every single article of clothing — whether it matches, whether it clashes, if it's on trend — then I go out. If I'm not interested in undergoing that kind of debate and conversation — regarding how I'm walking, whether I look tired, how my makeup is right, what's that mark on my knee, did I hurt myself? — I just don't go out." (Time)
Shakeups might be coming a few albums down the line. "Swift owes Big Machine only one more album under her contract. After that, she could sign with any number of labels, all of which would be overjoyed to have her." (BW)
And if all that still hasn't satisfied your appetite for Swift facts, why not read New York Magazine's own cover story on Taylor Swift? It's from a year ago, but we promise all the sentences in it are still true!