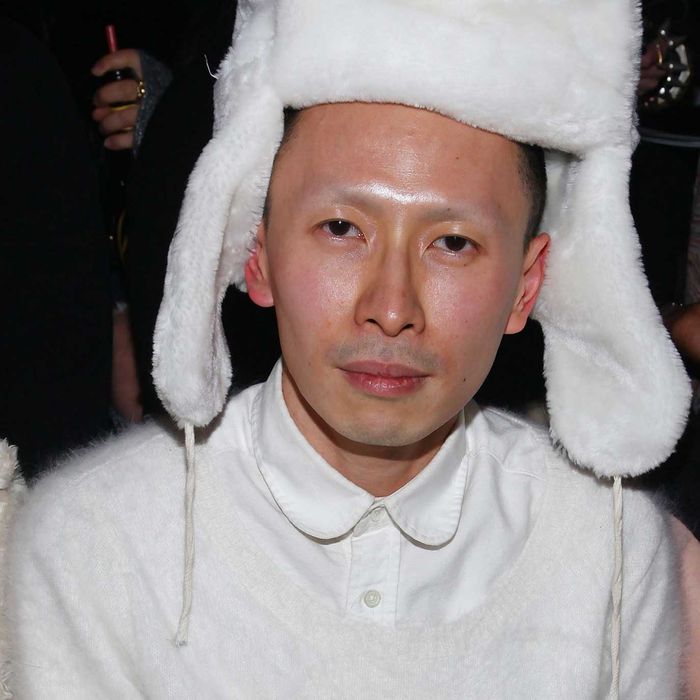 Terence Koh.
Photo: Astrid Stawiarz/2012 Getty Images
Artist Terence Koh — best known for wearing all white and selling series of his own excrement plated, in gold, for $500,000 at Art Basel, as well as saying things like, "I'm the Naomi Campbell of the art world" — is rethinking his "art is a party" attitude. Or maybe the party was just over. "I recently left all galleries to live on mountain," he emailed, in his customary child-speak, when asked about where he'd disappeared to. "I donut [sic] have cellphone or read news." Indeed, Koh is no longer represented by his galleries in New York (Sean Kelly), Paris (Thaddaeus Ropac), or Berlin (Peres Projects, whose owner, Javier Peres, says he initiated the split several years ago: "I closed the door on that chapter and haven't looked back since").
Now, from his 96-acre plot of farmland in the Catskills, a location he identifies only as "Pantöu," a Greek word meaning "everywhere," Koh is rethinking what he does and how he does it, and plans on focusing on "immaterial" work that fuses his new life and environment. Perhaps he's been influenced in part by spending time in the country with his friend Marina Abramovic, who has a spread outside Hudson, where she of course is in the process of building her Institute with a similarly mystical artisitc focus.
Trading in his monkey fur coat for a pair of overalls could be a wise move for an artist whose light—and life–burned fast and bright. Just a bit over a decade ago, Koh was making zines under the moniker "asianpunkboy" when Peres offered him the debut show at his new Los Angeles gallery. Koh supplied just two albino parakeets and had Ryan McGinley DJ the opening. "Some artists don't even get looked at, but others have the problem of only being fascinating," the curator Beatrix Ruf told New York in 2007. It wasn't long before Lady Gaga was collaborating with him. His after parties at his studio were fun—maybe at times a bit too much fun.
Koh's ascetic turn may have actually begun back in 2011. For the performance "nothingtoodoo" at Mary Boone, the artist circled an 8-foot mountain of salt on his knees for eight hours a day, for nearly a month. "Maybe the work is an extended apology for past bad-boy behavior," wrote Roberta Smith in the Times. Now he has gone further: "i don't leave our mountain anymore," he says, referring to himself and his boyfriend. "I don't have much to say and more or less too doo [sic]," he added in a separate email, "Only that living up here I am finding out that my existence is a Mobius loop and I am at the point of reaching towards zero so that something [sic] comes out of nothing." Still, we doubt this is the last we will hear from him.