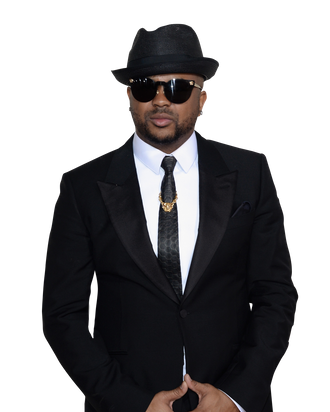 The-Dream
Photo: Jason Merritt/2014 Getty Images
One of fall's best movies is the romantic drama Beyond the Lights. (Vulture's Bilge Ebiri loved the movie, and rightly so!) Writer-director Gina Prince-Bythewood's first film since 2008's The Secret Life of Bees (she also directed 2000's beloved Love & Basketball) is the story of a pop star's rise, fall, and ultimate redemption. The movie feels real — both emotionally and in terms of how it portrays the many sides of the music industry. Some of that is thanks to singer-songwriter-producer Terius Nash, better known as The-Dream. His songs, performed by the film's main character Noni (Gugu Mbatha-Raw), do dual service — they are legit hits in their own right, but they also perform a significant amount of story work. Vulture spoke with The-Dream about the parents of pop stars and how he elicits truth from artists he writes for.
One of the reasons I saw Beyond the Lights was because I knew you had written music for it. And because of Love & Basketball.
Gina made this movie from the ground up, and [she and I had] conversations every other day about the direction and the music part, about what it had to be to make it seem real. I was just trying to make sure [the film] had that edge.
Given the way that you wrote the music for it, with you speaking to Gina as the production was happening, did you wrap songs around what she was giving you?
It went both ways. She told me about Noni and I stopped her and said, "That's all I want to know." Because I didn't want what she told me to write the records. Once I knew she was a pop star and that she would go from this little girl wanting to sing, with pressure from her mom, I'm like, "That's enough for me," because that's usually how most of us start out, trying to get out of the shadow of another person. Regardless of who it is, it's always that person. So we went back and forth, starting with her telling me about the movie and then me telling her [things]. She had to wrap the movie around certain parts of my music.
A lot of the language used in Noni's early songs is very racy, especially "Private Property," where you realize that she's really in abusive relationships with every single person in her life: her label, her boyfriend, and her mother. That song really tells that story.
When I read that part, I immediately thought, Wow, this is really the truth. Because in people's minds, they think it's only one type of abuse. They don't understand there's several kinds of abuse that happen.

When I watched the movie I saw so many echoes of the pop artists that we have today. And you've worked with almost all of them. So I can't imagine that you weren't influenced here by people that you've worked with.
Definitely. In my position, I hear it all, I see it all, I'm around it all. I'm not only in the studio with people, I'm in [their] lives … Most people depend on their parents on what to say and what to do. Because of that, they have driven people away or made sure that, in the end, it's just the parent there and nobody else. I've seen that type of dysfunction close up. And it's a scary place.
There's always the assumption that a parent has your best interest in mind always. That is your No. 1 person —
It's really unfair to take advantage of that in a child, because once you're taught that, it's hard to un-teach it. A parent can really abuse their power.
Gina did such a good job writing the mother, played by Minnie Driver, because she's not just the "evil stepmother." She wants her daughter to be successful and will do whatever it takes.
She's looking out for the best interest, period. But the best interest of the child is what's debatable.
When you write a song, you're writing something that could ostensibly define their existence, their career.
I do try to write records that are personal to people. I try to get to know the artist and try to write close to what [they are] without giving everything away. But certain people, they want to say what they want to say about things! I try to write from the depths of the soul, if they'll allow me to. Whatever they allow me to get out and say, if they have the courage to say, then we will [do that]. And most times what happens is somebody either freaks out and says, "No, I don't want to talk about that," or, "Thank you for writing that. That's what I wanted to say, but I didn't know how to say it."
Do you go into the room with research on people? Do you do shady research like Googling and seeing what they're like and what they are posting on Instagram?
[Laughs.] Shady research, haha, no! I'm still old-school, more conversational than anything, and what's funny is that sometimes it's just one conversation. I can get a lot from a conversation. That is a part of the gift I have; it is not something that I learned. I have a knack to have a conversation with somebody and know — the same way I know what my failures are — know [that a particular issue] is because of something that happened back in the day that they're not really fond of and [we can] address it.
You're a therapist, a song therapist.
Yeah, I definitely hear that on the daily.
Was this your first time doing music for a film?
In this way, yes it is. I've done soundtracks. Everybody is like, "Why are you just now doing this? What is going on?" I'm trying to get myself into this movie industry but making sure there is still a musical component to the things that I do. It is not just based off of talent, because if it was, I could probably write a script today! If it was just based on imagination and talent …
But this is a really unique experience of not just working a soundtrack that surrounds a film, but songs that are used as plot points in the film. Like, the Lorde-curated Hunger Games soundtrack was incredible — imagine if somehow those songs had been integrated into the film.
Definitely. This is a whole other test in itself. We worked day and night. Me and my engineer, Bart Schroeder, who does a lot of the work, because I lay down my vocal and sit there for a time while my brain starts thinking of other ideas — Bart sat there with Gugu Mbatha-Raw and coached her until she got those songs right, and that is hard to do when you're not really a singer at all.
Her voice was incredible! Did you even expect her to be such a beautiful singer?
No, no, it was work. That is what I'm saying; we did a great job of putting her together. And she sold the shit out of it. I can't lie. I was like, "Oh my god, she's really, she's in it. I know those people, that's it."
[Laughs.] That could pass. She could be on the charts!
For real.