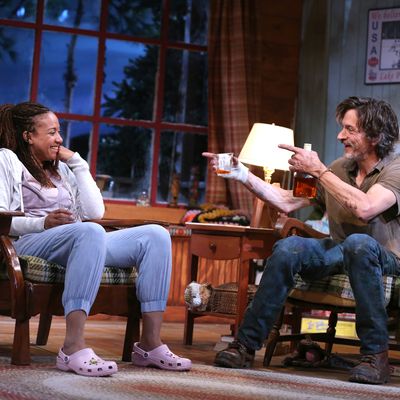 From David Auburn's Lost Lake, at City Center.
Photo: Joan Marcus
It's surprising how much you can remove from a play and still have a play — hell, Beckett lets a pair of disembodied lips yak at you for 15 minutes and it's riveting theater. But David Auburn, in Lost Lake, now at Manhattan Theatre Club's Off Broadway space beneath City Center, seems to have undertaken a secret challenge to see if he could make do without something even more fundamental than human bodies. Can you build a drama without any dramatics? Turns out, no.
I can understand his impulse to try. After a while, like a chef who has sauced too many chateaubriands, a playwright may tire of even the fundamental richness of his craft. Auburn's 2001 Pulitzer Prize winner, Proof, and his more recent Joe Alsop bioplay, The Columnist, each came with a full complement of vivid characters, surprise plot twists, and erudite vituperation, as well as clearly drawn arrows pointing to Larger Significance. I liked both, more and less, but wondered what would happen to Auburn's storytelling if it didn't depend so much on fireworks.
Now we know, because in Lost Lake, a 90-minute intermission-less two-hander, there are no fireworks at all, or none until it's too late. Indeed, for quite a while it seems as if we are watching not a play but a moderately amicable real-estate negotiation. I mean that literally. You might want to bring along your calculator to follow the naturalistic but anesthetic dialog in which Veronica, a mom from New York, haggles with Hogan, the owner of a ramshackle cabin by the titular water, over a week's vacation rental in August. For three of the play's five scenes, most of the dialogue seems to concern how many installments of what size Veronica will pay, whether a damage deposit is really necessary given that everything already looks broken, and how much money Hogan will refund because the hot water isn't working and the promised "swimming dock" is more like a tetanus trap. After a while you start to suspect that the play has been sponsored by Douglas Elliman.
To be fair, Auburn is slowly building, under cover of numbness, detailed portraits of the two characters, each in a different kind of trouble. Hogan (John Hawkes) is a slightly inbred-looking local: garrulous, sketchy, and possibly bipolar, but good-hearted enough to make you feel bad that his wife has left him and his daughter won't speak to him. Meanwhile, Veronica (Tracie Thoms) is defensive, "urban" (a euphemism in the play for "black"), alert to mistreatment, and, while too competent to be a loser like Hogan, someone who has lost a lot. A recent widow, struggling to get by on a nurse-practitioner's salary, she just wants to bring her two young children (and one of their friends) to the country for a break from the mounting concerns of city life. A needy landlord with all his stuff still in the drawers, including his porn, is not part of her bucolic plan. She spends a lot of time rolling her eyes, trying to be nice but waiting for him to leave.
Nevertheless, because this is a play, and because there is little else going on, you naturally begin to expect a romance. Auburn snuffs out that candle, too. He's justified in doing so, given the ill-matched characters he's established, and it's a deftly handled moment when the question is so very glancingly raised and dispensed with. But by now we're at the end of scene four, and with that potential source of interest gone, what's left? Only Hogan's implosion in scene five, which feels real, right, and irrelevant.
In any case, the last ten minutes' sparks (some of them provided by a clever trick of J. Michael Griggs's set design) are too little too late. Auburn has so successfully established in the previous 80 minutes that the two characters' difficulties have nothing to do with each other that he can't very well intertwine them now. Veronica and Hogan, however well drawn, are skew lines, and though an interesting play might be written about either of them, an interesting play about both of them can't be. Or hasn't been. Perhaps that was Auburn's stab this time at Larger Significance: the demonstration that people in private difficulty are useless to one another. If so, he has not found a convincing theatrical means of lifting our attention to it. I'm not sure such a means exists. And without it, Lost Lake is thrown back on the kind of hoary techniques you feel Auburn had set out to avoid in the first place. Call it dramaturgical autopilot: the shoehorned exposition, the offstage danger, the suspense-building decoy. A revelation withheld in one scene by an "I really don't want to talk about this any more, if you don't mind!" will always emerge, like Swiss cuckoo-clockwork, in the next.
All that said, Lost Lake is not without redeeming qualities, and the production, directed by Daniel Sullivan, makes the most of them. Veronica and Hogan are highly actable parts, destined to be chewed over by undergraduates in scene-study class for decades. But it's hard to imagine their being embodied better than they have been here. Thoms, a New York stage regular, meticulously tracks the burden of Veronica's endless responsibilities; you can see her to-do list scrolling behind her eyes at all times. And Hawkes, best known for film work like Winter's Bone and The Sessions, is sensational. He has the advantage of a character with a legible direction — down — but inhabits every moment, even the banal ones, so fully that you realize only later how beautifully he was shaping the overall performance. Collapse has rarely seemed so quiet and inevitable. Unfortunately, the same can be said about Lost Lake.
Lost Lake is at New York City Center Stage I through December 21.