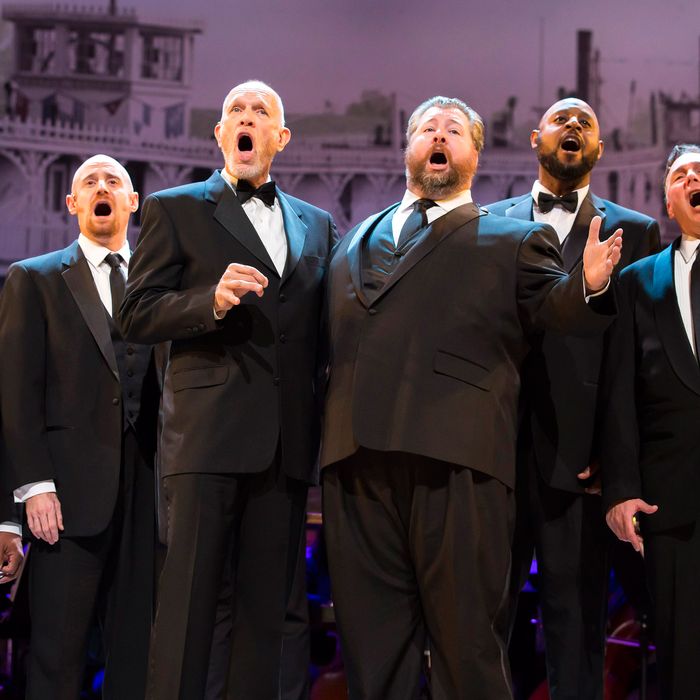 From the New York Philharmonic's Show Boat.
Photo: Chris Lee
The story goes that the wife of the composer Jerome Kern and the wife of the librettist Oscar Hammerstein II were seated next to each other at a dinner party. An admirer of Show Boat, the two men's groundbreaking 1927 musical, approached Mrs. Kern and said, "Your husband wrote 'Ol' Man River'!" Mrs. Hammerstein, who had heard this a million times before, objected. "Her husband wrote 'dum-dum-dah-dum,'" she said. "My husband wrote 'Ol' Man River.'"
It's funny because it's true, and also because "Ol' Man River" is one of those songs so perfect and eloquent, it seems like no one wrote it. Pretty much the entire score of Show Boat feels that way, as if it were made of folk songs. (There is, in fact, a lot of interpolated Americana.) This tends to diminish the sense of surprise one feels upon encountering a work whose original Ziegfeld production was by all reports a shock. Critics and audiences immediately understood it to be a disruption of the whole idea of what musical theater could and should be. It was, after all, a show primarily about the disaster of race in America, told with showbiz trimmings and a few snappy dance numbers but also a relatively unvarnished sense of despair. The very first word heard was niggers, as in "Niggers all work on de Mississippi," sung ironically by a black chorus at work on a levee near Natchez while "de white folks play." Since the 1930s, that lyric has usually been toned down to "colored folks work" or "here we all work," and by the 1960s, it was longer novel to have black and white actors performing together onstage. (Show Boat was the first integrated musical in that sense.) But even now, when "Ol' Man River," which Ziegfeld wanted to cut, is universally deemed a classic, and even in a sonically gorgeous but somewhat incoherent concert presentation, which is what the New York Philharmonic is offering at Avery Fisher Hall through Saturday night, you can still be knocked flat by the brilliance and unlikelihood of the achievement.
That achievement is madly uneven. There's no question that Hammerstein did a masterful job of compressing the early action of Edna Ferber's 1926 novel into Act One of the musical. Taking place aboard and near the Mississippi showboat Cotton Blossom over a period of a few weeks in 1887, it hinges on the attempted arrest of leading lady Julie, who, though fair-skinned and married to a white man, is actually of mixed race. (Miscegenation was illegal in Mississippi in 1887, and would remain so until Loving v. Virginia in 1967.) By means of a stunning ploy, her husband saves her from prosecution on this count, but now both must flee because blacks and whites cannot perform together. Hammerstein, following Ferber, contrasts this story with more traditional operetta elements: Magnolia, the innocent young daughter of the Cotton Blossom's Cap'n Andy, falls in love with and marries Ravenal, a handsome riverboat gambler; Ellie and Frank, the leading comedy couple, bicker offstage; liberal Cap'n Andy and his termagant wife, Parthy Ann, bicker everywhere. Less traditionally, Hammerstein forefronts the lives of the local blacks, both on the boat and on the levees. And while there is a fair amount of uncomfortable sho-nuff stereotyping, there is also a rather profound demonstration of the complicated interdependence and wretched impossibility of emotional equity between the races.
Act Two goes haywire, though, covering the next 40 years in the lives of the characters and the country. The race story now becomes an appurtenance to the less interesting tale of Magnolia and Ravenal, who have a daughter they can no longer support on his poker winnings. Magnolia therefore returns to the stage, their daughter becomes a shimmying Broadway star, and everyone accidentally runs into everyone else in a rush of music. But the music (most of it reprises or interpolations) no longer functions as organically as it did in Act One. It demonstrates the changing sound of American song during those decades but does not really connect to the plot in the way "Can't Help Lovin' Dat Man" (to choose one example) did. Ingeniously, Hammerstein had made that song the engine of the discovery of Julie's race: It was a "colored" tune, so why did she know it so well? In a scene set in Chicago in 1903, it's reprised by Magnolia, in ragtime, as a demonstration of cultural appropriation. Interesting, but not gripping.
The drive-by dramaturgy of Act Two can be dispiriting, and a concert presentation only exaggerates its infelicities. But the Philharmonic production is sketchy throughout and, at the first performance at least, looked a little ragged and under-rehearsed. Only a few members of the cast, drawn entirely from the world of musical theater, seemed able to connect what they were singing with what their characters were doing; though most made pretty sounds, Show Boat needs more than that. Vanessa Williams as Julie looked gorgeous but gave what felt like a dutiful performance. Alli Mauzey and Christopher Fitzgerald, as the comedy couple, almost raised smiles. Fred Willard as Cap'n Andy sometimes seemed lost; Jane Alexander, luxury casting as Parthy Ann, miscast. The usually robust and reliable Norm Lewis, who as Joe sang "Ol' Man River," sounded hooded and distant. I wondered if he'd spent too long behind his Phantom mask.
Luckily, the two leads have the right voices for Show Boat and know how to use them. Julian Ovenden looks great as Ravenal — just oily enough — and either has naturally or has developed for the occasion the perfect 1920s movie-musical tenor to corral the big romantic ballads. Lauren Worsham, as Magnolia, sings even better. She offers the correct operetta style (not surprising after her performance in A Gentleman's Guide to Love and Murder) but without operetta inanity; she acts naturally, right on the notes. Also legibly. This is especially important in the Phil's sublimely played rendition, for which the conductor and director Ted Sperling has elected to use 56 of the orchestra's players: huge by Broadway standards and probably never again to be heard in a full production. Smartly, Sperling has also restored some long discarded elements of Richard Russell Bennett's original orchestrations (it was lovely to hear the banjo plinking away atop the lush string writing) and some often-cut but crucial numbers like "Mis'ry's Comin' Round." That foreboding number for Queenie (an excellent NaTasha Yvette Williams) and the black ensemble serves as the keystone to Kern's musical architecture: his compilation of motifs and bridges and releases and what he called "burthens" into structures whose largeness and complexity allowed similarly large and complex ideas to be rendered. And that's the truly groundbreaking thing about Show Boat. Not the music or the lyrics, excellent as they are. (Is there a 1920s lyric better than "I even love him when his kisses got gin"?) What was truly world-changing about this landmark show, as Mrs. Hammerstein knew, is that the two arts were no longer separable.
Show Boat is at Avery Fisher Hall through November 8.