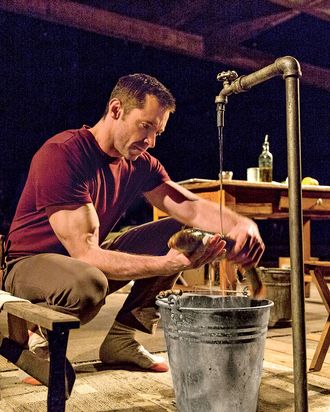 What with The Last Ship, Disgraced, and seminude Bradley Cooper all on the boards this fall, Broadway is more testosterony than usual, full of scruff and blowtorches, beefcake and wife-beating. But nothing beats Jez Butterworth's new play The River for manliness: It's got Hugh Jackman, Wolverine himself, romancing some ladies and gutting a trout. Whether manliness is next to goodliness is a different question, one the play itself — riveting, troubling, thought-provoking, unsatisfying — struggles to embody and never really answers. 
Not that it needs to; the damn thing is already stuffed to the gills for most of its run, with even the $95 "riverbank" benches and the $30 standing room spots at capacity the night I attended. By and large, that's a good thing, because Jackman, who alternates between camp and murk in his Broadway appearances, is nothing if not ambitious. In choosing to star in The River, a West End hit two years ago, he is promoting the work of a Major Serious Playwright, bringing it to an audience that might be just as happy if he brought them Moose Murders. So all credit to Jackman for making a difficult, highbrow work — the kind that namechecks Ted Hughes, T.S. Eliot, and Yeats but does not name its characters — commercially viable.
I don't mean that as backhanded praise; he's also great in it. But his performance is almost beside the point. The experience of seeing The River is deeper and also more confusing than anything the actors do, even though it begins, on the August evening when the sea trout run in the river abutting a country cabin, like a Men Are from Mars rom-com. We meet The Man (Jackman) hurriedly gathering his fly-fishing gear while The Woman (Cush Jumbo), on her first country outing with him, tries to make him watch the sunset instead. There are misunderstandings, laughs, soulful stares. But just as we understand that the pair are at a hinge-point in their relationship, Butterworth makes his first unhinged move: The girlfriend is replaced by a different one, who picks up just where the last one left off. From here on, their stories will alternate, intersect, and possibly merge, with no signal from the performers or the playwright that anything non-naturalistic has happened. And so, as the onstage tale proceeds conventionally — nothing more threatening than a splinter happens in it — the story in the audience's head gets very dark fast. Is The Other Woman (Laura Donnelly) a "real" other woman? Someone The Man dated previously? Or is she in fact a different incarnation of the same woman? (He tells each that she is the first he's brought to the cabin.) Is she a ghost? A murder victim? Or, worse, an archetype?
Whatever else she is, she's a brilliant playwriting trick, forcing the drama onto a second track within the viewer's imagination, and imbuing every subsequent action with dread. The problem, for me at any rate, is that my imagination does not want to be the playwright. I understand that we are in the spooky territory of large existential failings, a territory that Butterworth, like a sadistic or negligent tourguide, enjoys abandoning us in. I found this thrilling in his previous Broadway play, Jerusalem, which was both pot-eyed and mythopoetic, as if Jack Nicholson had wandered into a William Blake watercolor. And Parlour Song, his Cheever-on-LSD tale of suburban adultery and despair, was sad and satisfying. The River shares with those plays its liminal surrealism and brawny stance: Butterworth's characters aren't petty victims; they are done in by only the very largest and most intractable human truths. But here you don't know which truths to blame because so many are engaged, or at least suggested.
On the simplest level, The River dramatizes the question "How many women have you tried that line on?" On another, it's a cautionary tale about the impossibility of "landing" one's ideal mate. (The Man never catches a trout, either.) Butterworth also stirs even larger issues into the mix: Is every human expression, like an elaborate fly on a fisherman's line, a trick and a lie? And isn't the theater therefore a lie as well? When the action is done, The Man puts away his tools: the wineglasses and candles and other props with which he's seduced the women, and us. There is always a next "performance."
Well, life is overdetermined, and Butterworth seems content to let this psychosexual gloss on Groundhog Day be too. But the effect of letting The Man start over and over this way — an effect enhanced by Jackman's sheer likability — is that he is never really called to account for whatever he did or did not do. He's let off the hook, much as is the cocky protagonist of Jerusalem, who may be having sex with a 15-year-old girl. (He does get beat up for it, but not by the playwright.) Except as the cause of men's dilemmas, Butterworth doesn't seem to characterize women very well, which is not a negligible problem, no matter how harrowing the manly prose. Ted Hughes, indeed.
But, let's face it, if you're going to get gutted why not by the best? Jackman is no lightweight; he's fully committed to the character's unstable layering of charm and menace. Listening to The Woman read him a poem, he somehow causes his only-slightly-deflated action-hero body to betray the rapture of a little boy. Jumbo and Donnelly match him, moment by moment. (Jumbo, a Halle Berry beauty, is especially good at the girlish reflexes and subsequent self-critiques.) The direction by Ian Rickson and the scenic design by Ultz, which makes an advantage out of Circle in the Square's awkward thrust, are unimprovable.
Still, I couldn't help feeling that Butterworth, who says he had writer's block trying to complete this play, never solved the problem of its intellectual bait-and-switch. There's even a warning about it as you enter the theater: "Please note scent is used during this performance of The River." Spoiler alert: It's something fishy.
The River is at Circle in the Square through January 30.
*This article appears in the November 17, 2014 issue of New York Magazine.