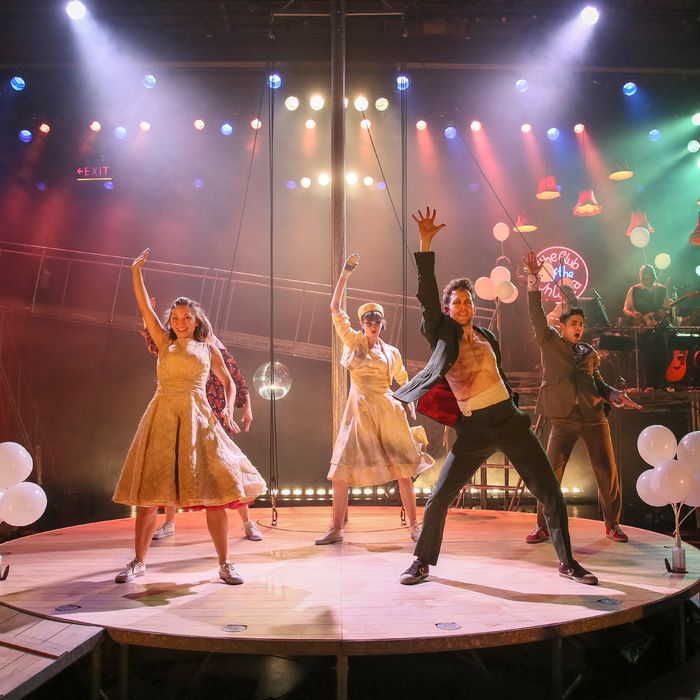 A Cornish knight, an Irish princess, and the king they both betray by falling in love: For centuries the tale circulated Europe in various forms. But after Wagner's monumental Tristan und Isolde had its premiere in 1865, his idiosyncratic version seemed to supplant all others. If you know the story today, it's probably through his music, the epitome of high Romantic sincerity. Still, writes Emma Rice, an artistic director of the Cornish theater company Kneehigh, it was a local story, "asking to be told," and so she set out to create a less bombastic and more vernacular take, "not an epic tale of grand romantic love held at arm's length from our own experience, but a tender unraveling of love in all its beautiful and painful forms." The result, first presented in Cornwall in 2003 and extensively produced on tour since then, is Kneehigh's Tristan & Yseult, which has now come to St. Ann's Warehouse in Brooklyn. Sweet and enjoyable, alluding to sad things without being sad itself, it's hardly what you'd expect from the tale, however you spell it.
It is, however, what you'd expect from Kneehigh, which made its name applying ironic storytelling techniques to borrowed drama. All its familiar modes of engagement are on display here: the jaunty live and recorded pop music, the clever use of minimal sets, the mild forms of audience assault and badgery. (You may be asked to make a toast or blow up a balloon.) But whereas the company's lovely 2009 take on Brief Encounter helped dry out the Noël Coward melodrama, here the twee ingratiations are flung at a full-scale tragedy whose ancientness is central to our interest. And though Rice has reoriented the story to better match her company's contemporary style, foregrounding the experience of "unloved" characters over that of her title pair, that makes the problem worse. The more compelling the add-ons, the less so the core. In what appears to be an attempt at rebalancing the scales, Rice even reverts, in the end, to — guess what? — Wagner. The most thrilling depiction of love's insanity comes from an onstage record player, screaming out the "Liebestod."
The original material is more successful. Rice sets the story within an AA-like fraternity called the Club of the Unloved. Unlike Tristan and Yseult, who prove that "if you are already loved, more love just seems to come your way," its members play characters in the tale who do not find their affections reciprocated, or even in most cases noticed. No one writes operas about the silent fealty of a knight to his king, the quiet service of a maid to her lady, the pain felt by the second-choice wife whose husband is still obsessed with the first. But Rice gives them voice here. Indeed, in her most provocative invention, she arranges for Yseult's maid, Brangian, to take Yseult's place on her wedding night to King Mark. (Brangian, unlike her mistress, is a virgin.) The great surprise of romantic pleasure is quickly answered by an understanding of its cost: On her own wedding night, Brangian wonders, "Will a queen take my place for me?" That Brangian is played by a man in Monty Python charwoman drag gives the scene the kind of extra frisson many of the other interventions fail to deliver.
That's the problem with Kneehigh's magpie dramaturgy. In borrowing its expressiveness from anywhere — we get, aside from Wagner, hefty doses of Emily Dickinson, Yma Sumac, Nick Cave and the Bad Seeds, to name a few — it forgoes the formal consistency required by real drama. Instead it seems to pitch its style to people who might find traditional theater too sluggish or earnest. (With its SNL aesthetic, the show would be perfect for smart high-school seniors.) Perhaps this is a savvy commercial choice: The company is a world-touring success. But with so much inventiveness and acting talent (the performers are terrific) Kneehigh could easily tell its stories without so much "Don't worry, this is fun" placard-waving. Which is surely a shame, if not quite a tragedy.
Tristan & Yseult is at St. Ann's Warehouse through December 14.