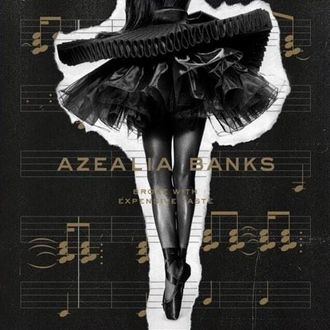 I know, I know, but hear me out: Despite the ongoing drama surrounding Azealia Banks and her forever-delayed Broke With Expensive Taste, it appears that Spotify has the mythological album on its servers, greyed out and waiting for an actual, real-life release. Could be a mix-up, but Azealia "mysteriously" blacked out her social media this week — covering her various profiles with the black motif from the album's cover. We've learned by now to not take her threats of an album seriously, but a track list on Spotify gives some credence: Could Azaelia Banks be going for a Beyoncé? Is it possible to pull a Beyoncé when you're been essentially promising an album again and again since the start of your career? Here's the Spotify-posted track list:
1. Idle Delilah
2. Gimme a Chance
3. Desperado
4. JFK (feat. Theophilus London)
5. 212 (feat. Lazy Jay)
6. Wallace
7. Heavy Metal and Reflective
8. BBD
9. Ice Princess
10. Yung Rapunxel
11. Soda
12. Chasing Time
13. Luxury
14. Nude Beach A-Go-Go
15. Miss Amor
16. Miss Camaraderie
The glaring problem? Most of these songs we've heard before — either on past EPs or through hastily-released mixtapes. "212," the song that arguably made Azealia Banks, came out on an EP called 1991 in 2012. Even if the world finally gets this album, things might just sound all too familiar. Proceed with caution, Azealia Banks fans.
Update: It happened! Go buy it, I guess?