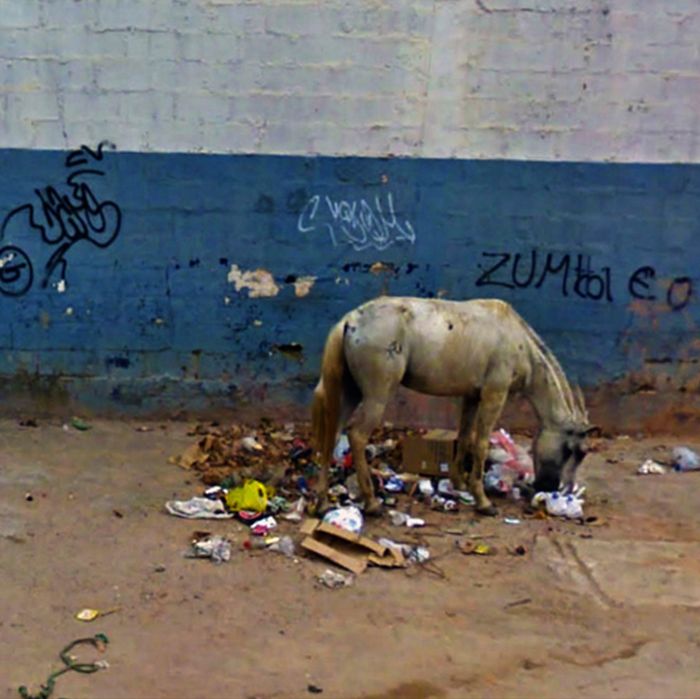 Jon Rafman's 932 Loma Larga, Santa Catarina, NL, México (2009) at the By Proxy group exhibition at James Cohan Gallery. Courtesy of the artist and Zach Feuer Gallery, New York.
Photo: Courtesy of the artist and Zach Feuer Gallery, New York
We combed through tonight's gallery openings and events so you don't have to.
"Andy Warhol: 1950s Drawings"
Anton Kern Gallery, 532 W. 20th Street
November 20–December 20
How is an icon made? These 150 never-before-seen drawings offer a glimpse into how the young draftsman first perceived and filtered the images that would come to epitomize the Andy Warhol brand.
"By Proxy"
James Cohan Gallery, 533 W. 26th Street
November 20–January 17
Duchamp dubbed it "aesthetic osmosis," and James Cohan is calling it art by proxy. Either way, the works in this show require their viewers just as much as their makers, who include Duchamp, Yoko Ono, John Cage, Alighiero Boetti, and Wade Guyton.
"Your Favorite Artist's Favorite Artist"
Joshua Liner Gallery, 540 W. 28th Street
November 20–December 20
The title pretty much explains it all: Each gallery artist picked another artist's work to display alongside his own. For example, Alfred Steiner chose David Shrigley, Michael Kagan picked Tom Sachs, and Stephen "ESPO" Powers went with Mimi Gross.
Nicolás Guagnini
Bortolami, 520 W. 20th Street
November 20–January 10
This Argentina-born artist makes work running the gamut from primal phallic ceramics to hyperordinary street photographs to text compositions from a font he created with Bill Hayden called "Dickface." For his first solo show at Bortolami, that list will expand to include "monumental heads made of majolica-glazed stoneware."
Dave Hickey in Conversation With Darren Waterston
DC Moore Gallery, 535 W. 22nd Street
6:30 p.m.
It's not a show, exactly, but if you can't make it to MASS MoCA to see painter Darren Waterston's Filthy Lucre installation, a reimagining of James McNeill Whistler's gilded, vaguely dystopic Peacock Room, hear him talk about it, as well as the about the intersections between money and museums, tonight, with the critic Dave Hickey. Waterston's new book about Filthy Lucre will also be on sale.