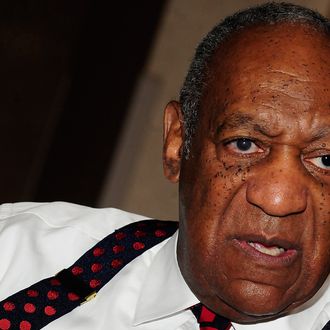 Photo: Raymond Hagans/Corbis
The sexual assault allegations against Bill Cosby just keep coming, as three more women have added their names to the growing list of Cosby's alleged victims. All three say the comedian manipulated them into being alone with him, and then spiked their drinks.
Kristina Ruehli was a secretary at a Los Angeles talent agency in 1965 who accepted an invitation to a party at Cosby's house. She remembers arriving at the house to find no party in progress — just Cosby. He fixed her two bourbons, which knocked her out. "He must have slipped something into my drink," she tells Philadelphia magazine. "It's the only way to go lights-out like that." Ruehli says she woke up in a bedroom to find Cosby forcing her into performing oral sex. Once she was lucid, she says, she was able to push him away and run to a bathroom. She never saw him again.
Renita Chaney Hill was a teen actress on Cosby's Picture Pages in the early '80s. She says the comedian would often invite her to stay with him in his hotel rooms, then give her a drink. Eventually she realized she was being drugged. "I always thought it was odd that after I had this drink I would end up in my bed the next morning and I wouldn't remember anything," Hill tells CBS Pittsburgh. She says she's not sure if she was raped, but knows Cosby did something to her: "One time, I remember just before I passed out, I remember him kissing and touching me and I remember the taste of his cigar on his breath, and I didn't like it."
Model Angela Leslie contends that Cosby assaulted her in 1992 in his Las Vegas hotel room. Leslie tells the Daily News that Cosby poured her a drink — which she did not drink — told her to act "intoxicated," then got naked and forced her to masturbate him. "With his hand on top of mine, he had me massage his penis … I wasn't pulling back. I was in shock."
Ruehli was one of 13 anonymous women who agreed to testify against Cosby in Andrea Constand's 2005 lawsuit, while Hill says she was inspired to come forward after Cosby's lawyer trashed earlier accusers.