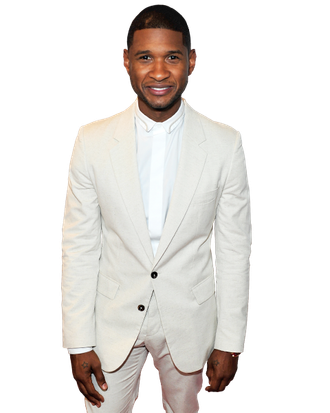 Photo: Moses Robinson/Getty Images
Yesterday, while Usher was performing a stripped-down version of his 2010 hit "Without You" for 250 very lucky area kids, a group of middle-school girls were having a full-on Beatles-on–Ed Sullivan freakout. We were in the Scholastic Building in Soho, where the 36-year-old crooner was recording a live webcast to promote the company's new literacy initiative, "Open a World of Possible." When Usher sang (and when he read from the children's book If Kids Ruled the World), the room was transfixed. A few rows behind those shrieking girls, an annoying-concertgoer-in-training was dutifully recording the performance on his upraised iPad. A girl to my left, eyes agape, held her head in her hands for the entire duration of the song. Kids this age are brutally honest about who is cool and who is over, and to be fair, one pouty rebel (I saw you) did visibly refuse to give Usher a standing ovation. But all in all, an impressive 249 out of 250 middle-schoolers agree: Usher is still a very, very big deal.
It's staggering just how long this has been true. In the fickle world of pop, Usher has been a consistent presence on the charts for almost two decades. He broke out in 1997 with the slick R&B pop album My Way; now a new generation knows him as the guy in the raccoon hat on The Voice and the singer behind Generation Auto-Tune hits like "OMG" (a clear fan favorite in the Scholastic audience). What's the secret to Usher's continued relevance? He's never afraid of the kids coming up from behind — whether that means dabbling in emerging genres, mentoring promising upstarts like Justin Bieber, or working with unexpected collaborators. His last album, 2012's Looking 4 Myself, was in many ways his most forward-thinking yet, highlighted by the great, Diplo-produced cyborg slow-jam "Climax."
Usher just kicked off his UR Experience Tour, which comes to Madison Square Garden tonight. Initially, the tour was supposed to be in support of his eighth album, UR, but as he explains below, he's chosen instead to postpone the album's release, take his time with new material, and shift the concert's focus to his stacked back catalogue. Coming from most other artists, this explanation would seem like PR damage control; coming from Usher, it seems entirely reasonable. "I found myself feeling pressure to rush it and put out an album," he says. "And all of a sudden, I just realized: I've been doing this long enough to really get it right." Let the man take it nice and slow.
Those kids were going crazy for you just now.
That was cool, right?
You should do an entire tour just for kids.
The Scholastic Reading Tour? [Laughs.] That would be fun! You know, it's actually being in rooms with kids that really gives them the idea that what you're saying is true. They're not foolish. They understand, Okay, my teacher wants me to read. I gotta learn my lesson. I have to get a good grade. But it's different when you, as an entertainer, use your life to show them, "No, actually, it's cool to read. It's fun." And also as a father, I look at them and I see my own babies.
What do your kids like to read?
Anything Scooby-Doo. I've also really come to appreciate those books with the pen … Leap Frog! And spooky kid stuff. They love scary books.
They're just getting to that age where they're bringing me books that they want to read, as opposed to me just reading to them. When they were 2 or 3, I could use my imagination to tell them a story, but now, to see their imagination come off the page, or they get inspired by something and they go in the corner and look at the pictures … that right there is the exciting part.
That's the age when they start becoming actual people.
They're developing their personalities through what they read. They're so imaginative. Especially Naviyd, more than Usher. [Laughs.] Oh my God, he has such an active imagination.
You just kicked off the UR Experience Tour, and you're still working on your eighth album, UR. That's a lot. Are you actually working on the record while you're on the road?
I try to squeeze in a session here and there, but for the most part, right now I'm focused on the tour. I won't be finished [with the album] until the top of the year. I'll be finished when it's out. It's one of those type of deals for me. You just keep working until you make the connection in a way that you're telling a story that's significant to people. That's the one thing I'm really focused on. I don't know if it's just my age, or the things that I've been listening to … I like to have fun, don't get me wrong. There's a ton of fun songs I've been putting out. But also, too, the other side. I'm the type of artist who enjoys making a full album as opposed to just making a single.
Do you think the album is a dying art?
I don't think it's a dying art. There's still people who create that way. I just don't think it's as significant as it used to be. Things on the internet kind of run the mill. Today's it's this flavor, then the next day onto the next thing, but when you find something that starts a conversation and engages a conversation, and people can hold onto it, and it's more than just a song … then you've got something.
So there's still no release date?
Nope.
You're taking your time.
I found myself feeling pressure to rush it and put out an album, and all of a sudden, I just realized: I've been doing this long enough to really get it right. So on my eighth studio album, I thought it would be better for me to go out [on tour], feel my audience, reconnect, take some of that, and then go back and finish it up.
You scratched the release date a couple months ago, and this year, anytime anyone did something even remotely suspicious with a release date, everyone's been like, "They must be pulling a Beyoncé."
It's great that in this time, she was able to do something that would give you something else — more than just a hit record. She created a complete visual album. That was a pretty cool idea! I also want to create something that's going to put people in motion and tie them to all of who I am.
Do you find that there's pressure these days to innovate not only musically, but in the way you put music out? Is it not enough anymore just to release a record?
There's a pressure to cross-market and make sure that all the avenues through which you can reach a consumer make a connection. Musically, emotionally, branding, all of those things together, that's what makes you significant in this time.
You have really interesting taste. What are you listening to right now?
I've been listening to an artist by the name of Yuna. Really excited about her.
Earlier, a kid in the audience asked you to name five people you would ask to be in a book club, and you said Morgan Freeman, Scarlett Johansson, Oprah Winfrey, and SpongeBob SquarePants …
The one I left out was Sean Connery. Imagine having Sean Connery in your book club.
Just, like, having him read an excerpt from a chapter he really liked.
Hearing him read is incredible. And Scarlet Johansson? Her reading voice is incredible.
I like that you chose who would be in your book club based on how well they would read aloud.
Yeah.
What would be the first book you'd choose for this book club?
Fifty Shades of Grey. [Laughs.] That may be a little inappropriate for this setting. But yeah, I don't know, there are so many great books out there.
It would be cool to hear Sean Connery read passages from Fifty Shades of Grey.
That would be a good one for Sean Connery.