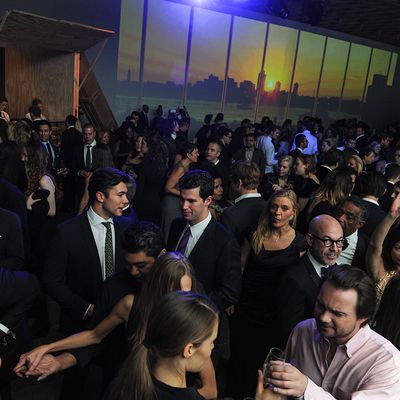 The dance floor at the Whitney's Fall Studio Gala and Studio Party.
Photo: Billy Farrell/BFAnyc.com/BFA NYC
Last night the annual Fall Studio Gala and Studio Party gave blue-chip collectors and artists the opportunity to bid a tearless adieu to cramped Museum Mile and wax poetic about the, uh, Meatpacking District. No one mentions starchitect Renzo Piano, who is responsible for building the fourth home for the Whitney Museum, a blobby mass on a stretch of Hudson waterfront that New Yorkers know from vodka commercials in which fully grown women can't suppress the urge to hook arms before sliding out of a taxi. I suppose the neighborhood is getting the building it deserves, but the Whitney certainly isn't.
"You don't give up your flagship," says Chuck Close, dismissively flicking his wrist. Close wants the Whitney to have the Breuer Building display its permanent collection without rotation, since that's "all anybody wants to see." For the time being, the Whitney is keeping what we in the fourth estate often refer to as a "landmark" building — but if the New York City Landmark Preservation Commission was waiting for an incentive to save this brutalist fan favorite, they just got it. In fact, the board of trustees is leasing its top-heavy, inverted-granite wedding cake, cockeyed windows and all, to the Met for eight years. (It is most often compared to a ziggurat, but you know what, it doesn't look like a ziggurat to me, and to compare something to a wedding cake is to say it has tiers.)
A friend who seems to have gone out of his way to give a dollop of braised cabbage to Chuck Close — whose beard, I must say, is awfully long these days — is disappointed when the artist's large hands paw it away. It's probably unappetizing that I'm craning near his mouth to hear over the generic jazz singer, or maybe it's that I'm distracted by the tall, voluptuously lipped young woman in the dress with mid-waist cutouts and chunky pearls who has been gamely hovering around his wheelchair for the last hour.
I make a run for the side of the room where the transcribing seems easier and find the only man using the "designer drug" mobile app — officially titled "Proxy, 5-WM2A" — made specially for the event. (I dutifully downloaded the generic hosting app, but no PR person instructed me on how or when to use it.) The man is by himself, slowly spinning around with an iPad. I ask if I can watch the scrolling series of neon shapes and lines that is mapping itself on the people he finds in his pinhole. The famous Whitney ceiling lights from the entrance, rendered in lime-green, are torquing across our neighbor's fun candy-blue fur throw. (Later, said 50-something with chic dyed-black pixie-cut won't give me her name, only that of her fur's designer: "Shrimps! He's 23 years old!") Does he feel like he's having a psychedelic experience? "I know I am." I ask who he is. "The artist!" That would be Will Pappenheimer, whom I was hoping to describe only as "the man in the adorably ill-tailored suit jacket."
I turn to a lonely looking man leaning against the bar. What brings him here from "Battery Park City," where he lives? "All my friends died." What was that? He touches my wrist for the third time. "All my friends died, who I knew when I went here." Who died? "All of my friends." He's wearing a dark-blue cashmere sweater that could use a lint roller, and I approached him because, as he says, he doesn't seem to have any friends to talk to. "I met so many cool people here." Since he won't give me his name, I say he has Andy Warhol hair and mime as if I'm moving on. He grabs my elbow. "When I was 16, I met Warhol and I threw up on him, and that was written up in Vanity Fair magazine." I can't find the article, and although I requested the seating chart of his table at dinner, the best I can fathom — I shouldn't really be fathoming at all — is he came as "Guest of Marsha Vlasic." Neil Young's agent. (At least now you know she was there?)
I ask the delightful Anne Ehrenkranz — the wife of former Whitney president Joel, now an honorary trustee — about her floral diamond earrings. "Oscar Heyman! A birthday present. Joel is a friend of the Heymans." She's not worried about the Whitney move, even though "it won't be in my backyard." I ask about Joel. "Oh, we've been married a very long time." She smiles very kindly and asks conspiratorially if I'm with "a partner, or anything. The nicest thing at the end of the day is meeting somebody for a glass of white wine and talking about the most interesting things." What did she tell Joel? "Today it was being in Chelsea!" She shepherds me over to the artist and MacArthur "genius" Fred Wilson, who is on the board of the museum with her husband. "You are gorgeous!" she tells him. (He has a distinguished Afro.) "Did you love the picture of Douglas by David Hockney? He is soooo handsome." Who is handsome? "Douglas Baxter!" The president of Pace Gallery, who posed in "a black Armani suit." An ambitious PR man gets on the mike and encourages us to amass downstairs in the Peter Norton Family Galleries.
Whitney Director Adam Weinberg is failing to take his seat at dinner, largely because of the woman to his left and then, also, me. "I used to teach photography classes in 1973. We photographed the meatpackers!" he says. (Since this is the art world and he is a man, somewhere down the line he succumbed to wearing overly interesting eyeglasses.) Do you go out in Meatpacking? "Yeah! I go out." Where? "Bubby's." What? "You don't know Bubby's! Best diner in the neighborhood." He's being pulled in a direction I can't follow. "I told you this would be hard, to talk to me!"
I leave the man of the hour to tend to his admirers and admire, sort of, the décor. Chinese lanterns hang low from the ceiling, scrawled with the same thick black brushstrokes that have filled every inch of wallspace with the names of Whitney artists. It's too bad they're not reproductions of their actual signatures, but I imagine the designer for the event décor, David Stark, worried about their illegibility.
Onstage, Adam Weinberg happily breaks some news: The new Whitney Museum will open May 1, 2015. "That's May Day," says Artforum's Linda Yablonsky dryly, seated off to my left. Lola Schnabel smokes what I'm sure is the first cigarette at dinner (though not I'm sure the first in the museum's history). "Adam Weinberg said we could do what we wanted with the building!" says Nadine Johnson, the PR maven who, in a clandestine gesture, took her pack of orange American Spirits to the staircase right after the main course.
After Elvis Costello's three-song set, the dinner crowd tries to get a head start on the taxi line. Upstairs, the reception from earlier is being reprised for private citizens who balked at the $7,500-a-plate banquet (and that's for the cheap seats in the back), but now there's a DJ playing nothing but the hits. Most of the heavy hitters peek their heads in and change their minds. I happily catch Scott Rothkopf, the Whitney curator, and Lois Robbins — somewhat famously of One Life to Live but more to the point of the Upper East Side — doing just this thing. ("I love Scott," says Richard Pandiscio, but it might as well be everyone. We agree he's the irrepressible hummingbird of the art world.) The Bronx-born artist Glenn Ligon says, smiling away, that he "popped Scott's cherry." He seems to be kidding. "KAITLIN IS A REPORTER!" Rothkopf yells gleefully, and wags his finger at me. "Off the record!" Ex post facto's not a thing, I counter. But he can't hear me.