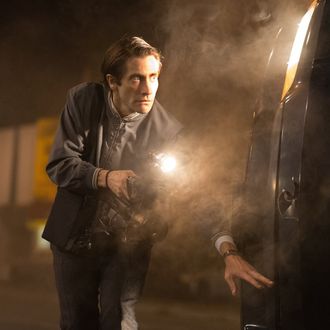 Photo: Chuck Zlotnick/Open Road Films
Jake Gyllenhaal's deep-dive as a doe-eyed sociopath in Nightcrawler paid off as the film eked past the Hasbro-inspired horror movie Ouija to claim the top spot with $10.9 million at the box office this Halloween weekend. According to Reuters, last weekend's box-office champ, Ouija, was just $8,760 behind. Overall, though, it was a weak box office with only a couple of films debuting, including Nicole Kidman's Memento-style thriller, Before I Go to Sleep, which bombed with $2 million (albeit over about 1,900 screens). Otherwise, the rest of the top five held from last weekend: Fury with $9.1 million, Gone Girl with $8.8 million, and The Book of Life with $8.3 million. Gone Girl now has the distinction as David Fincher's highest-grossing film with a cumulative total of $136 million (his previous best was The Curious Case of Benjamin Button, which earned $127.5 million).
Slowly expanding its theater count to 231, Birdman continues to do well in limited release, easily scoring the highest per-screen average of $10,866 with $2.5 million over the weekend. The original Saw came back to theaters for its tenth anniversary for a piddling $650,000 despite opening in more than 2,000 theaters. Too soon to be nostalgic?