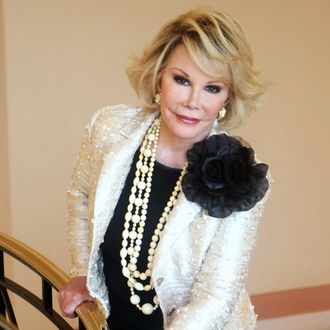 Photo: Lionel Cironneau/Corbis
While a medical examiner ruled that Joan Rivers died on September 4 because of brain damage caused by lack of oxygen, why the 81-year-old comedian suffered from such serious "therapeutic complications" during a routine procedure to examine her throat has remained a mystery. As accusations have been flying about doctors taking selfies and performing unauthorized procedures on Rivers, investigators have been looking into Manhattan's Yorkville Endoscopy clinic. On Monday the federal Centers for Medicare and Medicaid Services reported their findings, saying the clinic made multiple serious errors while Rivers was on the operating table. For starters, Rivers's blood pressure and pulse were dropping for at least 15 minutes, but doctors failed to notice before she went into cardiac arrest.
The report did not identify anyone by name, but it was clear from the details that "Patient No. 1" is Rivers. According to the New York Times, friends said she had been complaining about her voice being hoarse, and she had a history of chronic acid reflux disease. Investigators found that she had consented to an upper endoscopy, including a possible biopsy, possible removal of polyps, and possible dilation of the esophagus. The report alleges that these violations took place during the procedure:
The clinic's anesthesiologist initially noted that Rivers received 300 milligrams of Propofol, then changed the medical record to say she received 120 milligrams. The anesthesiologist claimed the first entry was a mistake created by double-clicking the computer entry. Either way, Rivers's weight was never recorded, which is how the proper dose of anesthesia is determined.
Dr. Gwen Korovin, Rivers's ear, nose, and throat doctor, was allowed to perform procedures on her, though she did not have the proper credentials to work at Yorkville.
Dr. Lawrence Cohen, the clinic's medical director, took cell-phone pictures of Dr. Korovin with Rivers while she was unconscious on the operating table, telling others in the room that the comedian might "like to see this in the recovery area." Also, bringing cell phones in the room was a violation of the clinic's policy.
First, Dr. Korovin tried to perform a laryngoscopy, which Rivers had not consented to, but the procedure "was aborted because the E.N.T. surgeon stated she could not see very well what she was trying to view," according to the report.
A clinic technician said that after Dr. Cohen performed an upper endoscopy, Dr. Korovin "went in again with a laryngoscope and was there for a minute or two."
Rivers's blood pressure and pulse were dropping between 9:12 and 9:26 a.m., but the doctors did not attempt to revive her until 9:28. "The physicians in charge of the care of the patient failed to identify deteriorating vital signs and provide timely intervention during the procedure," the report said.
Rivers was rushed to Mount Sinai Hospital, where she died a week later. Her daughter, Melissa Rivers, was reportedly planning to file a medical malpractice and wrongful death lawsuit even before the federal report came out. Her lawyers said in a statement that she is "terribly disappointed to learn of the multiple failings on the part of the medical personnel and the clinic" and "outraged by the misconduct and mismanagement now shown to have occurred before, during and after the procedure." They added that Rivers is now focused on "ensuring that what happened to her mother will not occur again with any other patient."
The clinic is now poised to lose Medicare and Medicaid funding unless it addresses the many violations by January and passes a surprise inspection. Yorkville said it has been cooperating with various regulatory agencies and noted that it is still "fully accredited by an independent review organization." "In response to the statement of deficiencies, Yorkville immediately submitted and implemented a plan of correction that addressed all issues raised," the clinic said in a statement, adding that Dr. Cohen no longer practices there. Somehow, we doubt that's going to be enough.