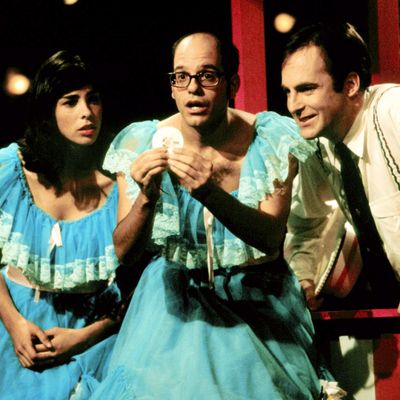 TCDMISH EC004
Photo: Brillstein-Grey Entertainment / Courtesy: Everett Collection
Two weekends ago, the internet self-immolated over "Too Many Cooks," an 11-minute parody of vintage TV-sitcom credits. The Adult Swim–produced clip took TV-trope gags down a terrifying, delightful road, its plot becoming more and more unhinged and plunging an innocent-seeming concept into the divinely surreal, where it started looking less like Squidbillies and more like something out of esoteric postmodern literature. We watched it countless times and may never get the unnaturally catchy theme-song out of our heads. To a pop-culture junkie, this absurdist freak-fest will immediately bring to mind a dozen influences, some of which have now been confirmed by the creator. If you've become a "Cooks" addict yourself, we're here to help you move on to similarly strange and enlightening entertainment. Here are a few next possible steps for when you've finally spoiled the broth.
1. All of David Lynch's work, especially Twin Peaks
If you want to talk about long, uncomfortable credits sequences, there's an entire Tumblr devoted to things you can do while watching the intro to David Lynch's '90s cult-TV hit Twin Peaks (including watch an episode of Twin Peaks). Sinister stuff hiding under a too-perfect surface has been the renowned weirdo's calling card for decades — and Adult Swim's serial killer is slightly reminiscent of Twin Peaks' own demon, Bob.
2. Wham City Collective
The Baltimore art collective Wham City surf the wavy line between adorable and terrifying with their giddily insane web shows and videos for artists like Dan Deacon and Future Islands. (Also, "Drinking Out of Cups.") The terrifying video "Woof Woof," a collaboration between Wham City's Showbeast site and Dan Deacon, shares several similarities with "Too Many Cooks," including puppets and an evil, anthropomorphic cat.
3. "Kristen Schaal Is a Horse"
"Too Many Cooks" works so well because it continuously subverts the viewer's expectations, in part simply by refusing to end. (Eleven minutes is a really long time on the internet.) So does this now-infamous recurring sketch by comedians Kristen Schaal and Kurt Braunohler, neither of whom ever gives in to the expectations of the audience as they continue the sketch's meaningless absurdity for way, way longer than anyone anticipates. It's almost too awkward to watch. (Supplemental listening: Science podcast Radiolab devoted part of its 2011 "Loops" episode to dissecting this sketch.)
4. Tim and Eric Awesome Show, Great Job!
"Too Many Cooks" creator Chris Kelly has cited the psuedo-nostalgic, brilliantly unsettling aesthetic of Adult Swim alumni Tim Heidecker and Eric Wareheim as a direct influence on his own work, saying, "You've heard of the banality of evil? They explore the evil of banality." The connection is particularly blatant in this board-game-themed sketch. (While we're on the Adult Swim topic, a similarly bizarre venture highly worth checking out is The Eric André Show, a perfectly psychotic inversion of the late-night talk show.)
5. "Gimme Pizza"
This viral video features a musical clip from a straight-to-VHS Mary-Kate and Ashley Olsen video, made surreally horrifying simply by slowing it down. It's puzzling, however, to imagine what context short of nine-year-old naïvété could possibly make this scene normal, even at regular speed.
6. The Books' "A Cold Freezin' Night"
The Books are a sadly now-defunct band whose songs were largely made up of obscure, artfully patched-together samples. The creepy kids' voices used in this song originated on cassettes made for a long-forgotten Home Alone–themed toy recorder sold in the '90s, which the group later found in thrift stores.
7. Don Hertzfeldt's Simpsons Couch Gag
While no show would actually use "Too Many Cooks" as a credits sequence, a similarly bizarre one recently aired: the Simpsons couch gag executed by Don Hertzfeldt. The genius animator excels at twisting average experiences into grotesque, inane alternate universes; his real magnum opus, though, is the insane 2003 Oscar-nominated short Rejected.
8. Everything Is Terrible!
If you've never visited this immense online collection of vintage VHS ephemera, cobbled together from thrift stores and garage sales by some friends at Ohio University in 2000, it's well worth the hours you're about to waste on it. While most of its clips seem random, Everything Is Terrible's hours of clips, from now-forgotten TV hypnotists and '80s infomercials, are carefully curated and edited; as its co-founder once told Vulture, "Even though the site's called Everything is Terrible!, and we're a little aware that we sound like assholes, we honestly really do love this stuff."
9. Cyriak's Music Videos
British animator Cyriak is known for his videos that take everyday scenes and objects and turn them into kaleidoscopic spirals of terrifying dissociation. A sheep can sprout ten heads, before eating itself; a hand can turn into a fleshy spider — and pay no attention to those giant crawling teddy bears.
10. "Don't Hug Me I'm Scared"
If videos like "Too Many Cooks" teach us anything, it's that people love unexpected and disturbing elements mixed with nostalgia, which is exactly what Don't Hug Me I'm Scared does with its Sesame Street–esque set up. What's really great about this British viral-video series is how endearingly sincere the writing is: It's sometimes hard to tell whether or not the dark non-sequiturs that sometimes creep into these cheery videos are actually jokes.
11. Mr. Show
Undoubtedly, the absurdist humor of Bob Odenkirk and David Cross is a spiritual predecessor to Adult Swim itself. Episodes of their mid-'90s HBO sketch-comedy series frequently end in an entirely different universe than the one where they began, and each sketch contains so many layers of self-referential jokes that it's often hard to keep track of them all.