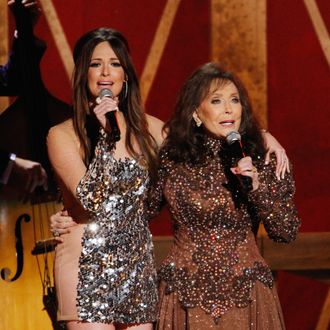 Loretta & Kacey
Photo: Terry Wyatt/Getty Images
Yee-haw, etc. Last night's Country Music Awards definitely happened. There were perfectly normal things: Kacey Musgraves's "Follow Your Arrow" won Song of the Year (woo!), husband-and-wife duo Miranda Lambert and Blake Shelton won Female and Male Vocalist of the Year (respectively), Little Big Town won Vocal Group of the Year and relative newbie Luke Bryan won Entertainer of the Year. Brad Paisley and Carrie Underwood hosted for their seventh year, making jokes about Ebola and PPTSD, a.k.a. "Post Partum Taylor Swift Disorder," noting that the now-pop-star was noticeable absent. It's cool! We're totally cool about it:
No worries, country music! You always have … Ariana Grande. Yes, Ariana Grande, the not-country singer, sang her hit, "Bang Bang," alongside Little Big Town for apparently no reason:
At least when Meghan Trainor came to sing her hit "All About That Bass" with Miranda Lambert, they tried to make that thing sound like it could've been a country song:
Was there any actual country music at the Country Music Awards this year? Kacey Musgraves performed a Loretta Lynn tribute alongside Loretta Lynn:
Carrie Underwood performed "Something in the Water" (a personal favorite):
Florida Georgia Line did their best "Dirt":
And it wouldn't be country music if Dierks Bentley didn't perform his hit, "Drunk on a Plane":
Who needs Taylor Swift?