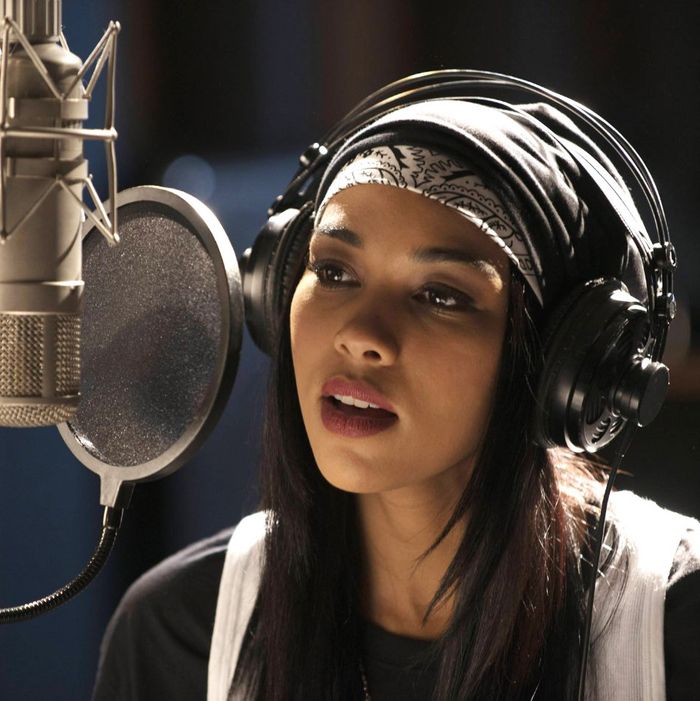 Photo: Christos Kalohoridis/Lifetime
No one expects much from a Lifetime movie. But as the cable network continues to air biopics about celebrities who have experienced tragedy, death, or tragic deaths — Brittany Murphy, Anna Nicole Smith, Elizabeth Taylor, and, next year, Whitney Houston —  it's hard not to experience the same sine curve of interest and massive disappointment every time. This weekend's Lifetime movie about the life of Aaliyah was the latest example. It was messy from the get-go: The movie's original star, singer and Disney star Zendaya, dropped out because she was uncomfortable not having the approval of Aaliyah's family, which was not happy that the film wasn't getting "a movie-studio release," according to Jomo Hankerson, Aaliyah's cousin and president of her label, Blackground Records.
Aaliyah: The Princess of R&B was a bland reenactment of the singer's short life, a soulless retelling of familiar stories that lacked the ability to communicate why Aaliyah was so important and meant so much to fans. Are there lessons to be learned before next year's Whitney Houston movie? Here are a few suggestions.
Get it right by getting the rights.
Aaliyah featured four full-length performances (covers of Bobby Brown's "My Prerogative" and Marvin Gaye's "Got to Get Up," "The One I Gave My Heart To," and her Academy Awards performance of the theme song from Anastasia, "Journey to the Past") with snippets of songs from her first album, including "Let Me Know (At Your Best)." So, a smattering of early Aaliyah tracks alongside a few covers. No "Are You That Somebody?"; no "4 Page Letter"; no "More Than a Woman." If we're talking Aaliyah, we better see that iconic hawk:
What's your source material?
It's difficult to make a good biopic without the cooperation or blessing of the artist or her estate — and not just for those music rights. Aaliyah was based on journalist Christopher John Farley's unauthorized book Aaliyah: More Than a Woman, a best-seller published in 2001, not long after the singer's death. Contrast that with 2005's Walk the Line, which was based on Johnny Cash's own autobiographies; 2009's Notorious, which was co-produced by Notorious B.I.G.'s mother, Voletta Wallce; 2007's Control, which was based on Ian Curtis's widow Deborah's biography of the late Joy Division singer; and 1993's What's Love Got to Do With It, based on Tina Turner's autobiography, I, Tina. Lifetime's biopic was not only unauthorized, but the family actively spoke out against it. Hankerson, again:
Considering the magnitude of her fans' affection alone, she deserves to have a tribute much more grand than a television network debut that won't even consider the perspectives of those who were closest to Aaliyah. Disregarding the families and dishonoring the legacies of celebrated figures who have passed on, big networks want to exploit their stories for a buck.
And a key person in Aaliyah's career, Timbaland, also spent much of the film's premiere night publicly complaining about its treatment:
Casting.
A good biopic always straddles the line between uncanny impression and an actor who can somehow take his or her depiction to the next level. That second option is extraordinarily rare! Often, actors are asked to match the singer they're portraying. And they have to nail it: Val Kilmer encapsulated Jim Morrison's warbly affect in The Doors, and Joaquin Phoenix's Johnny Cash was magnetic in Walk the Line. Sissy Spacek's Loretta Lynn was indistinguishable from the real thing in Coal Miner's Daughter; Jennifer Lopez paved the path for her own singing career by starring in Selena. Lifetime's low-budget casting choices leave a lot to be desired: Its Brittany Murphy was far from the real thing, and after Lifetime's first choice for Aaliyah (the Disney star turned singer Zendaya) dropped out, it went with Alexandra Shipp, whose previous experience included Nickelodeon show House of Anubis and … Chipmunks: The Squeakquel. No shade, no shade, as they say, but Shipp's Aaliyah was far from an impression and far from inspiring.
Address the bad head-on.
R. Kelly secretly married Aaliyah, who was then his 15-year-old protégé. This is a fact, yet Aaliyah tiptoes around it, going to lots of trouble to portray those effed-up circumstances as sweetly romantic: Kelly gives her the initial confidence to perform; he encourages her to "be herself" when she's upset over pressure from her label to dress girly. Only after Aaliyah's parents learn about their quickie marriage and demand an annulment (pointing out that Aaliyah lied about her age on the marriage certificate, making it illegal) is there any sense of impropriety.