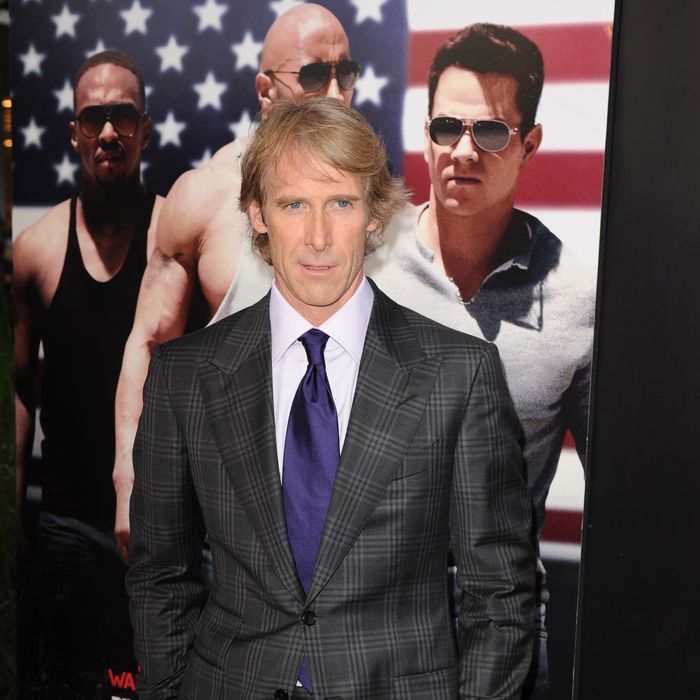 Photo: Larry Marano/Getty Images
When I first heard that Michael Bay was planning to make a movie about Benghazi, I thought it was a joke. After I realized it wasn't a joke, I decided it might as well be; I even Googled "age of consent in Libya" to see how Bay might fit one of his trademark obsessions into the film. But the more I thought about the idea of Michael Bay tackling this politically explosive, real-life event, the more I started to think that it could be a good thing.
I know, I know. On the surface, it doesn't seem promising. Like, at all. Bay traffics in grandiose, teen-friendly, not-even-skin-deep popcorn flicks that mix elaborately orchestrated, nonsensical action spectacle with bursts of jingoism. His movies never quite take themselves seriously — which gives the flag-waving, Camaro-caressing, Megan Fox–ogling imagery an eeeever-so-slight whiff of irony. All that makes Michael Bay cinema's answer to Kid Rock. Hardly an ideal match for the project at hand: 13 Hours, an adaptation of Mitchell Zuckoff's nonfiction account of the September 11, 2012 attack on the U.S. diplomatic compound and CIA annex in Benghazi, Libya, written with five of the CIA contractors involved in the fighting.
The book itself, 13 Hours in Benghazi, largely attempts to steer clear of the politics of the attack, and it has been held up as a gripping, on-the-ground account of what happened that night. The screenplay itself was written by Chuck Hogan, author of The Town and The Strain. In other words, it's a serious movie about a serious subject. Bay's involvement right now appears to be mostly unconfirmed (he's reportedly "considering" it, which is the kind of news item often used by producers to give extra visibility to a project in development), but it does make one wonder: Can Michael Bay even do something remotely serious? Two of his worst movies, Pearl Harbor and The Island, are also ones in which he tried to tackle more heavy-duty  subject matter and fell on his face — winding up with soft schmaltz in the former and heavy-handed sci-fi phoniness in the latter.
Here's the thing, though. There was once greatness in Michael Bay. And there may yet be greatness in him again. The Rock is still one of the best action films of the last several decades and owes its success as much to solid character work as to action staging. For all its they're-gonna-blow-up–San Francisco shenanigans, it's basically a movie about two guys infiltrating a small, heavily guarded fortress. Part of that is due, of course, to an excellent script, credited to David Weisberg, Douglas Cook, and Mark Rosner, but worked on by numerous other uncredited writers, including Aaron Sorkin, Jonathan Hensleigh, and Quentin Tarantino. Bay films the back-and-forth between Nicolas Cage and Sean Connery with energy and terrific comic timing. Meanwhile, his staging of their efforts to enter Alcatraz is effective and exciting — and rarely muddled, the way it is in many of his other films.
When Bay tries to broaden his canvas is when he usually goes wrong and becomes a parody of himself. And unfortunately, he followed The Rock up with the Bruce Willis–and–Ben Affleck–try-to-blow-up-an-asteroid flick Armageddon, a film that seemed to indulge all his most extreme impulses, and he never really looked back. (I actually like Armageddon, but more because it's such a weird movie rather than an exciting one.) He has since made bigger and bigger films, staging more and more ridiculous action scenes, turning everything up beyond 11.
But look at last year's jacked-up, whacked-out Pain & Gain, a $26 million dream project that Bay was only able to get made after holding his involvement in the fourth Transformers movie as ransom. Yes, Pain & Gain is a strange, hyper, far-from-perfect movie that overindulges in its own tastelessness (which is actually part of its charm). But strangely enough, it suggests to me that the talents that made The Rock so effective haven't departed Bay entirely. The film is full of great performances and terrific moments of comic pathos. Despite the occasional attempts to try and make a Grand Statement about all-American greed and ambition, it's basically about a trio of idiots who try to pull off the perfect crime and fail spectacularly. And again, when Bay has to stage small-scale suspense scenes, he's usually quite good. For all the talk about his forte being spectacle, he often thrives most when he scales back, when he's forced to focus. Bad Boys and Bad Boys II are at their best when they're about the back-and-forth between Will Smith and Martin Lawrence (though, admittedly, the big car chase in the latter is fantastic).
The events in Benghazi are a muddle — and certain details of the event are still being fought over by different political parties. But they're still, relatively speaking, small-scale and limited, and this might be just what Bay needs at this point in his career: a film that will force him to focus his substantial energies and talents on a smaller story with a smaller group of characters confined to a smaller space. It's also, by the looks of it, a film that isn't going to allow him to indulge in some of the weakest elements of his work — romance (Pearl Harbor, ugh; or the scenes between Liv Tyler and Ben Affleck in Armageddon, ugh) or broad comedy (Transfomers 2, double ugh).
Indeed, the more one looks at the 13 Hours project, the more it looks like it could echo The Rock in many ways, only in this case, the guys trying to get in are the bad guys, and there probably won't be much jokey banter between them, or even between the good guys. And Bay will have to check — or at least partially restrain — his penchant for solemnity, and that's the one big potential pitfall: He loves long, slo-mo, serious homages to the military. (Even The Rock had acres of this, and there, the jacked-up military guys were actually the villains.) It's hard not to imagine that 13 Hours will be replete with this stuff. One hopes that the film will at least earn its solemnity by depicting the heroism of these soldiers.
I'm optimistic. Even the fact that Bay is even thinking about making a film like this suggests that he wants to pull back on the ginormo-spectaculars that have made his name and fortune. He might be trying to borrow a page from the playbook of Peter Berg, who had a serious-minded hit on his hands last year with the occasionally effective, albeit strangely sadistic Lone Survivor, another nonfiction war movie. Or maybe he's looking at how Kathryn Bigelow went from being known primarily for stylish, testosterone-fueled genre flicks to someone who could tackle serious, respectable movies about serious, respectable subjects with The Hurt Locker. (Though let's not go crazy here: I like Michael Bay, but I'm not expecting Zero Dark Thirty from him any time soon.) Or maybe he saw how Ridley Scott was able to adapt his own highly aestheticized style for the immediacy of Black Hawk Down.
Of course, Benghazi is more than a violent tragedy, it's also a political powder keg. And while 13 Hours is pointedly not a political book, some have seized on aspects of the story to prove their version of events. It will be interesting to see if Bay brings any politics to it. It's hard to tell how political the director is personally. Many have speculated about his views. He demurs when asked, though he does cop to saying nice things to one Senator Barack Obama once when they ran into each other at an airport before the 2008 presidential election. (And there's also a pretty weak dig at George W. Bush in the first Transformers movie.) He's made a slew of movies with one of Hollywood's more conservative producers (Jerry Bruckheimer), as well as a bunch with one of its more liberal ones (Steven Spielberg). His films are full of vaguely political ribbing: When we first see Bruce Willis in Armageddon, he's lobbing golf balls at a Greenpeace ship protesting his oil rig; the heroes of Bad Boys 2 have to secretly invade Cuba; etc.
But most of what passes for politics in Bay's movies is just macho action-movie posturing, some of which the right has seized on as proof he's one of them. He very well may be, but that doesn't mean that he's setting out to make a political movie. Rather, he likely sees in the material a chance to pull back on the grandiosity, focus his energies on telling a tighter, more focused story, and to return to what once made him such a promising filmmaker to begin with. We should all be grateful. At least until Bad Boys 3 comes out.