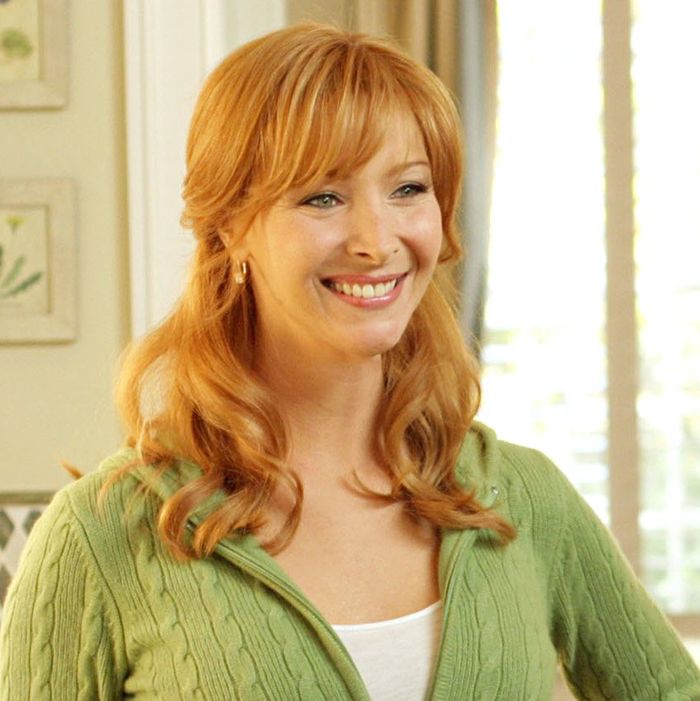 The second season of The Comeback begins Sunday night on HBO; the first season aired in 2005. In case you do not remember what happened nine years ago (or if you just want to jump right into season two), here is a refresher for Episodes 1–6.

Episode 1: "The Comeback"
Poor Valerie Cherish. All she wants to do is reclaim the fame she had 14 years ago, when she starred in the '90s sitcom I'm It! So desperate is Our Gal Val for a second act, she agrees to audition for her old network's new sitcom Room and Bored — even though it will also mean appearing on a reality show called The Comeback for the has-been who snags the role. (Remember: In 2005, celebs who deigned to do reality were the Osbournes, Bobby Brown, and Britney Spears.)

Already being trailed by a film crew and her sexagenarian hairdresser Mickey (Robert Michael Morris), Val meets Kim Fields and Marilu Henner ("Who's coming next, Valerie Bertinelli?) as they also wait to audition for the part of an older architect living with three 30-something women. Unlike Val, Fields and Henner think the reality show is a deal-breaker and have told their crews to take a hike. But not Val, who, under the impression her deal is done, still agrees to a pay cut when told her competitors have lowered their price.
Does Kudrow's self-absorbed, manipulative Cherish have any redeeming qualities? We get a sample of what we're in for when Val, so consumed with her hair that she can't be bothered to deal with a small bathroom leak, ends up with a burst pipe that ruins her prized I'm It! memorabilia wall — and the Leno photo of the monkey shitting on her. This is just the beginning of Kudrow's satirical portrait of a somewhat-delusional 40-something actress, enduring indignity after indignity, swallowing hard, and moving on. At the first table-read, Val learns her three co-stars are now nubile 20-somethings, including blonde, bikini-wearing musician Juna (Malin Akerman), who tells Val she watched I'm It! when she was 9. Val's part is soon reduced to the dowdy, tracksuit-wearing condo-owner Aunt Sassy; the show's co-creators Tom and Paulie clearly never wanted her.
The night before the pilot taping, we watch Val slowly go through an entire chocolate cake as she anxiously rehearses her one big line. Filming her video diary in the bathroom, she admits she's scared … but not for the reason you'd think. "I'm feeling like I'm carrying the show," she confides to the camera, as we hear mostly supportive businessman-husband Mark Berman (Damian Young) taking a shit. At the taping, she's not happy with her big-line delivery and gets the studio audience to chant "give her another take," alienating her one ally, real-life sitcom director (and Cheers co-creator) James "Jimmy" Burrows. Later, he takes her aside — away from the cameras, he thinks — and quietly reams her a new asshole: "You're not it anymore. You took a small part, you hit it out of the park. You can't ask for better than that." If only she'd heed his advice.

Episode 2: "Valerie Triumphs at the Upfronts"
Slights big and small pile up as Val is literally relegated to the background during a Room and Bored photo shoot. When the cast goes to New York for the network Upfronts, we see just how threatened Val feels by Juna. But even as she struggles with her sexual viability, she's tuned in to her teenage stepdaughter Francesca's budding eating disorder, trying to manage it long-distance. She has a small meltdown backstage when she thinks she's not being introduced with the rest of the cast. After the presentation, an audience member repeats her big line back to her and asks for a photo. She's elated — she has a catchphrase! Suddenly things are looking up for Val.

Episode 3: "Valerie Bonds With the Cast"
By now we know Val's gonna be humiliated, we just don't know what form it will take or how she'll react. When she's given a second-floor dressing room away from the cast, she delusionally tells Mark it puts her on a pedestal. If only she'd listen to Jimmy as he tries to be her rabbi after she lodges a silly complaint. "Why are you worrying about this show? This is not your show," he says pointing to the set. "That's your show," he says, looking at the film crew. "This show is the car that takes you to that show."

Val's let down again when Juna's a no-show at a cast lunch she arranged, but refuses to get emotional when the producer Jane asks about it. The women are never adversaries; when they finally do do lunch, Val decides the best tact is to offer Juna mentorship, which she happily accepts. Val's relationship with showrunner Paulie G. also comes to a head when she hands out first-show gifts — Tiffany key chains engraved with "Aunt Sassy's Condo" — and Tom says to put his and Paulie's in their hangout room. So she does — and walks in on Paulie getting a blow job.

Episode 4: "Valerie Stands Up for Aunt Sassy"
One line of dialogue stands between Val and the powers that be, and it may be her undoing. She's supposed to deliver the objectionable joke — "You see a box of puppies, I see Korean barbecue" — after Juna's character finds a box of puppies. Val tells the writers the line is all kinds of wrong, but they ignore her, and Jimmy tells her to stay out of it: "You know the joke doesn't work, and I know the joke doesn't work. Let the audience tell them the joke doesn't work." Of course she can't, explaining it to Mark in existential terms: "If people don't like character, then she gets less and less lines until she fades out of the show and then The Comeback has nothing to shoot, and I have nothing. The little trickle becomes the Grand Canyon."

As Jimmy predicted, the barbecue line doesn't land during taping, so the writers come up with another one — and make it at Val's expense: "I haven't been licked like that since 1943." Val delivers it like a pro and looks to Paulie for approval. He glowers and walks away. So what does she do — profusely thank him when she sees him in his car. He still doesn't respond, so she pleads with him not to hate her: "It was one joke … It's not who I am. I'm a team player, a hard worker." Has anyone been more pathetic?  She drives off as the song "I Wanna Be Loved by You" begins, but suddenly stops when she realizes she's left her puppy behind. She begs Jane to take it. You don't know whether to hate her or cry for her.  

Episode 5: "Valerie Demands Dignity"
The reality crew finds Mark's porno, Ladies Loving Ladies. Val is completely flustered and wants the footage erased. Not possible, says Jane. "That's not what our show is," insists Val. "Our show is about a woman's … heartfelt journey back to herself. It has dignity." We learn she and Mark have been having sex in the bathroom ever since cameras were installed in their bedroom, and Mark is over it. The network has other ideas for spicing up the show: Little person Charla from The Amazing Race has been hired as Val's assistant. At first she's helpful, speaking Chinese to the dry cleaner when they can't find Val's skirt. But later Charla purposely lets the car run out of gas on the way to the interview, leaving Val darting across highways and trying to catch a bus to Malibu. Shout-out to Glee's Jayma Mays, who plays a salesgirl in this episode.

Episode 6: "Valerie Saves the Show"
Room and Bored debuts, and we see just how mercenary Val can be. The show tanks in the ratings, and everyone's worried, but Val insists they stay positive. She sucks up to the writers by baking cookies, but when she and Mickey deliver them, she sees Paulie simulating anal sex with another writer clearly meant to be her. "Just the writers blowing off steam," she says to Jane when she asks for her reaction. "So you don't take that personally?" Jane asks incredulously. "Oh, please, no, it's a comedy show. It's part of the creative process," she says through a fake smile, as Mickey looks on, slack-jawed. When Tom apologizes the next day, she says it's not necessary: "I'm not one of those actors with no sense of humor who runs off to call a lawyer … On I'm It, I didn't care what the writers did at night, as long as there was a great script waiting for me in the morning." Message received. The next morning, a script titled "Aunt Sassy Gets a Boyfriend" — an idea she'd suggested but was ignored — appears. Elated, Val thanks all the writers by name — the first time she's managed to learn them. "When you're nice to someone and you bake them cookies and you show them how much you care, then you get rewarded," she says to the camera. "It's karma."