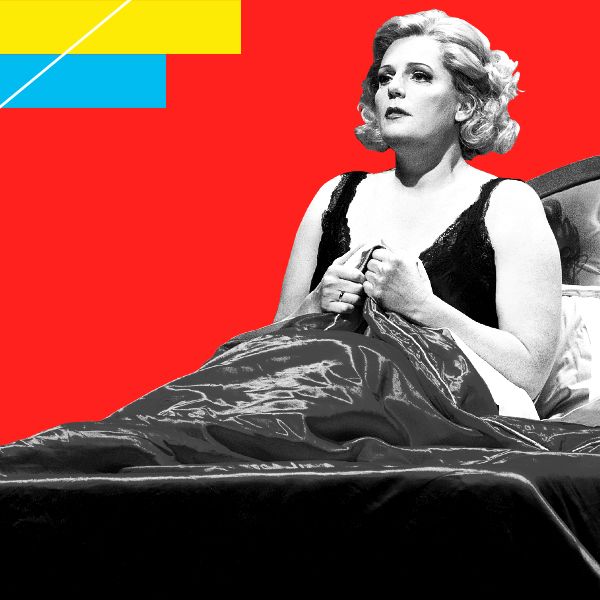 Photo: Maya Robinson and Photo by Metropolitan Opera
This week, Vulture will be publishing our critics' year-end lists.
1. Lady Macbeth of Mtsensk, Metropolitan Opera
The Met had a rough year: the threat of a strike, conflict over the allegedly terrorist-loving The Death of Klinghoffer, and a nauseating deficit ($22 million!). But once the curtain goes up, such trivial problems fade in favor of much worse ones, like those playing out in Shostakovich's Lady Macbeth of Mtsensk. In Graham Vick's long-absent vintage production, the soprano Eva-Maria Westbroek made killing your husband, banging his employee, poisoning his father, and going on a death march to Siberia into a hugely entertaining evening.
2. St. Matthew Passion, Peter Sellars and the Berlin Philharmonic
Sellars reconfigured both the Park Avenue Armory and Bach's oratorio, performing the piece in the round and bringing out the intimate human currents in a monumental, scriptural score. Led by Simon Rattle, it was also terrific theater.
3. Salome, Vienna Philharmonic
Andris Nelsons, the new chief of the Boston Symphony, offered a preview of his talents at Carnegie Hall, leading the Vienna Phil in a vivid concert of Strauss's most radical opera. With the singers literally sidelined on platforms, he spurred the orchestra into dervishlike abandon — with Viennese precision.
4. Marino Formenti
In a late-night performance at New York Philharmonic's new-music biennial, Formenti's excitement sometimes got ahead of his fingers, but he tore through miniatures by Liszt and the avant-gardists who loved him, on a program I called "a sublimely weird playlist of subliminally connected moments."
5. "Become Ocean," John Luther Adams
Adams, the longtime Alaskan and new New Yorker, is having a long, luminous moment. His rumbling orchestral masterwork of sounds from the deep received a New York premiere and recording (both by the Seattle Symphony) and a Pulitzer Prize.
6. Sweeney Todd, New York Philharmonic
Emma Thompson and Bryn Terfel formed an entertainingly evil duo in the Philharmonic's ostensibly semi-staged but actually full-on theatrical production, aired on PBS. If Thompson missed having scenery to chew, she didn't show it; Terfel made the leap from Wagner to Sondheim with terrifying aplomb.
7. Billy Budd, BAM
Michael Grandage's intense Glyndebourne production packed the shipboard prison with moral drama and Britten's eloquent music. Mark Padmore sang Captain Vere with such noble beauty that he practically usurped the title role.
8. Steven Schick
The ne plus ultra of drummers surveyed the whole history of solo percussion in two astonishing nights at Miller Theatre, including a diptych by Vinko Globokar that turned Schick's body into a dazzling, varied instrument.
9. The Death of Klinghoffer
Undaunted by protests, the bad libretto, and the work's structural imperfections, the Metropolitan Opera showed its devotion to John Adams's gorgeous music. David Robertson led a staunch and flawless cast; Michaela Martens's Marilyn Klinghoffer filled the final minutes with a bloom of ravishing pain.
10. Drumming, Clapping Music, and Quartet
Each fresh Steve Reich piece reaches back into his 50-year-catalogue for a kernel of inspiration. At Zankel Hall, Colin Currie played Reich's amiably brilliant new Quartet for vibraphones and pianos along with two classics. The rigor of the old met the fluidity of the new.
*This article appears in the December 15, 2014 issue of New York Magazine.