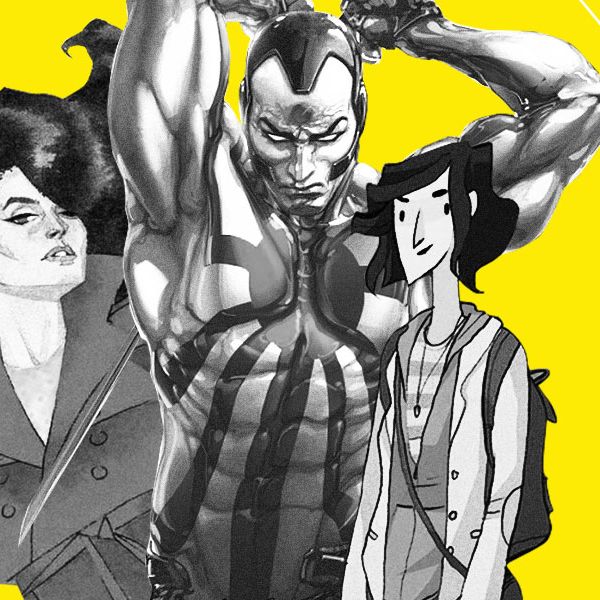 Unexpectedly but unmistakably, 2014 was a pivotal year for comics. For starters, the industry had its best sales month in 17 years. What's more, sales rose for both digital and physical purchases. The unending boom of licensed comics properties reached an insane critical mass: Warner Bros. and Disney unveiled slates of DC and Marvel superhero movies running all the way to 2020, Guardians of the Galaxy and Captain America: The Winter Soldier demolished the box office, five comics-adaptation TV shows were on the air in primetime (with many more to come), and it seems like we can't go more than a few days without some kind of superhero casting announcement.

On top of all that, there was a cultural revolution: This was the year feminism conquered comics culture. Every month brought more comics series starring women, be they superpower-possessing, broadsword-wielding, mystery-solving, or merely life-living. We learned that comics readership is now roughly 50 percent female. The Big Two, Marvel and DC, made some glaring missteps in their depictions of gender — but more memorable than the missteps were the backlashes, led by intelligent and progressive voices in an ever-stronger online and real-life community. We're still a long way from gender parity in industry hiring, and other marginalized communities have yet to experience the same kind of boom in representation, but the trend toward inclusivity is unmistakable.
Here's a look at this remarkable year's ten best monthly comics series. (Some notes on methodology: We're handling graphic novels in a separate list, because comparing a serial story and a self-contained graphic novel would be an apples-and-oranges approach, akin to making a single list of the best movies and TV shows. Any series, be it open-ended or a miniseries, was eligible, so long as it had a substantial number of issues that came out in 2014.)
1. Ms. Marvel (Marvel)
A year ago, Ms. Marvel didn't exist. Today, it's hard to imagine a world without it. When word came down that Marvel would launch a superhero series starring a Pakistani-American Muslim girl, there were justifiable fears that it would turn out to be a respected dud, built on good intentions and not much else. As it turns out, nothing could have been further from the truth. Readers — many of them new to comics — have flocked en masse to read about Kamala Khan, a clever teen who abruptly becomes the lone superpowered defender of Jersey City. Writer G. Willow Wilson has given Kamala an optimistic, awkward voice that is unique in the superhero pantheon and eminently representative of a certain kind of geek in 2014. She loves online fan-fiction; her costume is functional and DIY; she's relentlessly optimistic (to a point that can draw eye-rolls from her companions); and although faith, ethnicity, and gender are all components of her personality, none of them define her story. Artist Adrian Alphona gives the series an elastic, emotive visual style that is at once unlike anything else Marvel is doing and yet entirely within the Marvel tradition of visual boundary-pushing.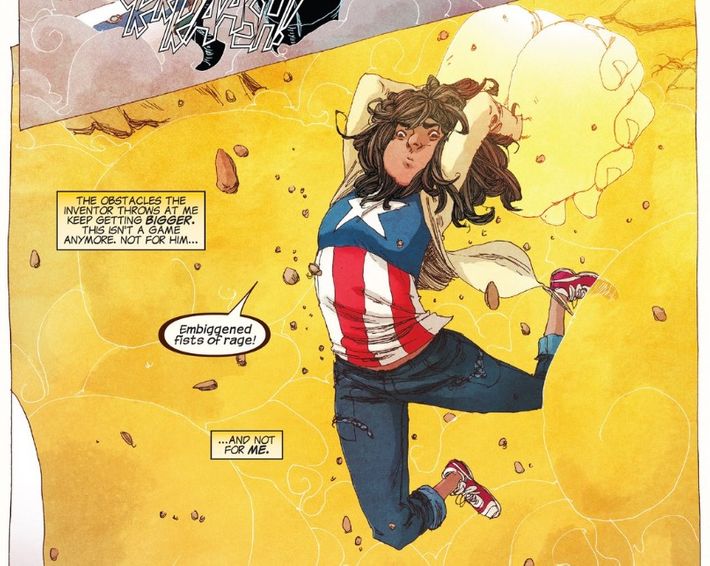 Indeed, although there has never been a mainstream hero like Kamala, she's also a direct spiritual successor to Stan Lee and Steve Ditko's original take on Spider-Man: a teenager struggling to balance personal and public responsibilities during a period of unwanted physical transformation. In just a few short months, Kamala Khan has become a best-seller and an icon. To buy Ms. Marvel this year has been to buy history in the making.
2. The Multiversity (DC)
If you're reading this list, there's a decent chance you've felt some degree of self-loathing about the fact that you're a grown-up who still reads comics. If so, Grant Morrison wants to have a word with you in the pages of The Multiversity. After years of teasing, the writer/madman has finally given us this astoundingly dense miniseries. So far, though it's a challenge to comprehend any given issue, the series has been more than worth the wait. Well, it's worth it if you're willing to treat it like Gravity's Rainbow and reread every page about a dozen times and keep an encyclopedia handy (as well as David Uzumeri's masterful annotations). Even if you can't follow every detail, the artwork (from a rotating cast of top-tier pencilers) is unfailingly gorgeous, as is the prose.
I'll try to summarize the concept, but even I'm not entirely sure what's going on. Basically, there's some kind of apocalypse on the way that threatens all the parallel universes and metaphysical planes of DC Comics cosmology. In each issue of The Multiversity, Morrison takes us to one or more of those universes for what seem to be self-contained homages to comics of the past (e.g., the two-fisted pulp stories of the '40s, the decadent superhero dramas of the '90s, and even Watchmen) but always turn out to be somehow linked to a grander narrative that has yet to come into focus. And in every issue, we see characters reading comics and enduring some degree of shame for doing so. It's a jarring narrative motif, and one that's clearly important to Morrison. I can't presume to read his mind, but I'm pretty sure he's trying to write some kind of State of the Union speech about why superhero comics have survived more than seven decades of ridicule. As someone who often has dark nights of the soul about the untold amounts of time and money I've spent following web-slingers and caped crusaders, I'm desperately eager to see if Morrison can offer me absolution.
3. Saga (Image)
Ho-hum, just another year in which Saga blew everyone's minds. What else is new? There's not much to say that hasn't already been said about Brian K. Vaughan and Fiona Staples's quirky space opera, because anyone with decent taste in comics has been onboard with it since its 2012 debut. Nevertheless, it's worth noting that Vaughan and Staples really outdid themselves this year. Their story of a family caught in the middle of an intergalactic war has never been funnier or more heartfelt, and there were remarkable escalations on scales both massive (a galaxy-wide search for a baby with a TV for a head) and personal (that final page of issue 19!). And at this point, it's hardly even worth pointing out how remarkably diverse the cast of characters is or how gorgeous Staples's pencils are. Keep hitting all the right notes, Saga. Everyone's rooting for you.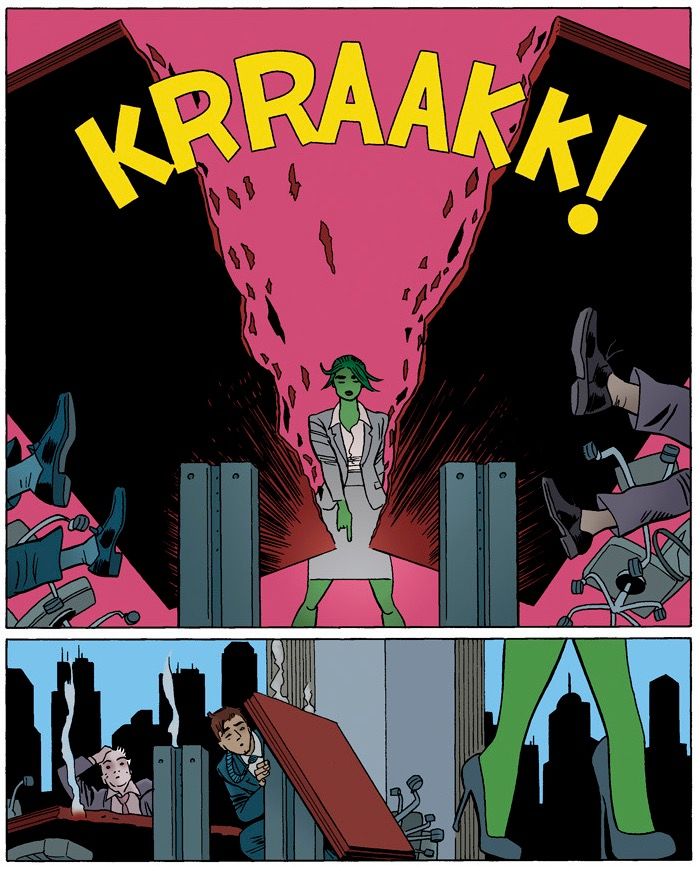 4. She-Hulk (Marvel)
What a remarkable world we live in, where a series primarily about lawsuits can be so visually stunning and narratively addictive. She-Hulk has long been one of the more fascinating C-list Marvel heroes: She's the Hulk's cousin and, thanks to a blood transfusion, has his green-skinned strength but none of his lonely-man angst. But more unconventionally, she's an extremely capable lawyer who makes no attempt to hide her dual identity. In this relaunch of She-Hulk's solo series, writer Charles Soule wisely chose to challenge himself and focus on Shulkie's lawyerings, not her clobberings. More important, artist Javier Pulido challenged himself to make those lawyerings visually thrilling, and the result was artwork that looked like Los Bros Hernandez at the height of their powers: complex double-page spreads, expressive linework, and tremendous facial expressions. Plus, the story line involving a de-powered Captain America settling a civil suit left over from his prewar youth was one of the most fulfilling depictions of Cap in recent memory. It's a damn shame that this series is coming to an end, but it will live on as a self-contained master class in graceful, restrained superhero storytelling.
5. Avengers and New Avengers (Marvel)
One of the fundamental differences between Marvel and DC is each company's approach to its back catalogue. DC is famously afraid of the complications presented by 70-plus years of continuous storytelling, and it's made periodic attempts to simplify things by declaring entire eras and characters to be noncanonical. Marvel, for better or worse, embraces its convoluted history — and writer Jonathan Hickman's ongoing run on Avengers and New Avengers is the apotheosis of that philosophy.
They're technically two different series, but as any reader of both can tell you, they add up to a singular story that's incomprehensible if you only read one of them. (And oftentimes, even if you read both of them.) Let's be blunt: Hickman's work is challenging. For more than two years (and y'know what, really for five years, because a lot of this narrative began when he started writing Fantastic Four in 2009), Hickman has been creating one of the most expansive stories in Marvel history. It's followed Marvel's top heroes to the farthest reaches of outer space, to points of time millennia in the future, and to at least 100 different alternate universes. As you might expect, the story is very difficult to follow at times. But if you let the grandeur wash over you, it's breathtaking. Right now, Hickman's building up to a 2015 megacrossover that will feature some kind of cosmos-smashing battle royale between Marvel characters of different time periods and dimensions. That event should suit him just fine, because his work (this year and every year) has been one of history's greatest celebrations of the endlessly complex, endlessly engaging tapestry we call Marvel.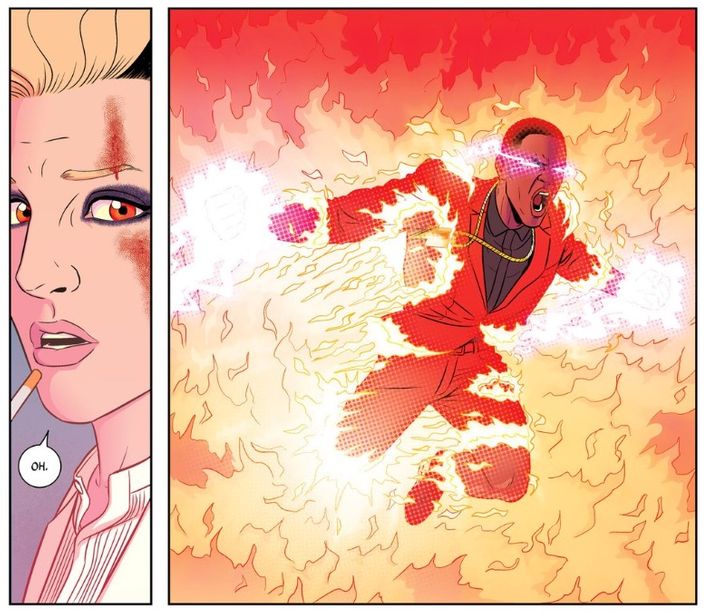 6. The Wicked + The Divine (Image)
Every once in a while, the comics industry produces a series that is truly, effortlessly hip; a tale that people who proudly declare they don't usually read comics can pass around and nod appreciatively at. It happened with Dr. Strange 40 years ago, with Sandman 25 years ago, and it's happening now with Kieron Gillen and Jamie McKelvie's The Wicked + The Divine. Set in a sleek vision of contemporary club-kid London, the series follows a clever youngster as she attempts to solve a murder involving narcissistic reincarnations of ancient gods. The dialogue is as slick as the art, and the tale is as outlandish as it is readable. One can only hope Gillen and McKelvie can live up to the (deserved) hype they've built up for themselves.
7. Rat Queens (Image)
Although female-led series are everywhere these days, precious few of them are willing to treat women as physical beings who fart, drink, and screw. Luckily, we have Rat Queens to rectify that injustice. Kurtis J. Wiebe and Roc Upchurch's sword-and-sorcery tale about a band of lady adventurers is probably the most gleefully foulmouthed series on stands today, and the world is better for it. If World of Warcraft were written by the staff of Broad City, it'd be a lot like Rat Queens.
8. Lumberjanes (BOOM! Studios)
Lumberjanes is silly, and it's the best kind of silly. In this wonderful new series, writers Noelle Stevenson and Grace Ellis and artist Brooke Allen have captured the manic humor of Adventure Time, the youthful solidarity of My Little Pony: Friendship Is Magic, and the teen-adventurer spirit of Claremont-and-Byrne-era X-Men. It's a story about Girl Scouts who stumble across yetis and potential apocalypses, and it's great for readers of any age (so long as those readers are comfortable with Tumblr-friendly whimsy). Its success is also a good omen for BOOM! Studios, which is relentlessly snapping up inventive young talents and allowing them to tell unconventional stories — like some sunny mirror image of DC's Vertigo imprint in its mid-'90s heyday.
9. Rai (Valiant)
I have a pet theory that the comics industry is going through a prog-rock phase. We have an abundance of high-concept sci-fi and fantasy built on implausible and utterly immersive world-building — in short, the kind of stuff that you might expect to see on the inside cover of a mid-'70s album by Yes or Emerson, Lake, & Palmer. Matt Kindt and Clayton Crain's Rai is one of this quasi-movement's crown jewels. It's a reboot of a concept left over from an early-'90s Valiant series of the same name, and it's completely bonkers: A cyborg samurai defends 41st-century Japan (which is now a country-size satellite orbiting Earth) and seeks to solve the first Japanese murder in a thousand years. Kindt clearly knows he's writing something insane, but there's no winking to the reader about how ludicrous it all is. Instead, he's building an earnest story that's equal parts Heavy Metal and Raymond Chandler, made all the more engaging by Crain's relentlessly dynamic pencilwork. Don't ask too many questions — just bask in the sweet, sweet crazy.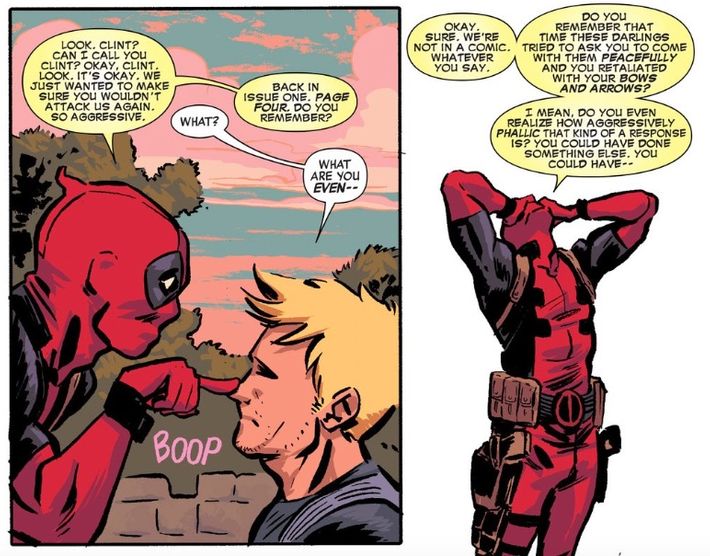 10. Secret Avengers (Marvel)
Imagine a reboot of TV's Agents of S.H.I.E.L.D. written by a feminist with a history of heavy hallucinogen use, a sensitivity for the ravages of PTSD, a fixation on Jorge Luis Borges, and a distinctly Eastern-European ear for dark humor. That's exactly what exploded from writer Ales Kot's brain when Marvel gave him the reins to Secret Avengers. Kot has crafted a series that teams up some of the Marvel Cinematic Universe's most recognizable characters (Hawkeye, Phil Coulson, the African-American incarnation of Nick Fury, and Black Widow, among others) for sci-fi adventures that would be inconceivable in the all-too-staid world of Marvel's movie and TV properties. Whenever you think Secret Avengers can't get any more ambitious, Kot ups the ante with stuff like a relentlessly fourth-wall-breaking guest-appearance from Deadpool or an oddly gentle tale about the sensitivities of megalomaniac homunculus MODOK. Michael Walsh's pencils are reliably gorgeous, and he's getting better and better at visual comedy. Plus, we see an endearing Phil Coulson, who's grapping with the after-effects of violent trauma — something Agents of S.H.I.E.L.D. has attempted and failed at since episode one.