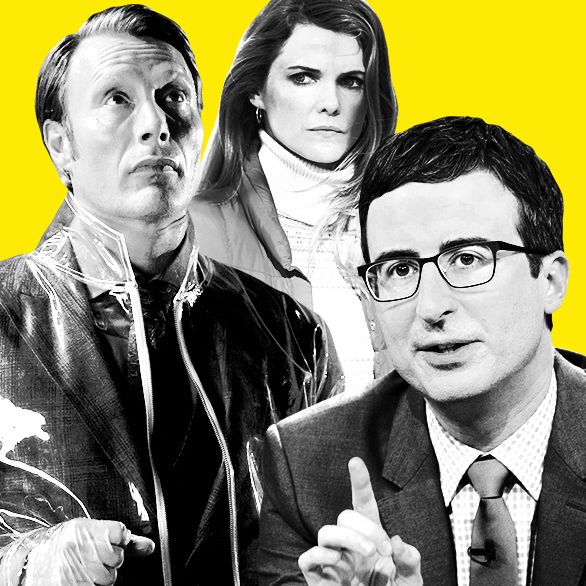 Photo: Maya Robinson and Photos by NBC, FX and HBO
This week, Vulture will be publishing our critics' year-end lists.
1. Hannibal (NBC)
Bryan Fuller's TV adaptation of Thomas Harris's fiction is a total vision — mournfully expressionist, shockingly violent, and strangely tender. Virtually alone among television dramas, network or cable, it demands that viewers make an imaginative leap and see its nightmarish action as both figurative and emotionally real. It's also one of the scariest shows in TV history, delivering images every week so potent that they lodge in the viewer's memory like rusty barbs. And yet for all of its ugliness and horror, it is an intensely pleasurable experience, appallingly sensual, laying out food, furniture, clothes, windows, doors, and landscapes with painterly exactness. The ensemble cast is one of the best on television, and one of the most heroic, considering the ludicrousness they are expected to put across: Mads Mikkelsen, Hugh Dancy, Laurence Fishburne, Caroline Dhavernas, and Gillian Anderson, and a regular stream of superb guest-actors counteract the extremity of Fuller's images with understated, wryly funny performances. Two seasons in, it's already a pantheon series. Read the full review.  

2. Olive Kitteridge (HBO)
Adapted by director Lisa Cholodenko and writer Jane Anderson from Elizabeth Strout's novel, this miniseries blended small-town, literary-fiction-style domestic drama, gentle satire on American obsession with success, and sensitive commentary on the reality of living with mental illness; all this, plus brilliant camerawork (by Frederick Elmes) and note-perfect performances (by Frances McDormand, Richard Jenkins, Zoe Kazan, and many others) combined to create one of the year's best scripted programs. Read the full review. 
3. Private Violence (HBO)
Directed by Cynthia Hill, this documentary about domestic-violence activist and victims advocate Kit Gruelle got to the heart of the problem with a blistering ferocity, personalizing the horror in ways that would be unwatchable if the heroine weren't such a master communicator and tenderhearted audience surrogate. Read the full review. 
4. Last Week Tonight With John Oliver (HBO)
Oliver, a regular and sometime guest-host on The Daily Show With Jon Stewart, surpassed his mentor in his first solo outing, taking the satirical-news format deep into traditional reported journalism, and often providing more illumination than mockery. Read the full review. 

5. The Missing (Starz)
Written by Jack and Harry Williams and directed by Tom Shankland, this uncompromisingly sad and haunting story of a couple's search for their missing son offered further proof that the most artistically fertile soil in modern television is the miniseries. Flashing back and forth in time, always giving us the information we need but never the information we want, this was a master class in long-form storytelling. Read the full review. 
6. The Americans (FX)
The best second season of any drama in years found married KGB operatives Elizabeth and Philip Jennings (Keri Russell and Matthew Rhys) being drawn even deeper into moral corruption and realizing that their work will inflict long-term damage on their children. The season finale was a gut punch. Read the full review. 
7. Mad Men (AMC)
The most eagerly anticipated and relentlessly analyzed drama on TV, Matthew Weiner's period piece remains insightful, confident, and more often surprising than not; the first half of its final season assuaged concerns that it had gone to a particular well too many times. Several of the episodes had the drum-tight sureness of classic hours of The Sopranos. And what a soundtrack! Read the full review. 
8. True Detective (HBO)
This madly ambitious attempt to reinvigorate southern pulp, neo-noir, and the police procedural overreached quite often, but its audacity, formal assurance, and frequently droll humor were intoxicating. Matthew McConaughey and Woody Harrelson are a buddy cop team for the ages, and perhaps the best yin-yang pairing of lead actors since William Shatner and Leonard Nimoy on the original Star Trek. Read the full review. 
9. Cosmos: A Spacetime Odyssey (Fox)
Overseen by Carl Sagan's widow and intellectual partner Ann Druyan, and hosted by astrophysicist and fundamentalist-baiter Neil deGrasse Tyson, this reboot of the 1980 science series was a primer on the history of rational thought, fortified by all the eye and ear candy network money could buy. Different from, yet ultimately equal to, the original, it made a subtle but unmistakable political statement, insisting that religion be recognized as mythology and metaphor but never permitted to substitute for actual scientific inquiry. Read the full review. 

10. The Roosevelts: An Intimate History (PBS)
I nitpicked this Ken Burns epic when it first aired, as I tend to do with all of his work, yet months later I find myself thinking about the grin on Teddy Roosevelt's face and those clenched fists. Burns is a wonderful storyteller and a great explainer, but he never gets enough credit for his ability to take dry historical personages and transform them into living, breathing characters, so real that we can imagine ourselves talking to them. Read the full review. 
*This article appears in the December 15, 2014 issue of New York Magazine.