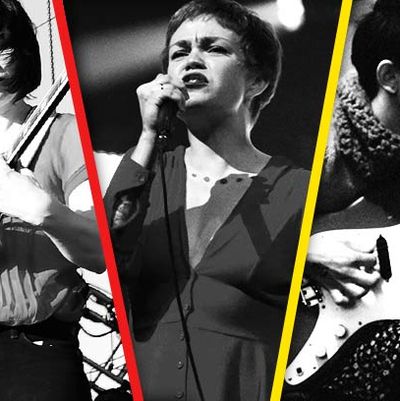 In an essay for Vulture, Anika Pyle, front woman of the Brooklyn band Chumped, called 2014 "the year that women tore down the punk-boy clubhouse and erected a big middle finger in its place." She's not wrong. 2014 felt like a banner year for women in punk, a genre that has always prided itself on progressive politics and open-mindedness but has often felt closed off to female musicians. Prominent exceptions to the rule like Bikini Kill and Sleater-Kinney bear a strange burden; they're the token names trotted out when a music critic has to make sense of a female-led punk band — whether they sound anything like those bands or not. So what's exciting about the current crop of female-driven punk bands is not just their abundance but the sheer sonic diversity. From the primal fury of White Lung to the singsongy sass of Slutever to the artful experimentations of Perfect Pussy, these artists prove that there is no singular "female punk" sound — there are many. Below, I've gathered some of the year's best.
Childbirth, "I Only Fucked You As a Joke"
The greatest kiss-off song of 2014, if not the entire millennium.
Ex Hex: "Don't Wanna Lose"
The triumphant, stomping, and surprisingly glammy return of Helium guitar goddess Mary Timony.
Bully, "Milkman"
Wooly, spring-wound pop-punk from Nashville, lead by Alicia Bognanno, a front woman with 'tude to spare.
Sleater-Kinney, "Surface Envy"
The heroines of post-riot-grrrl punk are back, and Carrie Brownstein's riffage, Janet Weiss's drumming, and Corin Tucker's wail are all as gloriously unruly as ever.
Perfect Pussy, "Interference Fits"
The poetic confessions of fearless front woman Meredith Graves wrestle powerfully with pummeling noise.
Slutever, "White Flag"
A biting, insanely catchy ode to the hometown boredom: "I just gotta get away till my head's clear / I can't create, I fucking hate it here."
White Lung, "Down It Goes"
Lead by Mish Way's forceful howl, White Lung's sound is purifyingly abrasive.
Cayetana, "Scott Get the Van, I'm Moving"
A blistering, scream-along-till-you're-throat's-sore gem from this Philly trio's debut album Nervous Like Me.
Against Me!, "Fuckmylife666"
Laura Jane Grace's searingly honest lyrics chronicle the difficulty — and, ultimately, impossibility — of adhering to restrictive gender stereotypes.
Chumped, "Old and Tired"
The Brooklyn four-piece's gut-wrenching song about not wanting to get out of bed in the morning, complete with a chorus cathartic enough to chase those blues away.