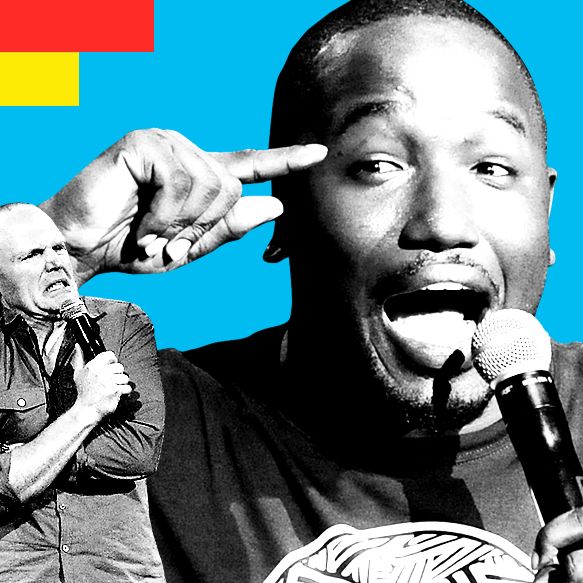 Photo: Maya Robinson and Photos by Getty and Netflix
This week, Vulture will be publishing our critics' year-end lists.
1. Chelsea Peretti, One of the Greats
Chelsea Peretti has the most singular comedic voice of any stand-up of this generation. Over years of doing comedy, writing on shows like Parks and Recreation, and owning social media, Peretti has separated herself from her peers. I'll it put this way: If every comedian is playing a character (himself or herself), Peretti's is the most complicated and richly rendered. Onstage, she's a tangle of contradictions: silly and cutting; earnest and ironic; broad and subtle; and, most important, confident and insecure. All of this is perfectly captured in One of the Greats, Peretti's first hourlong special, which premiered on Netflix in November.
Instead of normal audience-cutaway shots, One of the Greats cuts to fictional audience reactions — of a dog; of Peretti dressed as a clown; of a guy shouting, "You're my favorite female comedian, Chelsea." In an interview with Vulture, she explained what was behind that bit: "I wanted it to be a reflection of all the different responses you see in audiences, and the fears that I feel onstage, and fantasies I have of what I wish the audience was." It effectively represents, all at once, the different stages involved in doing comedy, pairing a terrific joke with both the laugh and the insecurity or insight that motivated her to write and tell it in the first place. Often you'll see comedians joke about their struggles and anxieties, but by the time it gets to the special, the presentation is far removed from the issue. They'll do ten minutes on their depression, but that depression is not actually seen onscreen.
It's why the special's title, One of the Greats, which comes from a popular refrain of Peretti's, is so perfect. It's both cocky and a joke on cockiness. It's also true.
2. Hannibal Buress, Live From Chicago
For the better part of the last five years, Hannibal Buress was "the guy" — specifically, the guy older comedians would always reference when asked about their favorite up-and-comers (Peretti was usually the other comedian most referenced.) Live From Chicago felt like a shift: Buress is no longer a star-to-be; he is one. Buress has settled into his style, effortlessly melding the laid-back, absurd observation stuff he's known for with longer, more ambitious bits. This was also the year Buress told a joke that led to the complete reexamination of Bill Cosby, but hopefully, when people look back at Buress's career at this point, they'll remember his terrific special.
3. Bill Burr, I'm Sorry You Feel That Way
About 17 minutes into his Netflix special, right before defending the Duck Dynasty patriarch who said all that homophobic stuff last December, Burr goes, "I'm not saying these people are right, and I'm not saying I'm right. I know I'm a fucking moron." There it is, the key to what makes Burr one of the most respected stand-ups working. Burr takes potentially controversial stances on subjects for comedic effect — this is not unique — however, he's better than anyone at this, because he makes sure he's the ultimate butt of the joke. He doesn't care about being right, because being right isn't funny. And Burr is funny.
4. Jackie Kashian, This Will Make an Excellent Horcrux
This is the sound of a veteran comedian killing it. Insanely quick and impeccably structured, this audio special seamlessly cuts through several juicy topics — a chunk about doing comedy for the troops in Iraq shifts to generally talking about conflict and how she's avoided it shifts to a bit about masculinity, and that shifts to Kashian talking about her dad, which shifts into a section about her marriage — while picking off smaller quirks along the way: her childhood, a life spent reading, video games, and why so many men have beards nowadays ("because no woman under 30 has any pubic hair"). It's a fantastic piece of work.
5. Nick Vatterott, For Amusement Only
Listening to Vatterott's debut album, I was reminded of his fellow Andy Kaufman Award (given to unconventional comics) winner, Kristen Schaal. Both are absurdists, driven to mess with and subvert the form but are still sure to be funny. Like Schaal's hourlong special last year, For Amusement Only plays with the idea of a stand-up special but doesn't descend into being some insider-y, intellectual exercise. There are some really great, really weird jokes here.
6. Wyatt Cenac, Brooklyn
The title here doesn't only reflect the setting. Cenac's special, which he released on Netflix, is about Brooklyn the concept. This doesn't mean it's just an hour of hipster jokes. No, Cenac uses the borough as a lens through which he can explore race, gentrification, aging, and, most effectively, his personal history. Cenac straddles the line between old Brooklyn and new, talking from the perspective of a successful young comedian as well as from that of the guy who grew up visiting his grandmother's shitty apartment in Crown Heights. With surprising poignancy, Cenac trenchantly captures the diversity and lunacy of living in Brooklyn.
7. Tracy Morgan, Bona Fide
It's impossible to watch Morgan's Comedy Central special without thinking about what has happened since and knowing that it's very possible he'll never perform again, after a car accident between a Walmart truck and a limo bus he was on. Bona Fide shows Morgan at his most bighearted and ridiculous. As Tina Fey noticed writing for him on Saturday Night Live and then on 30 Rock, Morgan just is funny. He doesn't try to set the world on fire with the hottest takes; he simply goes onstage and is himself. Try not to fall for his charms.
8. Max Silvestri, King Piglet
King Piglet is a hilarious labyrinth of tangents and parentheticals. Silvestri will introduce a topic only to divert from it early and often. He says that he doesn't have tattoos, but before actually addressing that premise, he spends three minutes explaining what the subway is, and then describing, with incredible specificity, what great shape this one guy was in and how kind said guy is to his grandma on Christmas. It's reminiscent of Paul F. Tompkins's move where he introduces an idea and then goes back on it, only to double back to the original thought. The result in both cases is a unique sense of spontaneity and freshness.
9. Dan Mintz, The Stranger
It makes sense for Mintz to release an audio special, as millions of people are already in love with his voice. As the man behind Bob's Burgers' breakout star Tina Belcher, Mintz has proven week after week that it's funny when he says basically anything. That's not to say that Dan Mintz doesn't have jokes, by the way. Because boy, Dan Mintz has a lot of jokes. The Stranger is 45 minutes of rapid-fire one-liners —well, as rapid-fire as his deadpan allows. There is a perception of one-liner comedians as being less performance- and persona-focused than their counterparts, but that seems incorrect to me. Mintz succeeds by packing all of his comedic voice into each and every one of his well-written, dark punch lines.
10. Karen Kilgariff, Live at the Bootleg
When I decided to put Kilgariff's wonderful album of musical comedy on this list, I was reminded of Amazon's Transparent. It might not have the joke-jokes of a Mindy Project, but there is a pleasant hum of comedy throughout, the sort that is more likely to cause you to smile than guffaw. This doesn't make it less funny, just a different sort of funny. That's what Kilgariff, a staple of the alt-comedy scene and former cast member of Mr. Show, achieves here. Kilgariff's songs are funny and sad and bittersweet, and most important, they're undeniably genuine.
11. Ron Funches, The Half Hour
Midway through his half-hour Comedy Central special, Ron Funches commends the audience, saying, "You guys are cool. I can just giggle and you guys are onboard." It's because Funches's giggle is a powerful comedic force of pure delight. It's part of his stage persona as the most huggable comedian in the world. A large black man wearing a purple-cashmere sweater and a giant smile, Funches has a slow yet undeniably confident cadence that draws the listener in. It also creates a false sense of security, which Funches capitalizes on with deftly absurd material. It's a real joy.
Honorable Mentions: Michael Che, The Half Hour; Ian Edwards, 100% Half-Assed; Cameron Esposito, Same Sex Symbol; Dan Klein, This Is Comedy; Jared Logan, My Brave Battle; Mark Normand, Still Got It; Bob Odenkirk, Amateur Hour; Patton Oswalt, Tragedy Plus Comedy Equals Time.