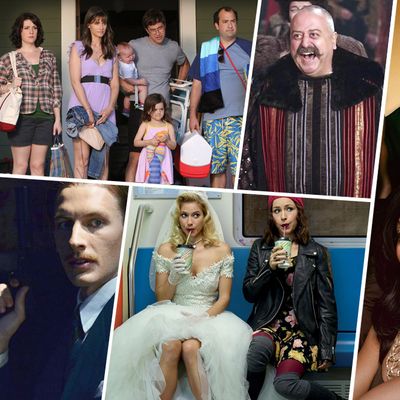 Photo: HBO, ABC, FOX, VH1
Right now we're in the barren, spiritual desert of the TV season, but in just a few days, things swing back into gear. In addition to returning favorites — The Americans, Game of Thrones — January alone brings unto us several promising new shows. Here are 11 shows to look forward to next month.
January 4
Galavant, 8 p.m., ABC
It's a musical series set in a fairy world — think Spamalot or Duloc from Shrek. It's … a risk. But wouldn't you rather see a bizarrely daring show than another CSI?
January 6
Marvel's Agent Carter, 9 p.m., ABC
Hayley Atwell, period costumes, Marvel Universe. Okay.

Framework, 10 p.m., Spike
Top Chef for furniture design, hosted by Common. It's one of two furniture-design contest shows on this month.
January 7
Empire, 9 p.m., Fox
From creators Lee Daniels and Danny Strong comes a glam soap with a melancholic edge about a music-industry dynasty. The show badly wants to be compared to King Lear, what with the troubled father trying to figure out his legacy, so okay. Terrence Howard, Taraji P. Henson, Gabourey Sidibe, and music produced by Timbaland. Sold.

Hindsight, 10 p.m., VH1
It's the whimsical '90s dramedy you didn't know you were praying for, like an American Being Erica: Becca goes to bed on the night before her second wedding and wakes up in 1995 — on the night before her first wedding. She decides to make the best of reliving the '90s, and it's a treat and a half.
January 8
Babylon, 10 p.m., Sundance
Brit Marling stars as an out-of-her-element American PR honcho who's in charge of rehabilitating the image of the London police department.
January 11
Togetherness, 9:30 p.m., HBO
Is this finally the actual good role Amanda Peet so deserves? Just about. This exceedingly gentle, slightly sad domestic comedy comes from the Duplass brothers — so it's full of big feelings and meaningful silences. Mark Duplass and Melanie Lynskey (wonderful) star as a married couple who aren't sure how to be happy anymore; Peet and a breakout Steve Zissis play two of their single friends who wind up crashing with them, though everyone is "crashing" in his or her own way.
January 14
Man Seeking Woman, 10:30 p.m., FXX
Prepare for extreme weirdness. Jay Baruchel stars as a lonesome dweeb whose life is pretty surreal: His ex-girlfriend's new boyfriend is Hitler (as in … literal Hitler), he goes on a date with an actual under-a-bridge-living troll, etc. It's odd, but impressively adventurous, too. Niche cable really has changed what we see on television.
January 18
Grantchester, 10 p.m., PBS
If an episode of Downton Abbey is not enough to satisfy your need for British historical dramas, here comes Grantchester, set in 1953. It's about a priest and a cop who fight crime together; there is also romance with townspeople.
January 26
Ellen's Design Challenge, 9 p.m., HGTV
This is the other furniture-design show, and this one's produced by Ellen DeGeneres. Weird that it took this long for one furniture-design contest show to appear, and weirder still that two are coming out within weeks of each other, but here we are.
January 29
Fortitude, 10 p.m., Pivot
Stanley Tucci, Christopher Eccleston, Richard Dormer, and snowy, snowy, snow crimes. Tucci stars as a detective who gets flown into a sleepy Arctic town to help investigate a series of crimes that are only becoming apparent as the ice melts. Moody and spooky and not as by-the-book as it sounds, thank God.